Tour Pro Disqualification 'May Have Been A Cheating Situation'
Nick Hardy says it's very concerning that Kamaiu Johnson was given multiple chances to put down the correct score before his DQ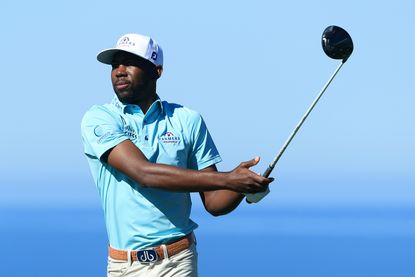 (Image credit: Getty Images)
Nick Hardy says that Kamaiu Johnson's disqualification from the Arnold Palmer Invitational last week "may have been a cheating situation" after officials gave him multiple chances to say he scored a seven instead of his claimed six.
Johnson four-putted from the fringe on the ninth hole at Bay Hill, but with playing partners Hardy and Kyle Westmoreland already on the next tee, due to the group being put on the clock, neither man actually saw how many putts were taken.
The official scorer had it down as a seven, ShotLink had it down as a seven, but Johnson insisted he took six, and was then disqualified for signing an incorrect scorecard.
Johnson issued an apology on Twitter on Saturday saying: "I take the integrity of the game very seriously and I'm sorry this happened. I got a little overwhelmed in the moment with the group on the clock and lost count of my missed putts from 3 feet. I'll do better."
I take the integrity of the game very seriously and I'm sorry this happened. I got a little overwhelmed in the moment with the group on the clock and lost count of my missed putts from from 3 feet. I'll do better.March 4, 2023
See more
Hardy, though, says he's never forgotten what he's shot on a hole in tournament play, and feels the matter is concerning given that officials tried to talk Johnson out of claiming the six.
"The amount of chances that he had to say he made a six is unfortunate because it looks like there may have been a cheating situation," Hardy told Golfweek (opens in new tab). "I know that especially when I'm in a tournament atmosphere, that whenever I'm playing golf there is never a time where I forget what I shot.
"I'll say this, they gave him many opportunities after the round, even after he signed his card, a couple more opportunities to maybe say he made a 7. I think they knew they had video evidence from the running camera on 9. ShotLink said he had a 7, the walking scorer said he had a 7 and he insisted he had a 6.
"They hinted to him that, hey, we just want to make sure you've got this right, and he still said he made a 6. That was the troubling issue I had.
"The Tour gave him multiple chances to come to grips with it. I know this for a fact because I was getting calls from the scoring officials for the next hour after we signed the card inside. I saw Montana [Thompson] and Casey Jones outside the locker room when they were talking to Kamaiu. It's definitely concerning."
Westmoreland, who kept Johnson's card, was more relaxed about the situation, adding to Golfweek: "It happens, I guess.
"At the end of the day, it doesn't matter. He missed the cut. It doesn't look great, I guess, for some people, but I don't have much to comment on. It was a non-factor. I think the Tour handled it well."
Hardy disagrees though, as a six at that time would've put Johnson in touch of the cut line, and also thinks there's the wider integrity of the PGA Tour and game of golf as a whole at stake.
"That's unfair because when he played that hole he was right on the cut line. If he had gotten away with a 6, he only needed to shoot 2 under. It mattered, it mattered big time," Hardy said.
"I think you should be responsible. For people who think a player should get away with making a mistake like that because of a caddie's fault or because the walking scorer should be in charge is wrong. The player should be 100 percent in charge of their score.
"The game is amazing because it taught me so many things about life. It's like a true meritocracy in the sense that in life you need to be honest, you need to take responsibility, take ownership, have integrity for others; that's the name of the game and to violate that is very concerning."
Paul Higham is a sports journalist with over 20 years of experience in covering most major sporting events for both Sky Sports and BBC Sport. He is currently freelance and covers the golf majors on the BBC Sport website. Highlights over the years include covering that epic Monday finish in the Ryder Cup at Celtic Manor and watching Rory McIlroy produce one of the most dominant Major wins at the 2011 US Open at Congressional. He also writes betting previews and still feels strangely proud of backing Danny Willett when he won the Masters in 2016 - Willett also praised his putting stroke during a media event before the Open at Hoylake. Favourite interviews he's conducted have been with McIlroy, Paul McGinley, Thomas Bjorn, Rickie Fowler and the enigma that is Victor Dubuisson. A big fan of watching any golf from any tour, sadly he spends more time writing about golf than playing these days with two young children, and as a big fair weather golfer claims playing in shorts is worth at least five shots. Being from Liverpool he loves the likes of Hoylake, Birkdale and the stretch of tracks along England's Golf Coast, but would say his favourite courses played are Kingsbarns and Portrush.