McIlroy fails at Irish Open 3rd year in a row: why?
Various theories have been put forward for McIlroy's Irish Open failures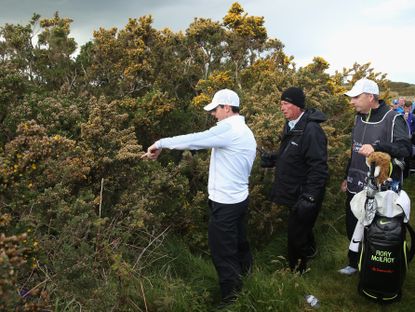 (Image credit: Getty Images)
Various theories have been put forward for McIlroy's Irish Open failures
Rory McIlroy has now missed the cut in the past three Irish Opens, his home event. This year it was more his home event than ever as the Rory Foundation was on the title as tournament host.
The missed cut for Rory always looked a likely outcome after a first round 80 which did not include a birdie. It was McIlroy's first birdie-free round for three years.
It was the also first time he shot in the 80s since his US Masters 'mare in 2011 when he blew a four-shoot lead coming into the final day,
Various theories have been put forward for McIlroy's Irish Open failures. One is simply that McIlroy is doing too much, on and off-course , and his energies are being drained.
He flew overnight from winning the Wells Fargo (opens in new tab) in the US, touching down in London and going straight into a day at Niketown (opens in new tab) before making it down to Wentworth where he then missed the cut in the PGA Championship.
He then travelled to Ireland where his foundation was hosting the Irish Open and he was involved in lots of off-course fundraising activities
"It's my fifth week in a row," McIlroy conceded of his latest Irish Open disappointment, "and I'm not saying I felt flat out there, but trying to muster something up to get myself going and get some sort of momentum was sort of difficult.
Does he also have trouble when the wind blows and the skies glower? Emotionally as much as technically.
After being blown out of the Open at Sandwich in 2011, he famously said: "I'm not a fan of tournaments where the outcome is predicted so much by the weather. I'm looking forward to getting back to playing in nice conditions in America. I'd rather play when it's 80 degrees and sunny and not much wind."
This is strange . For anyone who has played at the course where Rory McIlroy learnt his golf, knows it blows there. It is exposed in parts on the back nine, on a hillside overlooking a lough. You often have to play in the wind there.
Rory retains a great fondness for Holywood Golf Club (opens in new tab), where he, his father and uncle are members. He is proud of his roots and has not forgotten them
Is that a reason for McIlroy's Irish Open failures - he wants success too much. Or is that others want success for him too much?
"You know what to expect when you come to an Irish Open," McIlroy says "and I've said for the last couple of years I want to try and embrace it and relish the fact that you're here and everyone wants to see you do well. So you should be able to use that to your advantage. I just haven't been able to do that as of yet."
McIlroy was not alone in being birdie-free on the first day. He played in the same three-ball as Martin Kaymer - who also went birdie free, and just sneaked ahead of Rory on the lowest part of the leaderboard with a 79.
The current holders of three of the Majors could not muster a birdie between them.
Golf success can be a capricious. It why we love - and hate - the game.
Contributing Writer Golf courses and travel are Roderick's particular interests and he was contributing editor for the first few years of the Golf Monthly Travel Supplement. He writes travel articles and general features for the magazine, travel supplement and website. He also compiles the magazine's crossword. He is a member of Trevose Golf & Country Club and has played golf in around two dozen countries. Cricket is his other main sporting love. He is the author of five books, four of which are still in print: The Novel Life of PG Wodehouse; The Don: Beyond Boundaries; Wally Hammond: Gentleman & Player and England's Greatest Post-War All Rounder.