Faldo is to play his final Major at St Andrews
Three-time Open champion to bow out at scene of his 1990 victory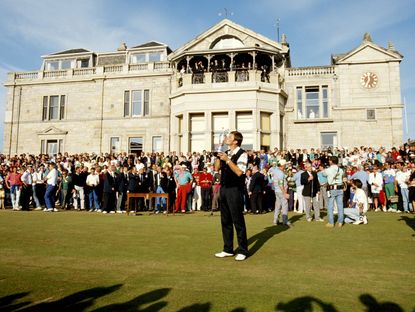 (Image credit: Getty Images)
The three-time Open champion will bow out at the venue of his 1990 Open victory
Sir Nick Faldo is to play his final Major at St Andrews in July. He has long since stopped playing in the other Majors but he has carried on playing in the Open Championship every year with the exception of 2008, 2001 and 2012.
But this will be his last Major appearance.
Faldo explains: "The Open and St. Andrews will forever hold a significant place in my heart. My fondest moments on my journey with this great sport are woven with pictures and emotions in this setting. It all means a huge amount to me."
Faldo has won The Open three times. The first time was at Muirfield in 1987, and he named his house, in Kier Park in Ascot, Muirfield. He won again at Muirfield in 1992.
He also won the Open at St Andrews, by five shots, a quarter of a century ago.
Faldo also won three US Masters. He has a lifetime exemption to play in the Masters tournament, but last did so in 2006 when he missed the cut. He last played in the US Open and the USPGA Championship in 2004.
What Sir Nick will be doing on his 58th birthday will depend on whether he makes the cut in The Open. His 58th birthday falls on the third day of the tournament. He last made the cut in The Open in 2005.
Also bowing out of The Open, will be Tom Watson, 40 years after his first tournament in the event, at Carnoustie.
Watson, now 66, was runner up six years ago at Turnberry when he lost the play-off to Stewart Cink. He has received a dispensation from the R&A to play in this year's Open.
Faldo and Watson will be among those who will compete in the Champion Golfers' Challenge on Wednesday July 15 on the eve of the Open.
Also playing in this four-hole team event played over the 1st, 2nd ,17th and 18th holes will be five-time Open champions Peter Thomson. He will be celebrating the 60th anniversary of his win at St Andrews in 1955.
Tom Watson's good friend and rival Jack Nicklaus bowed out of competitive golf at The Open at St Andrews in 2005.
Nicklaus explained: "I played pretty well in England but I never won. I always felt like Scotland has been where it is for me. I won at St Andrews, won at Muirfield, came very close at Troon, Turnberry and Carnoustie."
"Since I came here people have treated me like I was one of their own. It's a great feeling, it's like coming home. So St Andrews is where I chose to end my career."
"I birdied the first hole of Major championship golf I played when I was 17 and I birdied the last when I was 65. It was very, very special."
Let us hope Nick Faldo can go out on a similar high.
Peter Dawson, chief executive of the R&A, says: "Sir Nick Faldo is an inspirational figure in British golf and has enjoyed a remarkable career in the Open.
"I'm sure there will be great anticipation among the galleries at St Andrews to see him play in the Open once again and he will receive a rousing ovation worthy of a great champion."
Contributing Writer Golf courses and travel are Roderick's particular interests and he was contributing editor for the first few years of the Golf Monthly Travel Supplement. He writes travel articles and general features for the magazine, travel supplement and website. He also compiles the magazine's crossword. He is a member of Trevose Golf & Country Club and has played golf in around two dozen countries. Cricket is his other main sporting love. He is the author of five books, four of which are still in print: The Novel Life of PG Wodehouse; The Don: Beyond Boundaries; Wally Hammond: Gentleman & Player and England's Greatest Post-War All Rounder.