Shinnecock Hills Traffic Causing Nightmares Ahead Of US Open
Tiger Woods says that players may miss their tee times due to the traffic in the local area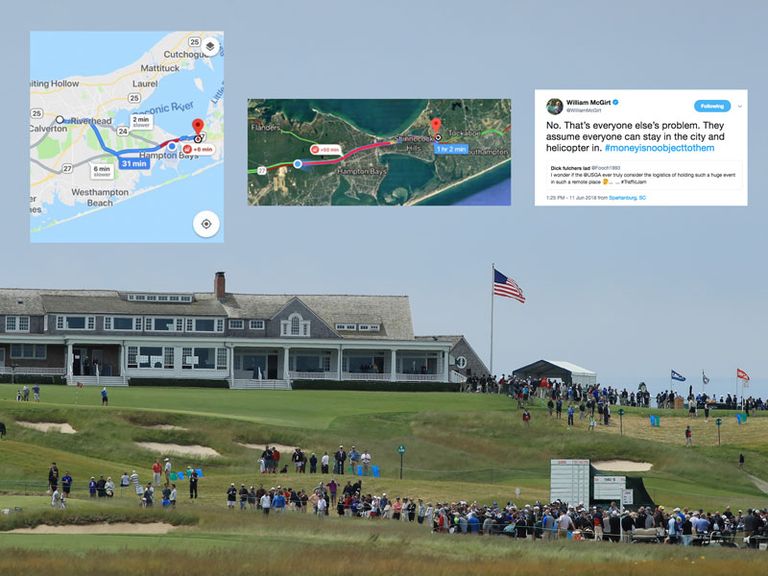 (Image credit: Getty Images)
Tiger Woods says that players may miss their tee times due to the traffic in the local area
Shinnecock Hills Traffic Causing Nightmares Ahead Of US Open
The US Open takes place at Shinnecock Hills this week in Long Island, New York, and gridlock traffic in the area has caused chaos on the roads heading to the course.
Players, caddies and media have been taking hours to get the course, with BBC Golf Correspondent Iain Carter saying that a five minute journey from local town Southampton took him an hour.
Tiger Woods is staying on his $20m yacht on the east of the island, which he referred to as his 'dinghy', and commented that someone may even miss their tee time due to the disruption.
"Staying on the dinghy helps," he joked.
"There are a few guys so far this week have said it's taken them from the hotel 2 1/2 to 3 hours, and, you know, there's a good chance that someone might miss their time.
"You get a little traffic, you get maybe a little fender bender, it's not inconceivable someone could miss their time."
Whilst the traffic is causing nightmares, players like Woods with his yacht and Ian Poulter who came in on a helicopter aren't having problems with the traffic.
William McGirt joked that the USGA assumed everyone was coming in on helicopters:
Justin Rose's caddie Ian 'Fooch' Fulcher wrote on Twitter, "I wonder if the USGA truly consider the logistics of holding such a huge event in such a remote place...#TrafficJam"
He also posted this video:
GolfWeek's David Dusek tweeted a screenshot of the traffic early on Tuesday morning:
In total it took him two hours and 20 minutes to make a 40 mile trip to the course... at 5.30am in the morning. What is is going to be like during tournament week?
Richie Ramsay's caddie tweeted, "2hrs 56 I've been going still 4 mile away, took me 24mins last night to get back!"
Expand US Open Golf Betting Tips 2019 – Final Round
US Open Golf Betting Tips 2019 – Final Round
Who will survive the toughest test of the…
Expand US Open Tee Times 2019 – Round Four
US Open Tee Times 2019 – Round Four
Woodland and Rose are out at 10.30pm BST
Expand US Open TV Coverage 2019
Here we take a look at how and…
Expand Shinnecock Hills: All You Need To Know
Shinnecock Hills: All You Need To Know
All you need to know about Shinnecock Hills,…
He also posted a screenshot of his journey and called it "the worst traffic experience in 15 years on tour".
The action gets underway on Thursday as Brooks Koepka defends the title he won last year at Erin Hills. View tee times here.
Let's hope everyone makes their tee time!
For all the latest US Open news, check the Golf Monthly website and follow our social media channels