Rory McIlroy Says 13th Hole At Augusta National 'Much More Difficult'
Rory McIlroy was happy with his game when he played Augusta recently and welcomed the changes to the 13th hole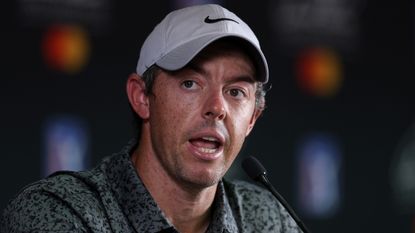 (Image credit: Getty Images)
Rory McIlroy admits he had "two good days" of Masters preparation at Augusta National recently, where he got to grips with the big changes made to the 13th that make the approach shot a much tougher test.
The four-time Major champion will once again try complete the career Grand Slam next month when the Masters gets underway – and his preparations are going well.
After reports that a change in equipment saw him 'drive it beautifully' around Augusta, there followed talk of him taking just 19 putts during one of his rounds.
While McIlroy didn't confirm the number, he did smile as he admitted having a couple of good days of Masters preparation as he looks to finally slip on the Green Jacket.
"Yeah, look, I had two good days," McIlroy said with a smile after being asked if he lit up Augusta. "We played 54 holes in two days and it was good. I was really happy with where my game was.
"It was sort of good to see that after struggling at the Players."
The 33-year-old had his best Masters finish last year when that memorable bunker shot on the 18th saw him finish in second behind Scottie Scheffler.
If he is to go one better, he'll have to conquer the revamped 13th hole at Augusta, which McIlroy says is now a more straightforward tee shot, but a much tougher prospect when trying to find the green.
"I think overall it's a little like 11 in terms of the change," McIlroy added. "I think they made the tee shot easier because you don't really have to do anything with the tee shot anymore. Just hit it sort of straight up the chute.
"The second shot, much more difficult. A little bit like 11. The second shot on 11 is much more difficult with how they've contoured the front of the green.
"I used to hit 8-iron from a flat lie into 13 and now I hit a 5-iron from the ball way above my feet. Just makes you think a little bit more about the second shot which I think is good."
McIlroy also gave his thoughts on what Augusta would play like if the proposed rollback of the golf ball goes ahead – saying for him it would just mean returning to playing the distances he had during his Major-winning spell.
"It would be like me going back to my 2015 equipment," McIlroy said. "I've gained 15 yards in the last six or seven years, and they're saying it's basically a 15- to 20-yard reduction in distance if you hit the ball the speeds that I hit it.
"It would just be like me playing golf again in 2015, and I seemed to do okay then.
"Again, for me it's trying to just keep the integrity of what the game was supposed to be, and when this game was invented - and obviously innovation happens, but I don't think people imagined golf the way pros play the game right now.
"I think it's just got a little - I'd love to see just a little more versatility put back into the game, and I think that's what this change would ultimately do."
Paul Higham is a sports journalist with over 20 years of experience in covering most major sporting events for both Sky Sports and BBC Sport. He is currently freelance and covers the golf majors on the BBC Sport website. Highlights over the years include covering that epic Monday finish in the Ryder Cup at Celtic Manor and watching Rory McIlroy produce one of the most dominant Major wins at the 2011 US Open at Congressional. He also writes betting previews and still feels strangely proud of backing Danny Willett when he won the Masters in 2016 - Willett also praised his putting stroke during a media event before the Open at Hoylake. Favourite interviews he's conducted have been with McIlroy, Paul McGinley, Thomas Bjorn, Rickie Fowler and the enigma that is Victor Dubuisson. A big fan of watching any golf from any tour, sadly he spends more time writing about golf than playing these days with two young children, and as a big fair weather golfer claims playing in shorts is worth at least five shots. Being from Liverpool he loves the likes of Hoylake, Birkdale and the stretch of tracks along England's Golf Coast, but would say his favourite courses played are Kingsbarns and Portrush.