'Our Opinion Didn't Matter' - PGA Tour Players Group Slams No-Cut Changes
Members of the Player Advisory Council says the PGA Tour didn't consult them properly before making changes to designated events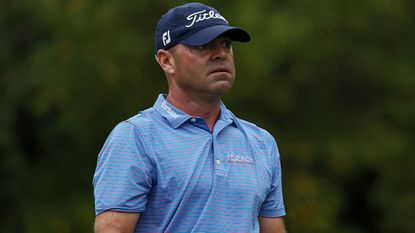 (Image credit: Getty Images)
The changes to the PGA Tour may have been welcomed by the top players on the circuit, but veteran pro Ryan Armour slammed plans for the new designated events saying the bulk of the players further down the rankings are unhappy with the move.
Armour is a long-time member of the Player Advisory Council, but says that the opinions of the 16-player PAC aren't taken into consideration, with just a select few top players who sit on the PGA Tour Policy Board holding all the power.
In an explosive interview with Golf Digest, Armour hit out at the new designated events that will be small fields with no cut from 2024, saying Jay Monahan and the PGA Tour is eroding one of its founding principles – to give all of its members playing opportunities.
"I'm going to catch heat for this," Armour told Golf Digest (opens in new tab). "But I was talking with James Hahn and we went into detail about how we need to rewrite our mission statement and take out the part about the tour creating playing opportunities for its members.
"I guess we're not doing that anymore. They just c*****d on everything (former PGA Tour commissioner) Deane Beman stood for."
Loyal PGA Tour members being left out in the cold
The main problem for Armour, and many of his fellow players, is the barrier to entry they now see in these big events, which could force some talented younger players to go and seek a LIV Golf contract if they can't get into the new big events.
"Guys who keep their cards, they're good players, but they're not going to have a chance to play the playoffs," Armour said.
"They're not getting into any of the designated events. But they want those players to go be mules for you at all the Pro-Ams, all the charity visits, all the hospital visits and sponsor events. And we're good enough to do that, but we're not good enough to play in designated events like we did this year?
"Say you finished 75th on the points list, just using that as an example. Yes, you had a really good year, but you don't get in any of the designated events. Why wouldn't you take a LIV contract? You've just been told by the tour that you fought for and were loyal to that we don't want you."
Fellow PAC member Kevin Streelman added that a frustration for golfers further down the food chain is that so much can be won and lost just by a shot or two – with that all-important top 50 to get into the designated events bringing with it so much reward.
"The depth out here is astronomically higher than it's ever been before," Streelman added in Golf Digest. "I firmly believe 120 people in this field could win this week.
"I've been in eight or nine BMW Championships in 15 years, two Tour Championships, and it always comes down to a shot or two throughout the whole year.
"There is literally no difference in the caliber of player who is 51 or 49 [on the points list], but one guy's entire year is set. So that's the frustrating part from our side."
No cuts jeopardizes the integrity of professional golf
Streelman also believes that having a cut in the big events is crucial to keep the integrity of the spot, and does not want to see them removed.
"I agree that the top players playing together more often is crazy exciting for the tour," Streelman said. "Do I want our top players together? Yes. Do I want big purses? Yes. But do I want better competition? Absolutely.
"So I firmly believe that cuts and relatively full fields are an integral part of professional golf. I think a cut affects how we play. I doubled the ninth hole at Bay Hill last week to miss the cut by one. I was devastated. Like, I was really in a tough place.
"I've listened to a lot of podcasts and interviews lately. I've read what a lot of fans have said on Twitter and social media. It just seems like everyone agrees that they want to see a cut in most tournaments.
"I understand the pros and cons of what we are trying to do, that we have to do something bold. I just don't want to jeopardize the integrity of our competition and integrity of professional golf."
And Mackenzie Hughes spelled out what could be most troubling for many players, in that the decision was made without their knowledge, after having a PAC meeting in January when the concerns about the plans were raised, but seemingly dismissed.
"No one in San Diego was like, 'Yeah, this is going to be great.' And then a month later, the decision was made," said Hughes. "I had no idea what was happening. I found out through Twitter that we had decided to change the schedule. They just went ahead and did it. Our opinion didn't matter."
It seems that even in trying to fend off LIV Golf's advances, the PGA Tour will have big problems trying to keep even many of their own members happy.
Paul Higham is a sports journalist with over 20 years of experience in covering most major sporting events for both Sky Sports and BBC Sport. He is currently freelance and covers the golf majors on the BBC Sport website. Highlights over the years include covering that epic Monday finish in the Ryder Cup at Celtic Manor and watching Rory McIlroy produce one of the most dominant Major wins at the 2011 US Open at Congressional. He also writes betting previews and still feels strangely proud of backing Danny Willett when he won the Masters in 2016 - Willett also praised his putting stroke during a media event before the Open at Hoylake. Favourite interviews he's conducted have been with McIlroy, Paul McGinley, Thomas Bjorn, Rickie Fowler and the enigma that is Victor Dubuisson. A big fan of watching any golf from any tour, sadly he spends more time writing about golf than playing these days with two young children, and as a big fair weather golfer claims playing in shorts is worth at least five shots. Being from Liverpool he loves the likes of Hoylake, Birkdale and the stretch of tracks along England's Golf Coast, but would say his favourite courses played are Kingsbarns and Portrush.