Great GM day out for a great cause
A GM team played in the pro-am for the Prostate Cancer Scottish Senior Open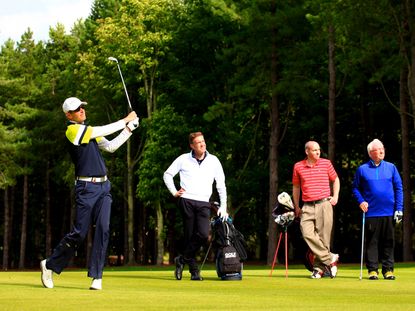 (Image credit: Phil Inglis)
Golf Monthly Newsletter
Golf tips and expert instruction, golf club reviews and the latest golf equipment.
Thank you for signing up to . You will receive a verification email shortly.
There was a problem. Please refresh the page and try again.
Fergus Bisset competed in the Wednesday pro-am for the Prostate Cancer Scottish Senior Open together with two GM readers and Danish pro Steen Tinning.
As I made my way along the back of the range I could see space was at a premium. It was a shotgun start and all the competitors were completing their final warm-ups at the same time. I was about to accept I would have to forego a few hits when suddenly a player turned away from his little pyramid of balls, leaving a rather narrow gap in the firing line. He politely waved me towards it by way of saying, "it's all yours."
"Fine, I can squeeze in there," I thought. I popped my bag down, whipped out a 5-iron and knocked a ball from the pyramid onto the pristine turf. I addressed it, looked down and realised I felt rather nervous.
I stood away and glanced (trying to appear casual) at my nearest neighbours in the line. Immediately in front of me was 1999 European Ryder Cup captain Mark James, ahead of him was eight-time European Senior Tour winner Paul Wesselingh. Right behind me was Australia's Peter O'Malley. I'd been there (age 12) when POM played the last five at Gleneagles in seven-under-par to win the 1992 Scottish Open - poor old Monty. Behind him was the tall figure of his fellow Aussie Peter Fowler.
I had a sudden pang of anxiety. Maybe I wasn't supposed to be there? Maybe the range was for professionals only? But I knew it wasn't, as a European Tour official had pointed me in the right direction. But maybe he thought I was a player? Do I look 50? Possibly. "OK," I thought, "You've just got to grit this one out." Ignoring the sound of crisply struck long irons fore and aft, I hunkered down over the ball, made a quick swing and sent a semi-thinned 5-iron weakly into the air where it turned quite aggressively from left to right and carried all of about 135 yards. "Not bad," I thought.
I managed to hit another few shots without shanking one straight at Paul Broadhurst, or digging a massive hole in Archerfield's beautiful, turf practice area. I felt I'd just about got away with it, so headed off with (a modicum of) confidence to meet my pro-am team at the Prostate Cancer Scottish Senior Open.
This is the first year Prostate Cancer UK has been title sponsor of the Scottish Senior Open. The aim is to increase awareness of the disease amongst golfers and to raise money for the cause. More than 40,000 men in the UK are diagnosed with prostate cancer every year and the illness will affect one in eight men in this country at some point in their lifetime. Prostate Cancer UK is working tirelessly to increase awareness and to encourage men to be tested for the disease. Through their "Men United" campaign they have reached a huge number of men through associations developed with sports like football, rugby league and now golf. It's something we should all be aware of and something we should talk openly and frankly about with our pals. Golf Monthly's Bill Elliott is a golf ambassador for Prostate Cancer UK and he is at Archerfield this week to play, as well as to talk about a disease from which he has recovered in an effort to make as many people as possible aware of the importance of taking preemptive action against this, the most common form of cancer among men. He wrote brilliantly on the subject in this July's issue of the magazine.
One man dies every hour of Prostate Cancer in the UK. Think about it…
Have you thought about it? OK, back to the golf then. I was playing at Archerfield, East Lothian in the Wednesday pro-am prior to the commencement of the Scottish Senior Open proper, (also being played with a pro-am format.) I was joining two Golf Monthly prize winners – Andy McVey from North Berwick and Colin Ramsay from Musselburgh. The three of us, in turn, were joining our professional for the day Steen Tinning.
Having been both European and World champion as a junior, Steen turned pro in 1985 and played his first full season on the European Tour in 1987; he was the first Danish player on the circuit. He played on Tour up until 2003 and enjoyed success, winning the Celtic Manor Wales Open in 2000 and the Open de Madrid in 2002.
But he's had his travails too. In 1990, he and his wife were lucky to escape with their lives from a serious car crash in Germany. Steen was severely injured and was out of action for 18 months. Then, lower back problems force him to retire from the European Tour in 2003 at the age of just 41.
But he wasn't giving up on golf. After a course of therapy to sort his back problems, Steen concentrated on improving his fitness. He's now one of the fittest players in the world of professional golf. He has completed Iron Man triathlons and trains almost every day. He's pencil thin and, when I saw him from a distance on the chipping green at Archerfield, I assumed he must have been a young amateur playing on the day. But no, he's 52 and, from a position of physical fitness, would put 99% of 30-year-olds to shame.
Jimenez shows you how he keeps limber:
Steen is also a supremely nice chap. Through the course of the day he was generous with his advice and stories of his life. He also showed great patience for our, should I say my, slightly erratic golf. You wonder sometimes if pros just go through the motions on a day like this, but not Steen. It was clear he genuinely wanted the three of us to get maximum enjoyment from the day and, I think at least, he wanted to get the most he could from it as well. That made for a very relaxing and enjoyable round of golf.
The team played well too. Colin, who works in the locker room at Archerfield, provided us with some valuable local knowledge, as well as a driving demonstration of considerable quality. The 9-handicapper admitted he'd had a lesson the previous day and it clearly paid off as he hit almost every tee shot powerfully down the middle with just a hint of draw. He also made some clutch putts on the tricky greens.
The condition of Archerfield's Fidra Course was absolutely outstanding. The David J Russell design was looking pristine and playing perfectly. The greens in particular were superb: Faster than I'm used to, but wonderfully firm and completely true. Any missed putt could only be put down to pilot error and that always inspires confidence. When you know that, if you send the ball on the right line it will go in, you can strike the putts with far more authority.
Andy plays off an 11 handicap and is a member of North Berwick Golf Club. He struck the ball solidly through the round and hit a couple of crushing drives. He also displayed some silky skills around the putting surfaces. The run-off areas, and green surrounds in general, on the Fidra require a deft touch and Andy showed he has one on a number of occasions. On the 9th hole, he played a shot that Seve would have been proud of. His drive was long but into the towering pine trees some 140 yards short of the pin. He aimed through a narrow gap between two pines and hit the ball low with a raking hook, chasing it round and up on to the green, within 20 feet of the hole. What a shot!
I was spraying it around like an unmanned hose for much of the round, but occasional lapses into competence meant I managed a couple of contributions. In fact, by the time we finished, all four of us (obviously Steen a little more) had played our parts in compiling what we thought a rather decent Stableford aggregate of 85. (The best two of four Stableford scores at each hole counted.)
Our thoughts were confirmed when we saw the leaderboard and realised we were only two points behind the winning side. Unfortunately four teams had scored either 87 or 86 and we finished just outside the prizes in fifth. As with every round of golf we were left to rue a couple of missed putts and the odd errant shot.
But we couldn't be too disappointed. We'd enjoyed a brilliant round in excellent company over a wonderfully presented course under skies that were, for the odd moment, blue… we'll forget the Arctic squall that had us sheltering under a bush for 10 minutes.
Golf journalists are renowned for being a touch cynical and I must confess that, once in a while, I can be guilty of it. At one point on the course yesterday I found myself counting how many holes we had left. I do this quite often and I'm generally trying to work out how much more I have to endure. But this time I was counting because I was enjoying myself so much I didn't want it to end. That was a pretty rare and rather cool feeling.
One thing that should be mentioned is the great and relaxed atmosphere at the Prostate Cancer Senior Scottish Open. The players are hugely competitive, as you would expect, but there was a friendly, family vibe around Archerfield. These guys want to win, but they clearly want to enjoy it too and that creates a very convivial ambience.
If you're able to over the next three days, you should go to Archerfield and check it out. There's easy on-site parking and you'll get right up close to these great players. You'll see them striping shots and knocking in monster putts, but you'll also see them having a laugh and enjoying the company of their fellow pros and their amateur partners. In an age where many young professionals take themselves, and what they're doing, a little too seriously, it's rather refreshing.
Fergus is a golf obsessive and 1-handicapper. Growing up in the North East of Scotland, golf runs through his veins and his passion for the sport was bolstered during his time at St Andrews university studying history. He went on to earn a post graduate diploma from the London School of Journalism. Fergus has worked for Golf Monthly since 2004 and has written two books on the game; "Great Golf Debates" together with Jezz Ellwood of Golf Monthly and "The Ultimate Golf Book" together with Neil Tappin (also of Golf Monthly)... Fergus once shanked a ball from just over Granny Clark's Wynd on the 18th of the Old Course that struck the St Andrews Golf Club and rebounded into the Valley of Sin, from where he saved par. Who says there's no golfing god?