No Agreement Reached As PGA Tour Hit Out At LIV Golf In Discovery Dispute
PGA Tour say LIV Golf's Saudi backers won't agree to normal discovery process and want to cherry-pick information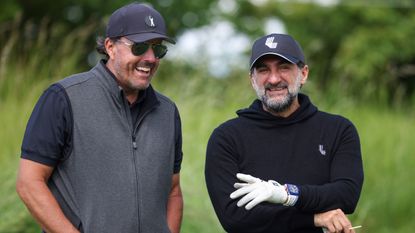 (Image credit: Getty Images)
A judge may now have to step in and make a huge ruling in the PGA Tour and LIV Golf's legal dispute after the two failed to reach an agreement on the discovery process that requires documentation being viewed and the Saudi Arabia financial backers being questioned.
After LIV Golf and 11 players sued the PGA Tour last year, the Tour launched a countersuit for players violating their rules, and widened the scope of the antitrust action by including the Public Investment Fund (PIF) and its governor Yasi Al-Rumayyan.
The PGA Tour claim that as the main financial muscle behind the LIV Golf organisation, documents from the PIF should be made available for their lawyers to look through, along with Al-Rumayyan being deposed for questioning under oath.
PIF's lawyers insisted they were not involved in the running of LIV Golf, and that as a sovereign wealth fund they had certain immunity from the discovery process in the USA.
The two parties were given until Wednesday to find an agreement by Judge Susan van Keulen, but none was sorted, with the PGA Tour blaming PIF for putting certain stipulations on them releasing documents.
Lawyers for PIF and Al-Rumayyan offered to allow discovery but only with these stipulations, which included them not releasing any information that would violate the laws of Saudi Arabia and that neither Al-Rumayyan or any other witnesses from the PIF would be questioned at depositions.
The PGA Tour rejected these and claimed in court documents that: "PIF's proposed "conditions" bring this dispute back to where it began: PIF would be allowed to cherry-pick what documents to produce while shielding itself from testifying under oath and depriving the Tour of any way of enforcing its rights."
No agreement reached by the court-set deadline between PGA Tour & Saudi investment fund on Saudis complying with discovery process in LIV antitrust suit. In a court filing, the PGAT lists what it says are Saudi preconditions: pic.twitter.com/wfZQyVO2cOJanuary 19, 2023
See more
The impasse not only extends this long-running dispute but also lands the case back with Judge van Keulen, who will have to make a ruling on the terms of the discovery process, with no real indication of how this will go.
It seems sometimes that this legal process will never even get started, let alone end, but we could be nearing a landmark moment in the proceedings as we find out just how much information about LIV Golf and their Saudi backers the PGA Tour lawyers will be able to get their hands on.
Paul Higham is a sports journalist with over 20 years of experience in covering most major sporting events for both Sky Sports and BBC Sport. He is currently freelance and covers the golf majors on the BBC Sport website. Highlights over the years include covering that epic Monday finish in the Ryder Cup at Celtic Manor and watching Rory McIlroy produce one of the most dominant Major wins at the 2011 US Open at Congressional. He also writes betting previews and still feels strangely proud of backing Danny Willett when he won the Masters in 2016 - Willett also praised his putting stroke during a media event before the Open at Hoylake. Favourite interviews he's conducted have been with McIlroy, Paul McGinley, Thomas Bjorn, Rickie Fowler and the enigma that is Victor Dubuisson. A big fan of watching any golf from any tour, sadly he spends more time writing about golf than playing these days with two young children, and as a big fair weather golfer claims playing in shorts is worth at least five shots. Being from Liverpool he loves the likes of Hoylake, Birkdale and the stretch of tracks along England's Golf Coast, but would say his favourite courses played are Kingsbarns and Portrush.