PGA Tour Files Lawsuit Against Saudi Investment Fund Backing LIV Golf
The PGA Tour is suing the Saudi Arabia Public Investment Fund and governor Yasir Othman Al-Rumayyan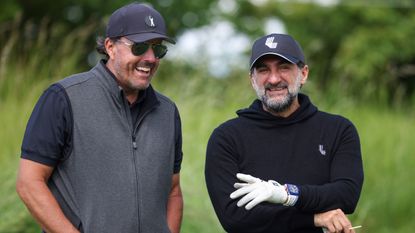 (Image credit: Getty Images)
The continuing golfing battle being played out in the courtroom took another twist with the PGA Tour filing a federal lawsuit against Saudi Arabia Public Investment Fund (PIF) and its governor Yasir Othman Al-Rumayyan.
Although many are imploring LIV Golf and the PGA Tour to sit down and thrash out some sort of way of working together, it seems the two parties will continue to trade legal punches instead.
Court records show the complaint was filed under seal in the US District Court for the Southern District of New York in Manhattan.
ESPN are reporting (opens in new tab) that lawyers for the latest PGA Tour suit are trying to get Al-Rumayyan to be deposed for another federal suit involving LIV Golf, which is based in California.
The new motion would also mean that the PIF, which is funding the huge outlay into LIV Golf, would have to release documents to the PGA Tour for discovery purposes in the case.
Al-Rumayyan is also chairman of Premier League club Newcastle United after their takeover, and holds the same position with Saudi-owned petroleum company Saudi Aramco, which is a huge sponsor in women's golf.
The court proceedings are all part of a tit-for-tat filing of suits, with LIV Golf filing a federal antitrust lawsuit on 3 August against the PGA Tour – accusing them of using their monopoly to prevent any competition.
11 LIV Golf players were named in the original lawsuit, but eight of them, including Phil Mickelson, have since asked to have their names removed as plaintiffs.
Bryson DeChambeau, Matt Jones and Peter Uihlein remain as names on the antitrust suit, which was countered by the PGA Tour with a suit of their own on 29 September.
The PGA Tour claim LIV Golf interfered with its contracts with players when they were lured away to play in the 54-hole event for huge sums of prize money.
PGA Tour commissioner Jay Monahan has suspended over 30 players for going to play in LIV Golf events, while the US Department of Justice is investigating allegations surrounding how the Tour dealt with LIV Golf and their players.
Paul Higham is a sports journalist with over 20 years of experience in covering most major sporting events for both Sky Sports and BBC Sport. He is currently freelance and covers the golf majors on the BBC Sport website. Highlights over the years include covering that epic Monday finish in the Ryder Cup at Celtic Manor and watching Rory McIlroy produce one of the most dominant Major wins at the 2011 US Open at Congressional. He also writes betting previews and still feels strangely proud of backing Danny Willett when he won the Masters in 2016 - Willett also praised his putting stroke during a media event before the Open at Hoylake. Favourite interviews he's conducted have been with McIlroy, Paul McGinley, Thomas Bjorn, Rickie Fowler and the enigma that is Victor Dubuisson. A big fan of watching any golf from any tour, sadly he spends more time writing about golf than playing these days with two young children, and as a big fair weather golfer claims playing in shorts is worth at least five shots. Being from Liverpool he loves the likes of Hoylake, Birkdale and the stretch of tracks along England's Golf Coast, but would say his favourite courses played are Kingsbarns and Portrush.