Ben Crenshaw Concerned About Masters Media Circus With LIV Golfers At Augusta
Two-time Masters champion Ben Crenshaw worried about LIV Golf saga spilling over at Augusta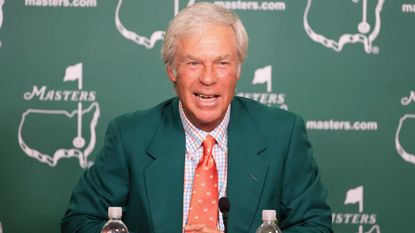 (Image credit: Getty Images)
Two-time Masters champion Ben Crenshaw admits he's worried about the divide between LIV Golf and PGA Tour players taking over the headlines at Augusta this year.
Augusta National officials have already said that LIV Golfers who qualify through the usual criteria will be allowed to play, but that's raised to possibility of awkwardness and conflict clouding proceedings at the most prestigious event in golf.
Crenshaw slipped on the Green Jacket in 1984 and 1995 and admits he's worried that the continuing battle raging in the golfing world will make the first Major collision of LIV and PGA Tour golfers a media circus that overshadows the tournament itself.
When asked by Golf Channel (opens in new tab) if he thought the Masters could turn into something of a media circus, Crenshaw replied: "I hope not, it's a tournament in which the champion can change his whole life, it's a life-giving memory, I hope the focus is on the champion and the tournament but I really just don't know – I've been worried about it I'll be honest."
Top of the list of concerns is the traditional Champions Dinner on Tuesday night of the Masters, when six former champions who have now joined LIV will come face-to-face with their PGA Tour counterparts.
"I don't know what's going to happen," Crenshaw added about the Champions Dinner. "Our job is to honour the champion Scottie Scheffler, not only for winning The Masters but for what a wonderful year he had last year – as he emerged as one of the best players in the world.
"It's his night – each one of us has earned a lifetime exemption into the tournament, but our job is to honour Scottie as the champion."
Crenshaw played against LIV Golf chief Greg Norman plenty of times, and although he did cast doubt on whether LIV could be a success he did admit it was a bold move in keeping with Norman's playing style.
"I'd say this, I'll never forget playing in the Shark Shootout 30 years ago where Greg announced we're going to have an international tour – it was very much a surprise then.
"I played against him and had a lot of respect for how great a player he was – but this thing (LIV Golf) just seems pretty imbalanced, I don't know where it's going or if it'll catch on, but it's very bold.
"A very bold move, which is kind of like how he played – I think that's the parallel there with LIV Golf, but we'll see."
Crenshaw says he's sad to see the big split in golf currently, and insists his golfing career was more about competition and making friendships than money.
"I owe my life to golf, I don't like what's going on, I don't like to see break-ups of relationships that have been built over a long period of time.
"I happen to think that there are things in golf and life that are more important than money – I have a lifetime of friendships and memories that will last me.
"I wish that people could value what the game means to so many people, what it's meant to so many guys who've played their whole lives on Tour trying to best each other in competition – the focus on that is hopefully not lost."
Paul Higham is a sports journalist with over 20 years of experience in covering most major sporting events for both Sky Sports and BBC Sport. He is currently freelance and covers the golf majors on the BBC Sport website. Highlights over the years include covering that epic Monday finish in the Ryder Cup at Celtic Manor and watching Rory McIlroy produce one of the most dominant Major wins at the 2011 US Open at Congressional. He also writes betting previews and still feels strangely proud of backing Danny Willett when he won the Masters in 2016 - Willett also praised his putting stroke during a media event before the Open at Hoylake. Favourite interviews he's conducted have been with McIlroy, Paul McGinley, Thomas Bjorn, Rickie Fowler and the enigma that is Victor Dubuisson. A big fan of watching any golf from any tour, sadly he spends more time writing about golf than playing these days with two young children, and as a big fair weather golfer claims playing in shorts is worth at least five shots. Being from Liverpool he loves the likes of Hoylake, Birkdale and the stretch of tracks along England's Golf Coast, but would say his favourite courses played are Kingsbarns and Portrush.