Attending The Phoenix Open - What's It Really Like Going To Golf's Biggest Party?
Paul Higham went to TPC Scottsdale to soak in the atmosphere as the WM Phoenix Open started life as an elevated PGA Tour event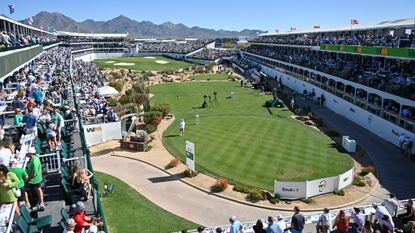 (Image credit: Getty Images)
With the WM Phoenix Open being held on Super Bowl week in Arizona, and having just been given a boost by the PGA Tour to bring the best players in the world for a bumper prize pot, it seemed the perfect time to check it out on the ground.
"I think if I wasn't a player and I wanted to come to one PGA Tour event, this would probably be the one that I'd want to come to," said Rory McIlroy as he made a rare appearance at the WM Phoenix Open – where the fans were definitely glad he made the effort.
It's the rowdiest, loudest, most popular stop on the PGA Tour, and being held in the same week as the Super Bowl just takes the feverish atmosphere to another level. Talk about this being an elevated event!
Once you've finally found your way to the car park in the vast area of desert just north of Phoenix, once you've then found your way through the massed ranks of fans walking in five different directions, and once you've cleared security and actually entered TPC Scottsdale, you're immediately aware that this is not you average PGA Tour event.
It's golf, but not like we know it! The hum of the crowd builds the nearer you get, the increasing number of huge stands at various holes dominate the landscape, and most dominant of all is huge behemoth that is the stadium surrounding the infamous 16th hole.
"The loudest hole in golf" it proudly proclaims just outside this golfing colosseum, and they're not lying. The noise is bewildering, intimidating and totally mind-boggling to anyone who has been to any other golf tournament – even Majors and Ryder Cups.
Is the Phoenix Open good for golf?
The smoky smell of barbeque wafts around TPC Scottsdale along with more than a hint of stale beer if you enter one of the stands later on in the day, when many fans are well on their way to being on the merrier side, but in general the atmosphere is pretty good – jovial by and large.
The noise is a constant though, and the ears are left buzzing after a day out on the course as the underlying tones of the thousands and thousands of well-oiled fans just doesn't stop.
Is it good for golf? That's the big question usually asked when this event rolls around and, look, those scenes last year of beer cans being thrown onto the green were ones nobody wants to see – much like this year's streaker and last year's shirtless Harry Higgs..
But tone that down slightly and what you do have are thousands of people, whether some know it or not, attending a golf tournament. Many don't know they're at a golf tournament, many don't care they're at a golf tournament, but they are at a golf tournament, and with a game seemingly obsessed with appealing to new audience, isn't that the point?
McIlroy agrees: "I think if we were to have an event like this every single week or even five or ten events like this on the schedule, I think it might be a little bit too much, but I think to have a golf tournament where most of the fans here aren't here to watch the golf, right; it's a different environment, and that's totally fine. If we're talking about growing the game, that's a way to do it."
And that's a key point - it's not every week, it's a one-off, for now, and thanks to its elevated status it's now got 18 of the top 20 in the world taking on the loudest hole in golf in the most unique event on the PGA Tour.
With LIV Golf using the slogan "Golf, but louder" they may need a re-think if they're going up against the Phoenix Open.
Nope, not darts or football, but the golf....#WMPhoenixOpen #WMPO pic.twitter.com/pyUaArBFsjFebruary 11, 2023
See more
And on the point of growing the game, I've seen fans of all ages wandering around the grounds – yes there are groups of what look like frat parties, and the late atmosphere on the 16th resembled something of a cross between the darts and football.
If you're a golf purist this event's probably not for you, but 'event' is the key word here – there's so much to do, everyone seems to be having a great time on the course – and off it there's the famous Bird's Nest with live music shows on throughout the tournament.
Golf's biggest party is the perfect way to put it, and for one week at one venue this desert location comes alive, with a golf tournament, now including the best golfers in the world, at the heart of it. And that's no bad thing.
Paul Higham is a sports journalist with over 20 years of experience in covering most major sporting events for both Sky Sports and BBC Sport. He is currently freelance and covers the golf majors on the BBC Sport website. Highlights over the years include covering that epic Monday finish in the Ryder Cup at Celtic Manor and watching Rory McIlroy produce one of the most dominant Major wins at the 2011 US Open at Congressional. He also writes betting previews and still feels strangely proud of backing Danny Willett when he won the Masters in 2016 - Willett also praised his putting stroke during a media event before the Open at Hoylake. Favourite interviews he's conducted have been with McIlroy, Paul McGinley, Thomas Bjorn, Rickie Fowler and the enigma that is Victor Dubuisson. A big fan of watching any golf from any tour, sadly he spends more time writing about golf than playing these days with two young children, and as a big fair weather golfer claims playing in shorts is worth at least five shots. Being from Liverpool he loves the likes of Hoylake, Birkdale and the stretch of tracks along England's Golf Coast, but would say his favourite courses played are Kingsbarns and Portrush.