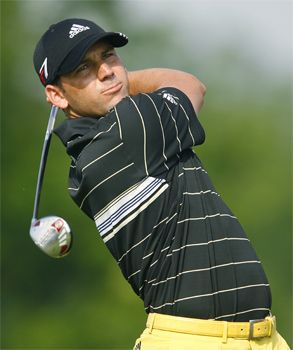 Get the Golf Monthly Newsletter
Thank you for signing up to Golf Monthly. You will receive a verification email shortly.
There was a problem. Please refresh the page and try again.
Players A-F / Players M-R / Players S-Z
Note: Odds offered by SkyBet are subject to fluctuation
SERGIO GARCIA 28/1
Sergio arrived at Carnoustie in 1999 aged 18, with a huge reputation. By Friday night, Carnoustie had left him in tears as the gifted Spaniard slumped to a miserable 89, 83 - 30 over par. Despite this performance, his Open record is good ? he has five top-10s in his last six Opens. Garcia has the long game to challenge Tiger, but desperately needs to improve his putting. His current form is erratic at best.
LAST 5 OPENS 5/5/MC/10/8
VERDICT: Being in such poor form it?s hard to see him winning, but expect a better Carnoustie performance from the Spaniard this time.
DAVID GLEESON 1000/1
Gleeson is an Australian qualifier from the IFQ in Asia. Having failed to qualify for the Open on three previous occasions, his great triumph was to make it into the field. Having played the majority of his competitive golf in Asia, a cold, windswept Carnoustie might be a shock to the system.
LAST 5 OPENS N/A
VERDICT: Unlikely to make a name for himself at Carnoustie.
RETIEF GOOSEN 28/1
Goosen has pedigree. Twice a US Open winner and four times placed inside the top three in Majors since 2002, he has regularly rewarded each-way backers in the big events. His Open record is consistent, indeed he finished 10th at Carnoustie in 1999. This experience will serve him well this time. His rather patchy current form is a concern, but this should serve to push his odds up.
LAST 5 OPENS 14/5/7/10/8
VERDICT: A good track record makes Goosen a likely contender.
ADAM GROOM 1,000/1
Groom is in his fifth year as a professional and the Open will be his first Major. Qualified for this year?s championship in Asia after failed attempts in 2003, 2005 and 2006. Plying his trade on the Asian Tour, he finished 59th in their Order of Merit last year. Carnoustie is unlikely to be anything more than a learning experience
LAST 5 OPENS NA
VERDICT: Facing the strongest field of his career, he is unlikely to make the cut.
TODD HAMILTON 750/1
Hamilton won the Open in 2004 after beating Ernie Els in a play-off, but his form since this epic victory has been disappointing. This season has entered 17 events on the US Tour and only made three cuts. His at Official World Golf Rankings has plummeted to a lowly 824.
LAST 5 OPENS 68/MC/1/MC/DNP
VERDICT: His win in 2004 was just a flash in the pan so don?t expect him to fair well at Carnoustie.
ANDERS HANSEN 125/1
Hansen had his best season last year finishing 33rd on the European Tour Order of Merit. The Dane has already built on this by winning the Tour's flagship event the BMW PGA Championship, where he beat Justin Rose on the first play-off hole. He has limited Major experience with his last Open appearance being in 2002 where he finished 77th.
LAST 5 OPENS DNP/DNP/MC/MC/77
VERDICT: Looks to be reaching his peak but a lack of experience could count against him.
PETER HANSON 150/1
The Swede finished an impressive amateur career by winning the Brabazon Trophy on the links at Formby in 1998. This year he has played consistently (four top 10s) well without winning. The key to his success has been a solid long game - he has hit 75% of greens in regulation. If Carnoustie is as tough as we expect, he?ll be an outside contender
LAST 5 OPENS: DNP/34/DNP/DNP/DNP
VERDICT: His impressive long game will help him score well at Carnoustie.
Kevin Harper 1000/1
The Englishman qualified through local qualifying at Pamure with rounds of 67 and 68 that left him tied for first place with two others.
LAST 5 OPENS: N/A
VERDICT: Qualifying for the Open is an achievement in itself, making the cut would be a massive bonus.
PADRAIG HARRINGTON 22/1
One of the best players in the world without a Major to his name, this links specialist has a strangely disappointing Open record, doing very little since finishing fifth at Muirfield in 2002. He won the European Tour Order of Merit in 2006 and on paper represents as good a European chance as any. Has twice won the Dunhill Links Championship, where one of the rounds is played at Carnoustie.
LAST 5 OPENS MC/DNP/MC/22/5
VERDICT: Should enjoy the challenge of Carnoustie and overdue a serious Open challenge.
GREGORY HAVRET 125/1
The 30-year-old Frenchman?s victory over Phil Mickelson in a tense playoff at Loch Lomond to claim the Scottish Open, securing his first Tour victory since the Italian Open in 2001, made the rest of the world sit up and notice. Having made his Tour debut in 1999, Havret has had a tough time, languishing at 320 in the world last week. However, he is prime form for his Open debut having finished tied for third at the European Open before his Loch Lomond performance.
LAST 5 OPENS: N/A
VERDICT: Will gain plenty of encouragement from holding off the world?s second best player to claim the Scottish Open and continue his excellent recent form. However, it is his Major debut and he is likely to find the situation a little overwhelming. Would be a fantastic week if he makes the cut.
JJ HENRY 200/1
Henry was in the top-10 for both fairways hit and greens in regulation at the US Open this year, two vital statistics for the tight links at Carnoustie. Henry made his Open debut last year and missed the cut by two shots. Having grown up in Texas, he shouldn?t suffer unduly at the hands of strong winds.
LAST 5 OPENS MC/DNP/DNP/DNP/DNP
VERDICT: Driving statistics from Oakmont give a lot of encouragement, but his lack of internation experience could count against him.
MARK HENSBY 250/1
Recorded two top-10 finishes in majors in 2005 but was unfortunate to be involved in a car crash last year, resulting in him missing the end of last season. Since his return to the tour has struggled to regain his best form. This year has started in 16 and finished in the top-25 only twice. This year will be his first Open appearance.
LAST 5 OPENS: NA
VERDICT: A swift return to form is unlikely after a long time out early in the season.
David Higgins: Shot an impressive second round of 68 at Downfield during Local Qualifying to get through. The 34-year-old lost his Tour card last season and has only played a handful of tournaments this year as a result.
LAST 5 OPENS: N/A
VERDICT: A lack of recent tournament golf suggests he may finds it difficult at Carnoustie.
CHARLEY HOFFMAN 400/1
Had 5 top-10s last year in his first year on the PGA Tour and this year bagged his first win. This will be his first major after qualifying at IFQ in America, a good result after his recent form.
LAST 5 OPENS: NA
VERDICT: His first major and recent form suggests Carnoustie will be a tough learning experience.
DAVID HOWELL 100/1
The Golf Monthly playing editor showed his class when he beat Tiger Woods in a head-to-head final day dual to win the HSBC Champions Tournament at the start of last season. He has become big tournament player with a consistent game but a string of injuries have put him out of action for large portions of the year so far.
LAST 5 OPENS MC/DNP/MC/MC/MC
VERDICT: Lack of recent game time may work against him.
CHARLES HOWELL III 150/1
Throughout his career this talented American has flattered to deceive. Winning the Nissan Open in February showed that he has the ability to beat a good field. His early season form has deserted him of late ? he hasn?t finished inside the top 30 since the Masters. Having shown a lack of interest in playing outside the States throughout his career, it is perhaps unsurprising that his Open record is poor.
LAST 5 OPENS DNP/MC/42/65/DNP
VERDICT: Another American with little experience outside his homeland. He?ll be looking for little more than a solid top-40 finish.
ANDERS HULTMAN 750/1
A qualifier from IFQ in America has not featured on the PGA or Nationwide Tour this year. The Open will be the Swedes first major.
LAST 5 OPENS: NA
VERDICT: Hultman is unlikely to have experienced anything like the Open before and may find it difficult to make the weekend.
TREVOR IMMELMAN 40/1
The talented South African made four consecutive Open cuts from 2002 to 2005. His best result was 15th in 2005 after a very impressive fifth at the Masters in the same year. A solid year so far sees him in 38th on the US Tour money list but he is still looking to win his first big event.
LAST 5 OPENS DNP/15/42/53/43
VERDICT: Seems to enjoy the Open and with this years course being so tight his accuracy will come in handy.
TOSHI IZAWA 400/1
Izawa hails from the Japanese Tour where he recently won the PGA Championship. No stranger to the majors, he played the Open in 2002 and finished 22nd and in 2001 he finished 4th in the Masters. His driving accuracy percentage of just 51% will need to improve if he is to make a mark at Carnoustie.
LAST 5 OPENS: DNP/DNP/DNP/DNP/22
VERDICT: Will be his second Open appearance but bettering his 2002 result will be a fantastic effort.
TONY JACKLIN 10,000/1
Jacklin bravely returns to the Open this year at the age of 63, to play on one of the toughest courses on the rota. If we experience any Wimbledon-style rain delays expect to see a teary eyed re-run of his 1969 exploits. The former Champion stands little chance of making the cut this time.
LAST 5 OPENS DNP/MC/DNP/DNP/DNP
VERDICT: Expect plenty of waving but no birdies.
RAPHAËL JACQUELIN 100/1
With one of the most fluent swings on the European Tour it?s hard to believe that this classy Frenchman hasn?t won more tournaments. So far he has little Major experience to his name and this year will be a learning experience. Carnoustie crowds would love to see another Frenchman fair well.
LAST 5 OPENS DNP/DNP/54/53/MC
VERDICT: Cannot see the Frenchman winning this year but a solid player expected to make it to the weekend.
MIGUEL ANGEL JIMÉNEZ 125/1
This year has been rather uneventful for the former Ryder Cupper - two top-10s is nothing to shout about. His consistency however has been impressive ? he has only missed one cut. His best finish at the Open was 3rd in 2001 proving that a windy links does not intimidate him.
LAST 5 OPENS: 41/52/47/DNP/MC
VERDICT: Due a big performance he could be one to watch closely
ZACH JOHNSON 50/1
With odds of 150/1, Johnson was the shock winner of this year?s Masters. But unlike Hamilton and Curtis, Johnson has proved his class since by landing his third PGA Tour victory ? the AT & T Classic. His stature within the game is growing fast but his Open record reveals that he has plenty to learn about the art of links golf.
LAST 5 OPENS: MC/MC/MC/DNP/DNP
VERDICT: He has the game to compete but lacks experience.
ROBERT KARLSSON 80/1
The Swede has been a regular contender on the European Tour over the last two seasons. A close look at his statistics reveal the extent of his consistency ? he averages just under 300 yards off the tee, hitting 58% of fairways in regulation. His short game is solid, too, as he averages 29 putts per round. Undoubtedly, Karlsson has a big week in him soon and his Ryder Cup experience will certainly help him deal with the pressure of the Open.
LAST 5 OPENS 35/DNP/DNP/DNP/MC
VERDICT: Good performances at Augusta and Hoylake last year should instil belief.
SHINGO KATAYAMA 300/1
One of the Japanese Tour?s most prolific performers Katayama had outstanding seasons in 2005 and 2006 with five wins. Aged 34, he has accrued plenty of Major experience but has yet to make a name for himself at the Open. So far this year he has hit 64% of fairways ? this accuracy will be crucial at Carnoustie.
LAST 5 OPENS MC/DNP/DNP/34/50
VERDICT: Suspicion remains that his game is not suited to links golf.
Justin Kehoe 1,500/1
Kehoe showed real grit to find a birdie on his final hole at LFQ at Montrose to pip Sean Whiffin and make the field by a single shot. The man from Birr in the Republic of Ireland has no previous Open experience to draw on.
Last 5 Opens: N/A
Verdict: Has an outside chance of making the cut
JERRY KELLY 150/1
His best result in the Open came last year when he finished 26th. His appearances in this years majors have been by far his best finishing 5th in the Masters and 7th in the US Open. Nearly made as much money this year as he did all of last season due to a superb run of 5 top-10s in seven events.
LAST 5 OPENS: 26/MC/47/WD/28
VERDICT: Recent form is promising in the majors and the American will want to improve on an average Open record.
TOMOHIRO KONDO 400/1
Kondo won the JBC Classic on the Japanese Tour in March but his recent form has been patchy at best. He?s a streaky player averaging over three birdies a round. This has helped him to reach 5th on the Japanese Tour moneylist.
LAST 5 OPENS: NA
VERDICT: A brutal Scottish links may be a shock to his system.
MATT KUCHAR 400/1
Qualified this year in IFQ America after being absent from the Open for four years. In 2002 missed the cut continuing his record of never making the cut in the Open. The last major weekend Kuchar made it into was in 99, since then he has played five and missed five. On the PGA Tour this year, Kuchar has had a third and one other top-10.
LAST 5 OPENS: DNP/MC/MC/6/DNP
VERDICT: Open record suggests another potential cut missed this year.
CHIH-BLING LAM 1000/1
A qualifier from IFQ in Asia this year's Open Championship will be the Singaporean?s first Major. A decent ball striker, Lam is one of Singapore?s great hopes. However, he arrives at Carnoustie after an abysmal 2006, making only three cuts from 13 and no top-20 finishes. He may struggle to find some form on this most rugged of Scottish links courses.
LAST 5 OPENS N/A
VERDICT: The unknown Singaporean looks unlikely to make an impact
PAUL LAWRIE 250/1
Playing in his 10th consecutive Open, Lawrie knows what it takes to win this Championship at Carnoustie. Van de Velde may have imploded last time, but Lawrie showed genuine mental strength to prevail over the most challenging of closing stretches. It?s also worth noting that he won the Dunhill Links Championship over Carnoustie in 2001. He?ll face extra press attention that will only add to the challenge of the week.
LAST 5 OPENS MC/52/MC/MC/59
VERDICT: If the wind blows he could be a good outside bet but his odds will but unusually short.
SCOTT LAYCOCK 500/1
The Australian-born 35 year-old currently plays on the Australasian Tour. In search of Tour victories, Laycock moved briefly to the Asian Tour last year, but was unsuccessful. He played in his first and only Open in 2002, but after shooting 73, 74 missed the cut.
LAST 5 OPENS DNP/DNP/DNP/DNP/MC
VERDICT: Having done well to qualify his prime goal will be to make the cut.
DONG HWAN LEE 750/1
At just 20, Lee will be making his first Open appearance. This season he has been one of the Japanese Tour?s most consistent performers winning the Yomiuri Classic by four shots. Kondo leads the Japan Golf Tour moneylist and will certainly be one to watch for the future.
LAST 5 OPENS: NA
VERDICT: Carnoustie will be a new experience for the talented Kondo
SEUNG HO LEE 400/1
The 21 year-old Lee is yet to win on the Japanese Tour which, looking at his stats, is surprising. He is ranked first in driving accuracy, averages more birdies per round than any other player and is ranked second for putting. His limited international experience will count against him.
LAST 5 OPENS: NA
VERDICT: His first real chance to pit himself against the best players in the world.
WON JOON LEE 750/1
In his first year as a professional Lee has only played a handful of events on the Japanese Tour. His scoring average of 73 reveals a man still feeling his way in the professional arena. Aged just 21, he has done well to qualify and this Open will be a valuable learning experience.
LAST 5 OPENS NA
VERDICT: Coming early in his career, his first Open will be little more than a learning experience.
TOM LEHMAN 125/1
The former World Number One and US Ryder Cup captain has been a pro for 25 years so there certainly will not be any shocks in store at Carnoustie. His form this year has been impressive with five top-10 finishes in 14 US Tour events. His driving accuracy of 63% lies at the heart of his recent success and could enable him launch a good challenge.
LAST 5 OPENS MC/23/MC/46/MC
VERDICT: His Major winning days might be behind him, but he?s still capable of a top-20 finish.
JUSTIN LEONARD 100/1
Having won the Open in 1997 and had a handful of top-20 finishes in the Majors, Leonard can never be counted out. In 1999 at Carnoustie he made the play-off that Lawrie won. After a poor start to 2007 ? he missed his first six cuts on the US Tour ? he has recently shown signs of improvement. He?ll take confidence from a tied second finish at the Buick Open at the start of July.
LAST 5 OPENS DNP/52/16/MC/14
VERDICT: The unpredictable American comes with a wealth of good experience and shouldn?t be overlooked.
SPENCER LEVIN
A Canadian Tour player currently ranked 1st on the Canadian Order of Merit. Finished 13th at the 2004 US Open, the best showing from an amateur in 34 years. Played in more than 30 professional events in 2006, only missing two cuts. Had 16 straight rounds of par or better on PGA Tour, including T20th at Buick Championship. This year will be his first Open championship.
LAST 5 OPENS: NA
VERDICT: A fantastic recent record and always learning. He will see this years Open as a learning experience.
JOSE-FILIPE LIMA 250/1
This year will be Lima?s first Open appearance after qualifying at Sunningdale through IFQ. Still only 25, he?s a talented ball striking finding his way on the European Tour. Having finished second and 15th in his last two events (before the Scottish Open), he arrives at Carnoustie in good form.
LAST 5 OPENS: NA
VERDICT: Still learning the ropes on the European Tour, this Open comes too soon in his career.
DAVIS LOVE III 125/1
Until to 2004, Davis Love's previous eight Opens yielded five top-10s and no worse than 21st. So far this year however, there has been very little to shout about for Love ? he currently lies in 75th on the US Tour money list. Having not finished higher than 27th since March, Love will be searching for his form at Carnoustie.
LAST 5 OPENS MC/MC/5/4/14
VERDICT: Poor recent form makes him an unlikely contender.
SANDY LYLE 750/1
The once swashbuckling Scot is now a shadow of his former self. Nowadays he seems content knocking it round with the also-rans on the European Tour. A very popular champion, Lyle has had very little success over the past few years but will enjoy the adulation at Carnoustie.
LAST 5 OPENS MC/32/73/MC/75
VERDICT: Will do well to make the cut.
Get the Golf Monthly Newsletter
Tips on how to play better, latest equipment reviews, interviews with the biggest names and more.
The leading website from the world's oldest golf magazine, we're the go-to destination for amateur and keen golfers alike who are keen to up their golfing game. As well as expert course reviews, news and tips to improve your handicap our golf-focused travel content will help you pair teeing off with your travels in some of the best destinations around the globe.