Open Blog: Bill Elliott's Increasingly Confused Open Diary
Bill Elliott updates us on his Open adventrue at Royal Lytham & St Annes, which is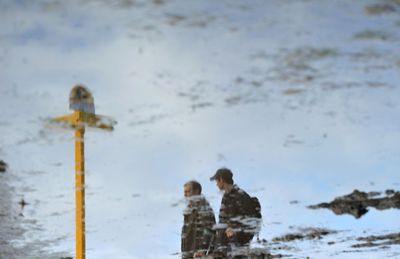 Day Five... After a quiet evening (steak pudding, chips and mushy peas followed by syrup sponge and custard, the athlete's choice) I wandered back to the hotel in a fine and drenching drizzle. By 2am the rain was so heavy that it woke me up. When is this going to stop? Apparently tonight. Seems we're in for a dry and rather pleasant weekend.
The even better news is that the Met folk are predicting serious wind on Sunday afternoon. I so hope they are right this time. Fact is we haven't seen the real Lytham yet and we won't if it stays calmly benign. Fingers crossed. Meanwhile I met up with an old friend called Mike Smith who has held down a series of impressive jobs in the golf industry. His latest one is helping to sell a new golf simulator called OptiShot. Now usually these simulator things cost hefty money, anywhere up to £40,000 but not this one. It'll retail for around the price of an iPad and it is very impressive.
You just hook the software into your laptop, put the wee sensor mat down, drop a ball and off you go in your garage or bedroom. This clever little thing is already being used at some of the Lee Westwood academies to improve teaching but it can also be used for fun as well. You get club speed, angles, all that sort of stuff and a choice of great courses to play. Best golf gadget I've seen since I stumbled across an automatic bacon butty maker. There is, however, some bad news from here. The journey from the Media Centre to the champagne tent has now been trampled into a muddy mess. If it gets any worse I'm going to have to think about putting on my golf shoes whereas my hope has been to be the only bloke at this Open never to wear golf shoes for the entire week. This may seem a rather childish ambition but it is little targets like this that get me through the wear and tear of these occasions. That and the champagne tent of course.
Oh, and one other thing. At the Golf Monthly party here I chatted to a very nice young woman wearing one of those Geri Halliwell Union Jack dresses. More a short shirt really. She's currently waiting for her A level results but what I've just found out is that she is also Les Dawson's daughter Charlotte. She certainly made me smile!