What Driver Loft Should Women Golfers Use?
Carly Frost dispels the myth that all women golfers should use a high-lofted driver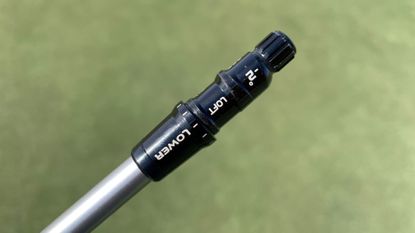 (Image credit: Future)
There is a big misconception in golf that women need to use high-lofted metalwoods. It's driven by equipment experts telling us that with our slower swing speeds we need the extra helping hand to elevate tee shots and fairway woods off the deck. In reality, many women will achieve optimum performance from a driver that has between 9° and 11° of loft - no more - and it comes down to the combination of good coaching and modern driver designs.
The trend in drivers is to place the weight low and deep in the head as this helps give a more effortlessly high launch. Such designs marry perfectly with the modern coaching method of hitting tee shots 'on the up.' Consequently, women that adopt this style of swing don't actually need a driver that has too much loft. A club with lower loft can achieve more roll out and overall distance. You only need to look to the LPGA Tour for evidence of this in action.
With launch monitors placed on various tees during tournaments, statisticians are able to gather driving data from the world's best players and the stats show that women pros predominantly use an upward style of hit. In fact, the average attack angle on the LPGA Tour is +3°. Conversely, on the PGA Tour, it's typically downward, averaging -1.3°. This is why many LPGA players actually use the similarly lower-lofted driver heads as their PGA Tour counterparts, despite swinging 20 or even 30 mph slower than the men.
I'm among the many women who have been taught to launch the ball with an upward strike with a driver. At a recent Callaway driver fitting my average launch angle was around 16°, some 5.5° more than the 10.5° loft of my driver. This, combined with too much spin from my slight over-the-top action, meant that my tee shots were ballooning up into the air too high, rather than powering forward with a more desirable penetrating ball flight. Switching to a 9° loft head gave transformational results. Drives that now hit the ground on a flatter angle and roll out, rather than stopping dead.
The problem with standard off-the shelf women's drivers is that they are often too lofted - sometimes 14° or more - and very lightweight. I've witnessed the damage this does to many a game as I see women hitting a very high ball off the tee. Although it effortlessly launches up, it rarely rolls out upon landing due to the high trajectory of the shot. A lower loft can provide more energy transfer at impact because there's less of an oblique angle. It's why your 7-iron flies farther than your 8-iron.
So, as long as you can launch the ball with enough loft through your technique, a driver with less loft will consistently produce more ball speed, even if you have a slow swing speed. Some custom fit technicians suggest as much as 3mph ball speed gain for a 9-degree driver compared to a 10.5° or 12° model.
Use Less Loft If You Slice
The most common swing fault in golf is the 'over-the-top' slice, which adds dynamic loft to the driver, leading to a high launch and usually too much spin on the ball. This causes it to climb high and balloon into the wind. Club manufacturers have been targeting this mass market group of players for years by designing drivers to counteract the slice swing with more heel-biased weighting. Typically, forgiving designs locate the centre of gravity back and low in the head. This creates more dynamic loft and is why a lower-loft driver can really benefit a lot of women because it brings the launch angle down and leads to more roll out.
However, There's A 'But'...
Of course, the big but is not to assume that you have the right technique to make a low-lofted driver work. The only way to be certain is to be custom fit by an expert. Less loft isn't the answer for all women, especially players who don't have a positive angle of attack. But that's the benefit of going through a driver fitting with an experienced fitter using a launch monitor to help identify the right loft to work with your unique technique.
Carly Frost is one of the golf industry's best-known female writers, having worked for golf magazines for over 20 years. As a consistent three-handicapper who plays competitive club golf at Parkstone and the Isle of Purbeck courses in Dorset every week, Carly is well-versed in what lady golfers love. Her passion for golf and skill at writing combine to give her an unbeatable insight into the ladies game.
Carly's role at Golf Monthly is to help deliver thorough and accurate ladies equipment reviews, buying advice and comparisons to help you find exactly what you are looking for. So whether it's the latest driver, set of irons, golf ball, pair of shoes or even an outfit, Carly will help you decide what to buy.
Over the years Carly has been fortunate to play some of the greatest courses in the world. Her view 'from the ladies tee' is invaluable. She ranks Sea Island, Georgia, USA, where she met her husband, world-renowned golf coach Dan Frost, among her favourite golf resorts. Their aptly-named eight-year-old son Hogan is already hitting the ball as far as Mum and will undoubtedly be a name to watch out for in the future.
Carly is a keen competitor and her list of golfing achievements are vast. She is a former winner of the South West of England Ladies Intermediate Championship, a three-time winner of the European Media Masters and she once beat an entire start-sheet of men to the title of Times Corporate World Golf Champion. She has played for both the Dorset and Surrey County Ladies first teams and is known for her excellent track record at matchplay.
Carly holds the ladies course record (68) at her home club Parkstone and her lowest competition round (seven-under-par 65) was carded in the pro-am of the Irish Ladies Open at Killeen Castle, playing alongside Solheim Cup superstar Anna Nordqvist. Although her current handicap index has crept up to 3.7 since Covid she has her sights firmly set on achieving that elusive scratch handicap and hopefully playing for her country when she's 50.
Carly's current What's In The Bag?
Driver: Callaway Epic Max, 10.5°
Fairway wood: TaylorMade SIM2, 15°
Hybrids: Titleist TS2, 19°, 21°, 24°
Irons: Mizuno JPX900, 5-PW
Wedges: Cleveland RTX, 52°, 56° and 58°
Putter: Scotty Cameron Futura X5
Ball: 2021 Callaway Ladies SuperSoft