Ping Cadence TR Craz-E-R and Ketsch Mid putters revealed
Ping has added the Craz-E-R and Ketsch Mid to its Cadence TR range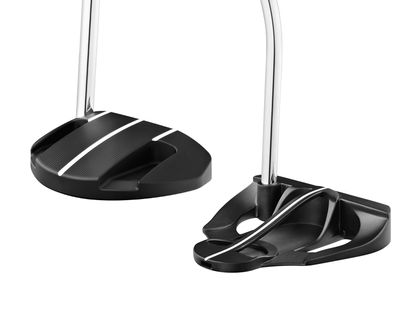 Ping has added to its popular Ping Cadence TR putter line with the addition of the Craz-E-R and Ketsch Mid models
Ping has added to its popular Cadence TR putter line with the addition of the Craz-E-R and Ketsch Mid head shapes.
The putters are joined by the new better player Ping i irons, new game-improver Ping GMax irons and a new Ping Glide ES wedge as part of a big summer launch.
The Craz-E-R is a Ping favourite that has been given the Ping Cadence TR treatment, including variable depth grooves that are shallower in the heel and toe sections to help ensure your mishits get closer to the hole.
The Ping Cadence TR Craz-E-R (above) will also feature the choice of a heavier steel or a lighter aluminium face insert, offering you the chance to tailor your feel preference.
The Craz-E-R will be joined by the new Ping Cadence TR Ketsch Mid putter, a model that is 30 per cent smaller than the original Ping Ketsch for stability in a more compact look.
Like the Craz-E-R , the Ketsch Mid (below) will come with the option of two weights thanks to changeable sole plates - one thicker and heavier and one thinner and lighter - so you can again fine tune your feel.
Both of the new putters can be fitted to suit straight, slight arc or strong arc stroke types and come in a plethora of options thanks to the choice of adjustable shafts and counterbalanced models.
Both putters will also feature a contrasting white sight line on their dark heads that aid more accurate alignment.
For the first time Ping will also offer a thick putter grip, after it teamed up with grip manufacturer Winn to create its own thicker style of grip, which it has tried to keep as light as possible while still maintaining feel.
Ping Cadence TR specifications
Craz-E-R non-adjustable - £175 Craz-E-R non-adjustable and counterbalanced - £200 Craz-E-R adjustable - £199 Craz-E-R adjustable and counterbalanced - £224
Ketsch Mid non-adjustable - £199 Ketsch Mid non-adjustable and counterbalanced - £224 Ketsch Mid adjustable - £223 Ketsch Mid adjustable and counterbalanced - £248
Ping Winn thick putter grip - £20 upcharge
Jake O'Reilly specilaises in equipment coverage, and joined the Golf Monthly team in 2013. Before this he graduated from the University of Huddersfield with a Sports Journalism and Media degree, and worked at a number of British golf magazines. Follow Jake on Twitter
@jake0reilly