Gear Talk: Thomas Bjorn
GM talks to Thomas Bjorn about the clubs in his golf bag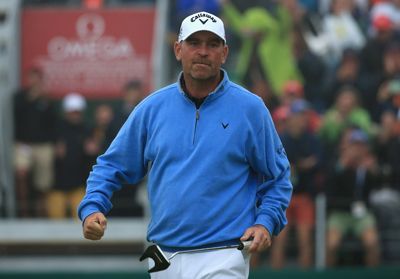 Fresh off the back of a fantastic victory at the European Masters at Crans-sur-Sierre in Switzerland, Thomas Bjørn talks exclusively to Golf Monthly about his current equipment.
Congratulations on a great win in Switzerland. How did you feel about your game going into the week?
I wasn't feeling great about my game as I had struggled at the Open and the PGA. It is a golf course that really suits me though and I always look forward to playing at Crans-sur-Sierre.
It suits my eye and I have finished second there twice as well as winning in 2011 so I always head into that week with a bit of confidence.
It seems fitting that we talk about your putter first because you putted so well all week. When did you first try the Odyssey Tank and what did you think of it?
I have struggled with my putting for a couple of years quite dramatically and ended up going to the belly putter and the long putter.
Even though I was better with these models it was never really something that I took to. I was always wanting to go back to the short putter but had those electrical feelings for a long time so couldn't do it.
When the guys on tour showed it to me it was such a transformation to my putting. Anybody who has those types of feelings, the Tank will really help and it has made a dramatic difference to me. Over the summer it is the best I have putted for at least 5 years.
It gives you such relief out on the golf course and takes so much pressure off the long game. I putted extremely well throughout the whole of the week when I won.
It is also nice to know that this method won't be affected by the ban and could really save a lot of careers.
You have a long relationship with Callaway Golf. Why has it lasted so long?
I just love the people. The equipment has always been great but I just love the people. From the European point of view the team lead by Pete Harrison [Director of Tour Relations at Callaway Golf] has been fantastic.
He is a great man that I not only use for golf equipment assistance, but also have a very personal relationship with him as well. He has become like a father figure to a lot of players and it's very nice to have that out on Tour.
From an American side, I think Callaway is going through a big transition in the hands of Chip Brewer [Callaway president and CEO].
It is nice to have a golf man at the head of the company who has an understanding of what needs to be done.
He understands what needs to be done and we are seeing that in the development of the equipment. Every time something new comes the players are a lot happier than they were three or four years ago and I think a lot of that is down to Chip.
Callaway is like a big family and they take you in as part of that family. You build up such a great relationship with these people and they will do anything for you.
You were playing one of the Callaway Utility Prototype clubs when you won. Can you tell us about how that made it into the bag?
It is an excellent golf club on courses where controlling the ball flight is important.
I switch between that and an X Hot hybrid but it is a club that is particularly useful in Europe when it is windy as you can really control the flight.
It's a good example of how we get to be a part of the design process as it is a club that has come about through working with the players.
You feel privileged to be part of the process and see that changes are made as a result of conversations with us.
The Callaway X Hot fairway wood has proven a big hit in the professional ranks and you have one in the bag. How has that been performing?
It is unbelievable the distance you can get from that fairway wood. They have been so successful in added distance that at times you haven't needed to even think about using driver.
What I'm seeing now in the Optiforce driver and things that are coming next year is that the driver is catching up and they are starting to find added distance so that it goes even further again.
It makes me happy on the golf course that I have another option that goes a long way when I don't want to hit driver.
Do you think advancements in equipment have helped enable you to play as well as you ever have done?
Put it this way, it certainly gives an older man a better chance to compete with the young guys. When you are young you can play with anything but as you get older it is great that the equipment helps you to still play with these guys who hit is such a long way.
It has given me the opportunity to extend my career. You also have a long relationship with Ecco and have worn Ecco golf shoes for a long time. Why have you been loyal to that brand for so long?
Again it is a lot to do with the great relationship that has built up over the years.
Ecco are hugely successful outside of golf and the designers have taken that knowledge and applied it specifically to the game.
What I like is that they focus on the performance of the shoes first and then look at the style and fashion elements. I wear the Ecco World Class because for me they are the most stable shoe on the market. From the first day I tried them on I loved them and that hasn't changes.
The Callaway and Odyssey equipment in Thomas Bjorn's bag that helped secure his second Omega European Masters title in three years:
Driver: Callaway RAZR Hawk Fairways: Callaway X Hot Utility: Callaway Utility Prototype Irons: Callaway Prototype, 4-9-iron Putter: Odyssey Tank #7 Ball: Callaway Hex Black Tour
Paul joined Golf Monthly in 2006 in a junior role and has since worked as senior staff writer and now as technical editor. He writes equipment and instruction content and tests the vast majority of golf clubs that are introduced every year.