Why The Me And My Golf Breaking Ball Putting Mat Should Be Included In Your Home Golf Set-Up
Holing breaking putts has never been made easier than with the Me and My Golf Breaking Ball Putting Mat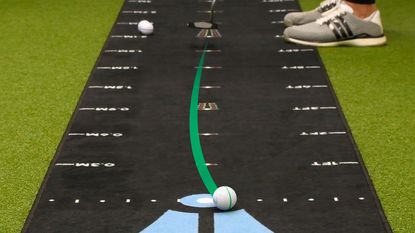 (Image credit: Me And My Golf)
It's hard to satisfy the craving of wanting to get some practise in during the week in order to be ready for a big game of golf at the weekend and very few are fortunate enough to have access to a home simulator or hydraulic putting green. Around half our shots hit on the golf course are used with a putter and the Me And My Golf Breaking Ball Putting Mat is the perfect tool to sharpen your putting to ensure you take the money off your friends when it's time to step foot on the course.
Andy and Piers from Me And My Golf, created the Breaking Ball Putting Mat to ensure golfers can improve their putting by creating realistic circumstances, such as break at a reasonable price. There are two separate sizes of mat, a 7ft and 11ft mat, perfect to be unrolled in a hallway or lounge. The mat can easily be rolled away into a protective case and whats-more by scanning a QR code on the product you will receive a tutorial from Andy and Piers.
Any keen golfer has been through the process of putting into a cup or over a cup holder on carpet that is either a dead straight putt and/or wiggles on the funky patterns on the floor, making for monotonous practise and unrealistic practise, considering 90 percent of putts hit on the course are affected by break and slope. The Breaking Balls Putting Mat really is one of a kind, allowing you to hit putts up to 11ft with three varying levels of break from left to right and vice versa.
The Matt features three, two-piece construction golf balls which possess a patented weight system on one side, yet provide the true feel of a golf ball on the course. The balls are color-coded to match with the start lines on the putting mat, helping golfers really gain an understanding of what matching up the line and pace feels like from varying distances. Having to line up the balls each time to the designated start line is a very clever way of helping golfers actually start to build up an all important pre-shot routine, without even realizing they are doing so. As we are so often told, consistency is key in golf and a good pre-shot routine certainly is a good place to start.
Not only does the Breaking Ball Putting Mat help you understand whether you have a tendency to leave certain breaking putts short or long, but the line on the ball also enables the user to see if they are rolling the ball well, with the line rolling end over end. The mat itself provides a smooth roll and so normal balls can also be used on it to practise straight putts if needed and the visual aids and length markings down the side are great for practising your pace putting.
The ultimate reason the Me And My Golf Putting Mat was created was to allow golfers to improve from the comfort of their own home at a reasonable cost. Through the Me And My Golf YouTube channel there are also plenty of other tutorials that can be followed whether that is putting or other drills you can exercise at home to improve your game.
The Me And My Golf Breaking Ball Putting Mat is available via most golf retailers and shop.meandmygolf.com.
RRP: 7.5ft - £99.99, $129.99, €129.99
11ft - £139.99, $169.99, €169.99
Visit the Me And My Golf website for more information and other products
Sam has worked in the golf industry for 12 years, offering advice on equipment to all levels of golfers and as Staff Writer, he tests and reviews equipment throughout the bag. Sam graduated from Webber International University in 2017 with a BSc Marketing Management degree while playing collegiate golf. His experience of playing professionally on both the EuroPro Tour and Clutch Pro Tour, alongside his golf retail history, means Sam has extensive knowledge of golf equipment and what works for different types of golfer.
Sam is a member of North Hants Golf Club in Fleet, Hampshire, where he won the club championship 3 times in succession from 2015-2017. His golfing highlight to date is shooting a round of 10-under 60 at his home club, narrowly missing a wedge shot for a magical 59.
Sam's current What's In The Bag?
Driver: TaylorMade Stealth 2, 9°
Fairway Wood: TaylorMade Stealth 2 Plus, 15°
Hybrid: Ping G430 19°
Irons: Titleist T-100 4 iron, Titleist 620MB, 5-PW
Wedges: Titleist Vokey SM8, 50°, 54°, 62°
Putter: Scotty Cameron Select GoLo
Ball: Titleist Pro V1x 2021