What Shaft Flex Should Women Use?
Carly Frost explains the importance of a golf club's shaft and why no one-size-fits-all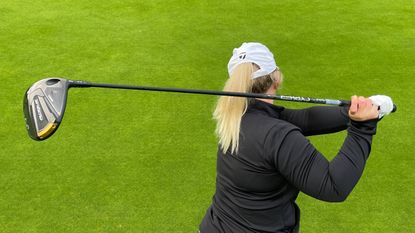 (Image credit: Future)
The shaft is often referred to as the engine of the golf club, but that implies just power. In my opinion, the shaft is the most important component of the club. Your irons and woods might be the best looking, feeling and forgiving on the market, but unless the shaft fitted in them is suited to your swing speed and technique you won't fully benefit from them. The shaft will influence where the clubhead is at impact. With the wrong shaft you'll get poor results.
There was a time when there were few choices of shaft for women. For the early pioneers who played in long skirts with hickory clubs, rhythm was a big requirement to make what would now be considered a very flexible shaft function effectively. Then along came steel and women's clubs started to improve. My first set of steel shafts were definitely too heavy for me. The real transformation came with the introduction of graphite. We suddenly had options, and lots of them. It didn't take manufacturers long to realise that the simplest solution was to offer a standard women's flex, broadly suitable to the stereotypical women's swing speed and they stamped it with an 'L' for Ladies Flex.
The abbreviation can equally be known as 'L' for 'light', usually around 55-69 grams, but sometimes as low as 40g. As the average woman swings the club at under 75 mph, a lighter shaft is easier to swing fast, helping boost speed and therefore distance. But, of course, no two women are alike and there's definitely no one-size-fits-all approach when it comes to shafts. The club doesn't know who is using it. Shafts should be selected based on how you swing the club. There are options galore and the best solution is to get custom-fitted by a professional expert to make sure that you have a shaft which works with your golf swing and strength.
The right shaft will help to create the optimum launch conditions (trajectory and spin rate) to produce every yard your swing can deliver. The correct shaft can add over 20 yards to tee shots and a good 10 yards to iron distances. But, just as importantly, it will ensure that the clubface is returned square to the ball, improving your accuracy.
One of the most recent advances in women's shafts is the introduction of lightweight shafts that can still have stiffer profiles. These are designed to allow you to swing the clubhead faster without any extra effort. This allows you to maintain control over the clubhead while adding yards to your shots.
The other thing to consider is that you might need different shafts in different clubs. My irons have an ultra-lite 45-gram graphite shaft, whereas my driver has a heavier 55 gram shaft that gives me more accuracy off the tee. In my wedges I have an even heavier steel shaft. There's a common misconception among the women I play golf with that they aren't strong enough to use steel shafts. I've played steel shafts in my wedges all my life. I prefer the weighty feel. Wedge heads tend to be heavier by design so complimenting the heavy head with a light steel shaft really marries perfectly when you pitch and chip, improving your rhythm and timing. I also find them incredibly consistent for distance control, giving me spot-on carry numbers.
So why do standard women's shafts exist? The typical woman will find them easy to use, which keeps things simple from both a manufacturing and marketing perspective. While I still believe that there is a justifiable place in the golf market for 'standard' when it comes to women's golf equipment (especially for entry-level or more casual/occasional players), if you are really keen to improve and are willing to make a substantial investment in new golf equipment, then you are going to get the best results from a custom fit. Whether you are a high handicapper or the best player in the club, make sure that your clubs work with your swing whatever your skill or experience level. The shaft selection is a big part of this process.
Of course, shafts of the future may look entirely different. I'm certain that there will be more swing and speed matching. A lot more options. I think that technology will play a big role, allowing us to match shafts much more effectively than now by measuring the torques and forces applied to the golf club as we hit it. Machines may replace human fitters as they become more efficient at matching golfers to equipment. Imagine a day where A.I measures your swing, sends the data to the cloud and then straight onto the manufacturing plant. A 3D modelling machine makes your own unique, bespoke clubs that are delivered by drone the next day. Maybe I have just predicted it?!
Shaft Know-How
There is an awful lot of technical jargon when it comes to shafts, much of it, to be honest, I don't even understand in detail because thankfully I've trusted an expert to select the right shaft for me. I've listed some of the terms you may have heard, questions you want answered, or words you've seen stamped on your shafts below with a basic explanation.
Flex
Standard women's shafts are L flex but did you know that there is no standard for shaft flexes? Each manufacturer can make their Ladies, Seniors, Regular, Stiff flex whatever they want it to be. So, one L flex can be entirely different from another.
Graphite or Steel?
Nearly all standard women's clubs are made with graphite shafts, but that doesn't mean that you should rule steel out. Steel comes in lighter weights too. Historically, consistency was always a problem with graphite shafts, no two shafts played exactly alike. That's why it took so many years for them to become adopted and used widely by tour professionals. Nowadays advanced manufacturing processes allow precise flex and bend profiles in both materials, but many manufacturers will say that steel still has the advantage of being more consistent than graphite. That's why we see a lot of the best female professionals in the world playing steel shafts. It's not just a strength factor, they want complete consistency of feel and distance through their bag.
Bend Profile
Shafts aren't poker stiff rods, they do bend, but did you know that they can be made to bend in different places? This is known as the shaft's bend profile and adjusting to a shaft that has more bend closer to the grip, rather than the clubhead, can impact the launch conditions. This doesn't just apply to graphite shafts. Advances in manufacturing processes in the last five years have given us lightweight steel shafts with different bend profiles too.
Shaft Length
As with flex, there is no standard length when it comes to shafts, each manufacturer chooses differently. The general rule-of-thumb is that the shorter the shaft the easier it is to control. Longer shafts will produce a wider arc and more potential distance.
If your shafts are the wrong length you will hit bad shots. When clubs are too short, impact will usually be on the toe of the club, shots will be hit "thin" or on the bottom of the clubface, and the ball flight will tend to veer to the right of the target (for right handed golfers). If your clubs are too long, impact will usually be on the heel of the club, shots will be hit "fat" (hit behind the ball), and the ball flight will be to the left of the target.
Torque
Shaft torque is the measurement in degrees of how much a shaft will twist under force during the swing. It's a number that's often stamped on the shaft. Low torque means the shaft has a high degree of resistance to twisting. Typically, a steel shaft will have around 3 to 4 degrees of torque, whereas that figure can be a lot higher in graphite, up to 7 or 8 degrees, as it's not a solid piece of metal.
Shafts with higher torque ratings feel more flexible and shafts with lower torque ratings feel stiffer. Most women naturally tend to have a very rhythmical golf swing. Due to the smooth nature of the swing you do not want to use graphite shafts with a torque rating below 3.5 degrees or else the impact feel of the shot can be firm, harsh and unsolid, and the height of the shot may be too low. Conversely, if you are a powerful player with an aggressive swing tempo you don't want the torque in a graphite shaft to be any higher than 4 to 4.5 degrees. Otherwise, your strength and downswing force may cause the clubhead to twist the shaft, causing the clubface to be more open at impact and resulting in shots that hang or fade to the right of your target.
Weight
The shafts in most women's flex clubs typically weigh between 55 and 60 grams but some are as light as 40 grams. The slower your swing speed and tempo, the lighter the shaft you'll need. Interestingly, there is often a difference between how heavy a shaft feels versus the actual real weight. The combination of shaft and head must match to create a club that feels right for you.
Shaft and Swing Matching
In the modern era there's definitely an effect of shaft flex and weight over your swing style. Coaches often use softer shafts to improve acceleration profiles of their players and to gain more clubhead awareness. Regardless of whether your swing is suited to a lightweight women's flex or not, there's definitely a benefit to using a flexible club to get a sense of timing when you practice (particularly for beginners learning.) Equally, overly heavy shafts actually help to flatten the arc of the golf swing and offer a genuine solution to women who pick the club up too steeply and hit down.
Price
Why are women's clubs fitted with graphite shafts so much more? Simply because raw graphite is ten times more expensive than steel.
Get the Golf Monthly Newsletter
Tips on how to play better, latest equipment reviews, interviews with the biggest names and more.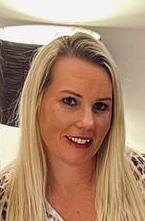 Carly Frost is one of the golf industry's best-known female writers, having worked for golf magazines for over 20 years. As a consistent three-handicapper who plays competitive club golf at Parkstone and the Isle of Purbeck courses in Dorset every week, Carly is well-versed in what lady golfers love. Her passion for golf and skill at writing combine to give her an unbeatable insight into the ladies game.
Carly's role at Golf Monthly is to help deliver thorough and accurate ladies equipment reviews, buying advice and comparisons to help you find exactly what you are looking for. So whether it's the latest driver, set of irons, golf ball, pair of shoes or even an outfit, Carly will help you decide what to buy.
Over the years Carly has been fortunate to play some of the greatest courses in the world. Her view 'from the ladies tee' is invaluable. She ranks Sea Island, Georgia, USA, where she met her husband, world-renowned golf coach Dan Frost, among her favourite golf resorts. Their aptly-named eight-year-old son Hogan is already hitting the ball as far as Mum and will undoubtedly be a name to watch out for in the future.
Carly is a keen competitor and her list of golfing achievements are vast. She is a former winner of the South West of England Ladies Intermediate Championship, a three-time winner of the European Media Masters and she once beat an entire start-sheet of men to the title of Times Corporate World Golf Champion. She has played for both the Dorset and Surrey County Ladies first teams and is known for her excellent track record at matchplay.
Carly holds the ladies course record (68) at her home club Parkstone and her lowest competition round (seven-under-par 65) was carded in the pro-am of the Irish Ladies Open at Killeen Castle, playing alongside Solheim Cup superstar Anna Nordqvist. Although her current handicap index has crept up to 3.7 since Covid she has her sights firmly set on achieving that elusive scratch handicap and hopefully playing for her country when she's 50.
Carly's current What's In The Bag?
Driver: Callaway Epic Max, 10.5°
Fairway wood: TaylorMade SIM2, 15°
Hybrids: Titleist TS2, 19°, 21°, 24°
Irons: Mizuno JPX900, 5-PW
Wedges: Cleveland RTX, 52°, 56° and 58°
Putter: Scotty Cameron Futura X5
Ball: 2021 Callaway Ladies SuperSoft