World Handicap System Explained: What Does It Mean For You?
In 2020, a new World Handicap System will be implemented, heralding big changes for UK club golfers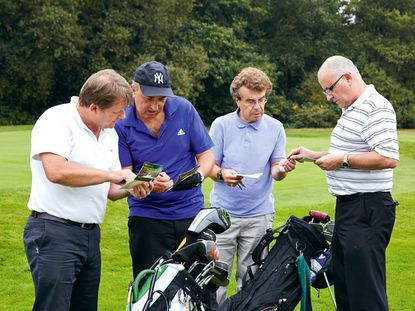 In 2020, a new World Handicap System will be implemented, heralding big changes for UK club golfers. Here, we consider the potential implications...
World Handicap System Explained: What Does It Mean For You?
Following an in-depth review by six existing handicapping authorities, including the Council of National Golf Unions (CONGU), a new World Handicap System (WHS) developed by The R&A and USGA is set to be implemented in 2020.
The aim is to encourage more people to play golf, and allow them to transport their handicap anywhere in the world and compete on an equitable basis.
The WHS is going to be the most debated topic in clubhouses across the country over the next two years as people consider its features and implications. Here, we lay out what we know at this stage and what some of the principal talking points are likely to be.
Although full details are still to be revealed, certain features of the WHS were announced in February, including:
Flexibility in formats of play, allowing both competitive and recreational rounds to count for handicap purposes and ensuring a golfer's handicap is more reflective of potential ability.
A consistent handicap that is portable from course to course and country to country through worldwide use of the USGA Course and Slope Rating System, already successfully used in more than 80 countries.
An average-based calculation of a handicap, taken from the best eight out of the last 20 scores and factoring in memory of previous demonstrated ability for better responsiveness.
A calculation that considers the impact that abnormal course and weather conditions might have on a player's performance each day.
Daily handicap revisions, taking account of the course and weather conditions calculation.
A maximum handicap limit of 54.0, regardless of gender, to encourage more golfers to measure and track their performance to increase their enjoyment of the game.
The system should certainly be more representative of a golfer's current playing ability and we could see greater changes in an individual's handicap over shorter periods of time.
For those who play a significant amount of golf, there could be significant variances.
With the best eight of the last 20 rounds to count towards handicap calculations, and with both competitive and recreational (bounce) rounds being considered, a golfer who plays five times a week could see a brand-new set of 20 rounds being considered each month.
VIDEO: How does the world handicap system work?
If that individual has one sparkling stretch of play, they could find their handicap dramatically reduced; conversely, a loss of form could see a large hike in the number. This, of course, will depend on the 'memory of demonstrated ability' caveat. It remains to be seen how much of an impact this calculation will have.
With only eight of the most recent 20 rounds counting, a bad round will not necessarily mean a handicap increase.
The days of the threat of the dreaded 0.1 rise are numbered. Is this good or bad? On the positive side, it will significantly reduce the number of depressed faces in the clubhouse after the Saturday medal. A bad round should be just one of the 12 in the most recent 20 that won't count.
However, will we see more players giving up in competitive rounds?
If it's clear after nine holes that a round is not going to be one of the best eight, where is the incentive to keep battling?
There will be no scrapping to make the buffer zone – sometimes as rewarding as firing a low number. It will be a shame to lose this element of competitive golf.
Expand Golf World Handicap System Announced For 2020
Golf World Handicap System Announced For 2020
Golf World Handicap System Announced For 2020 There…
Expand New Golf Rules 2019: All You Need To Know
New Golf Rules 2019: All You Need To Know
Golf's governing bodies new rules are in action…
Expand Tiger Woods What's In The Bag?
Tiger Woods What's In The Bag?
Check out the equipment Tiger Woods uses
A feature we're yet to know the detail on is the calculation to allow for abnormal course and weather conditions.
That's a significant one in this country.
The calculation should be fairly straightforward in competition golf, with the scoring through the day giving clear indication of the conditions, as per the current CSS calculation.
But how will it work in counting bounce rounds? If just two of you are heading out and playing against handicap, what or who defines the impact of the conditions?
Policing counting bounce rounds could be difficult. Will people have to announce a round as counting before they play? Presumably. But who notes this and what will the repercussions be if that person then doesn't turn in a card?
There will also have to be careful monitoring of handicap manipulation.
Will people be selective with the bounce scores they turn in if their objective is to either raise or lower their handicap?
With new handicap limits of 54, will we see more competitions being won with very low nett scores as improving players find good rounds at the right time?
It will be possible for clubs to set handicap limits in competitions, but what happens when someone who has a legitimate handicap of 50, calculated by the new WHS, complains they are being discriminated against? It could be a tough one for clubs.
Overall, the introduction of the new WHS is set to have a big impact, and there will be a good deal for clubs and club golfers to work out.
The prospect of every amateur in world golf playing against the same criteria and being able to compete on an equitable basis is an appealing one.
There will be some teething issues to consider in a country like the UK with such a long-established competitive golfing heritage, but once past these, the WHS will surely be a great thing for growing golf globally.
Fergus is a golf obsessive and 1-handicapper. Growing up in the North East of Scotland, golf runs through his veins and his passion for the sport was bolstered during his time at St Andrews university studying history. He went on to earn a post graduate diploma from the London School of Journalism. Fergus has worked for Golf Monthly since 2004 and has written two books on the game; "Great Golf Debates" together with Jezz Ellwood of Golf Monthly and "The Ultimate Golf Book" together with Neil Tappin (also of Golf Monthly)... Fergus once shanked a ball from just over Granny Clark's Wynd on the 18th of the Old Course that struck the St Andrews Golf Club and rebounded into the Valley of Sin, from where he saved par. Who says there's no golfing god?