The fish golf betting game explained
The fish golf betting game is based upon a common fishing bet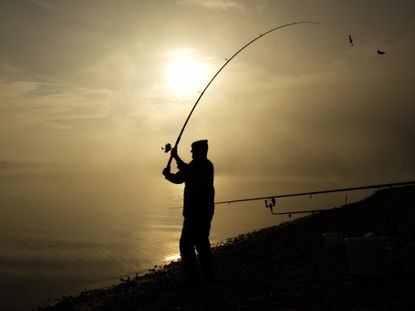 (Image credit: AFP/Getty Images)
Golf Monthly Newsletter
Golf tips and expert instruction, golf club reviews and the latest golf equipment.
Thank you for signing up to . You will receive a verification email shortly.
There was a problem. Please refresh the page and try again.
The fish golf betting game, sometimes also known as the fishing golfing betting game, is based upon a common sports fishing bet.
Check out our Golf Betting Tips home page
The fish golf betting game can be played by two, three or four players and by fourballs, foursomes or greensomes (opens in new tab).
The fishing bet in question offers three prizes: to the person who catches the first fish, to the person who catches the biggest fish and to the person who catches the most fish.
The golf version is not about netting fishes but accumulating birdies - or sometimes pars depending upon the skill and expectations of the golfers.
Therefore the bet is translated straight across to golf except with the word 'birdie', or sometimes 'par', is substituted for fish.
The second bet no longer makes sense as the 'biggest birdie' and so that bet becomes the 'longest birdie' instead. This is defined as the person whose has holed out for a birdie from the furthest distance.
Each of the three bets or prizes normally carries the same amount of money.
If two or more golfers tie for the most number of birdies the standard tiebreaker is the total length of birdies. If you and your golfing mates are in the habit of pitching in, a distance measuring device might come in handy here. Otherwise just pace out the successful birdie putts and record these distances.
In some versions of the fish golf betting game, eagles are counted as being two birdies in terms of the cumulative prize.
In other version the 'fish' to be caught and recorded can be different for different players. Thus for the better players in a game it is a birdie; for the high handicap players a par.
In awarding prizes for three distinct elements, the fish golf betting game has some similarities to the golf betting game Bingo Bango Bongo (opens in new tab), which is also sometimes known as Bingle Bangle Bungle.