My First Golf Lessons – A Quest To Transform My Game In 2017
How far can an occasional golfer progress with sound advice and the right equipment?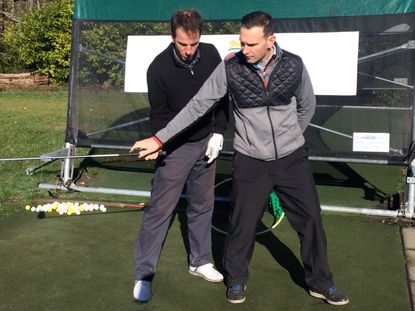 Over the coming months, I'll be taking a series of lessons and a club fitting to find out how far an occasional golfer can progress with sound advice and the right equipment
First, a bit of background. I've been working at Golf Monthly for nearly two years now having been an avid spectator of the game but only an occasional player.
My main activity had always been football, which I played to a decent level, and I generally found most sports pretty easy to pick up. When I stopped playing in my early 30s I thought I'd have the same smooth transition to golf but this wasn't quite the case.
I'd played on and off for ten years or so with mates and never really thought about my swing – I'd just walked up and hit it. Sometimes it came out well and others not. I'd gone past the early frustrations and just accepted this as my lot. I'd never had any lessons or an official handicap but would put myself in the mid-to-low 20s.
But this all changed when I took the job. I naively believed this sudden exposure to the magazine's instruction section along with access to new equipment and the chance to play some of the best courses in the country would transform my game. All I had to do was immerse myself in all things golf and the rest would take care of itself.
At the ripe old age of 36 I booked in a few lessons and awaited my rise from part-time hacker to single-figure handicapper. However, things didn't quite work out like that.
Looking back, I went about my first stab at tuition in completely the wrong way. I had a couple of weeks off before starting at Golf Monthly so booked in a set of four 30-minute lessons at my nearest club. All sounds sensible so far.
The professional sorted out my grip and set up and got me hitting the ball more consistently. Then they were over and I was into the new job. Just to add to the time constraints my partner was expecting our third child so following up on the initial progress became tough.
Between the tuition and the tips I was reading in the magazine I went from knowing very little about the mechanics of the golf swing to knowing far too much but not being able to put any of it into practice. It was definitely a case of one step forward, two steps back. I was no longer able to play with carefree ignorance and my confidence was shot. It was back to the drawing board.
Fast forward nearly two years and I've decided to give it another go, but this time to hopefully do it properly. One major factor in my favour is that last year I moved out of London to a village with a golf course and driving range just down the road. With three kids things are still pretty hectic at home, but it's now a lot easier to pop out for an hour or so to hit some balls.
I'll be following in the footsteps of Justin Rose who learned his game at North Hants
I've booked in a series of lessons with head pro George Porter at North Hants Golf Club, where Justin Rose learned his game. The main difference is I plan to commit to this for the next few months. I'll be entirely guided by George on how long I should be practising and how often I should see him. I'll also be getting a custom fitting along the way once George has had time to assess things. I will be charting my progress and will hopefully touch on some familiar areas for those in a similar boat to myself.
I doubt this will be an entirely smooth ride, but, fingers crossed, at the end of it I'll have made some real progress and be able to pass on some valuable advice.
David joined Golf Monthly in 2015 as a content editor for the magazine and regularly contributes to the website. He has worked in magazine publishing and editing since 2003. He is a keen golfer and up until recently was a member of Blackmoor Golf Club in Hampshire. He has covered various big events and tournaments for GM, the highlight of which was witnessing Tiger Woods win his 15th Major at Augusta in 2019. Email: david.taylor@futurenet.com