Phillip Price: Times They Are A Changin'
Phillip Price talks about his victory over Phil Mickelson at the 2002 Ryder Cup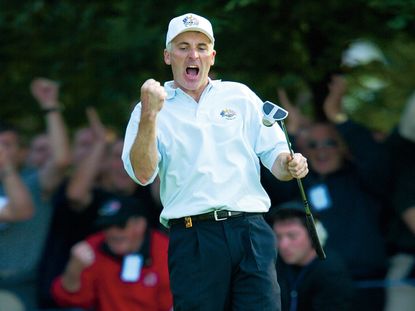 (Image credit: Getty Images)
Get the Golf Monthly Newsletter
Thank you for signing up to Golf Monthly. You will receive a verification email shortly.
There was a problem. Please refresh the page and try again.
It's been almost 14 years since Phillip Price's famous victory over Phil Mickelson in the Sunday singles at the 2002 Ryder Cup. Jeremy Ellwood talks to the Welshman about his career and today's professional golfing landscape
When I announced to the family that we would be returning to Mauritius three years after our maiden visit in 2012, one of the first things my wife said to me was: "Do you know if the Prices will be there again?" Our two kids, roughly the same age as his, had befriended each other and spent much time together in kids' clubs, swimming pools and the warm waters of the Indian Ocean.
I had no idea if he would be there, but when we arrived in early December for the European Senior Tour's MCB Tour Championship, she repeated the question to the buggy driver as he ferried us down to our villa with our luggage. "The Prices?" he replied. "Oh yes, they are in villa 18, pretty much right next door to yours."
This was good news not only for my wife and kids, but also for me, because on the last trip I had spoken to Price about where he was with his career and what his hopes and ambitions were going forwards. Although it was the week of the Senior Tour's big end-of-year event, Price was not yet of senior age, but rather there to boost the number of pros in a very busy and popular pre-event Pro-Am. Indeed, back then Price was occupying that well documented, but not particularly desirable, no man's land of the older tour pro – struggling to keep up with the young guns, yet still some years shy of the senior circuit.
When we spoke on that previous visit, the one-time Ryder Cup hero and three-time tour winner had held on to his card that year thanks largely to a 3rd-place finish in Morocco and a top eight in the Scottish Open. Those performances combined to make up 65 per cent of his €224,375 earnings in 2012. The then 46-year-old had told me that he felt up to the challenge once more after some lean times in 2008 and 2009: "I've got a new lease of life with my golf over the last three years," he enthused. "I was really poor before that – I lost my way after I came back from America. The last three years I've steadied the ship a little and refocused, and I really want to play again. I really think I can play well, I just need to build my confidence – it's almost like I'm starting again. So I'm really enthused to do that – we'll see if I can. If I do, great, if I don't, too bad."
Inauspicious form
Before we reconvened for a catch-up, I checked Price's records to see how it had all panned out since that self-rallying call. Not too well, sadly, was the answer. In 2013, he had made just seven cuts from 23 events to finish 157th on the Race to Dubai, while 2014 had yielded just €23,000 from a dozen main tour starts.
"I haven't had a full card for the last two years," he explains as we sit down to chat. "In 2014 I played 12 times and only made three cuts, so I got a bit disappointed with it. I thought I could turn it around and didn't. In 2015, my plan was to do the same, but I didn't get the invites I was hoping for – either on the main tour or the Challenge Tour – and ended up playing a little bit less and playing more Pro-Ams and smaller tournaments. I played one EuroPro Tour event, one Jamega Tour event and The British Par 3. I went to Egypt for a Pro-Am and played a bunch of other Pro-Ams or smaller tournaments."
I ask to what extent relative lack of power and distance has played a role in his struggles. "The game has moved on from my time," he freely admits. "I've regressed in my distance, the young guys have increased, and the courses are being designed more for them. They have made pretty much every course we go to longer. I used to love the Middle East but over a ten-year period the courses we play have become massive – too big for what I've got – whereas ten years ago I could play there comfortably. It doesn't suit the skill set I've got – I literally can't get round. I don't hit the ball far enough off the tee to hit a sensible club into the green. In Abu Dhabi, Rory's hitting a 9-iron and I've got 210 yards to go, so I've got a 3-hybrid. His stops dead, mine's running 15 yards. It's just too extreme. There are some courses where I can still get it round, but too many have been lengthened too much."
For a man who had competed on tour non-stop for a quarter of a century, tried his hand at the PGA Tour for a while and, of course, recorded that stunning Ryder Cup victory over a certain Phil Mickelson at The Belfry in 2002, this regression towards some of golf's lowlier tours must surely feel like quite a comedown?
"Yes, it is different," he says, choosing his words carefully before explaining why he is doing it. "I'm probably not as motivated for it as I would like to be, but by the end of last year I'd got used to it all. I'm probably going to try and do the same in 2016 and find a few more of those smaller events to play in. I'm 50 in October and if I want to be playing [the Senior Tour] I need to compete, so just staying at home and doing stuff with the family, nice though it is, is probably not that good for my golf."
So is that it, then, for the main tour career? "If I start to play a little better, I may try and play a few European Tour events," he says. "I could play in the European Open because I won it, and I could get into Czech, Denmark, Austria and Russia, for example. If my game is up to standard in August, I'll probably go and play. But if it's not, I'll just leave it."
Looking to the future
Turning 50 on October 21 this year would give Price just one event on the current, fairly sparse, European Senior Tour schedule, but the Welshman actually has his eyes set further afield for when the big 5-0 hits. "Yes, my plan is to go to the Champions Tour Q-School in November and December," he tells me. "It's two qualifying stages with four rounds at each. The top 18 go through from the first stage, but there are only five fully exempt cards at the final stage, so it's difficult to get through."
This, of course, would not be Price's first attempt at cracking America. Back in 2004, he comfortably made it through the PGA Tour Q-School for the 2005 season, along with fellow European Tour regulars Greg Owen and Brian Davis, with Davis actually winning the Q-School that year. But while his English colleagues have never returned to Europe, Price's American adventure lasted just one year. He made 13 cuts from 25 starts in 2005 – with a best finish of 11th in May's FedEx St Jude Classic – and was unable to retain his card. He went back to Q-School at the end of the year, but withdrew after three rounds and headed back to Europe in 2006.
"Yes, it was poor really," he says, reflecting on his year in the States. "It was a really disappointing experience that probably set me back a lot." There appears to be little doubt about that – he left for the States having been pretty much a European Tour top-50 regular for the best part of 15 years, but was never again able to break the top 100 on his return. While age may have begun to play some part, there seems little doubt that the disappointment of his American experience affected him as a player.
Now, however, he is hoping to put that disappointment to good use after all. "I've got to hope that experience will now stand me in good stead going forwards, because I lived there for a year so I'm very comfortable being out there," he tells me. "The family like it too, so maybe that was the reason for my year on the US Tour – to make me ready for this time."
First, of course, there is that small hurdle to overcome of many good players competing for precious few spots. But here is a man who competed at the top level for many, many years, notching up countless highs along the way, with that unlikely Ryder Cup scalp in 2002 right at the very top. Price tells me that it was his most memorable and pleasing round ever, and that what thrilled him most was how he went about the task of taking down World No.2 Mickelson – a man ranked 116 places above him at the time. "I made five birdies and didn't make a single bogey," he smiles. "It was just a great execution of what I needed to do when it would have been easy not to execute; to get scared and tight and afraid. But I didn't – I managed to get it all done."
Beyond that one magical moment, Price points to two other highs – another single event, and the enduring nature of his career. "Winning the European Open in 2003 at The K Club was a big deal for me," he reflects. "It was really nice to win a tournament with everybody – all the big names – playing. But equally, the longevity I have managed has been quite a feat too, and it's something I'm proud of. Not many last that long. I've had a great time, and it's been fantastic to do my favourite thing."
The longevity and enduring nature of his career may be undergoing a temporary hiatus as he negotiates the tricky 45- to 50-year-old tour pro's no man's land. That said, everything could change if the Welshman manages to nab one of those coveted Champions Tour spots later this year and return to America in 2017 for 'take two', 12 years on from his frustrating and largely unsuccessful first attempt.
If he does, I wouldn't bet against that longevity being extended for a good few years to come. Who knows, perhaps he'll be kind enough to tell me all about it should we have the good fortune to reconvene once more in Mauritius three years from now. There's no harm in hoping, I suppose!
Get the Golf Monthly Newsletter
Tips on how to play better, latest equipment reviews, interviews with the biggest names and more.
David joined Golf Monthly in 2015 as a content editor for the magazine and regularly contributes to the website. He has worked in magazine publishing and editing since 2003. He is a keen golfer and up until recently was a member of Blackmoor Golf Club in Hampshire. He has covered various big events and tournaments for GM, the highlight of which was witnessing Tiger Woods win his 15th Major at Augusta in 2019. Email: david.taylor@futurenet.com