Matt Kuchar: Mr Blue Sky
Fergus Bisset talks to seven-time PGA Tour winner Matt Kuchar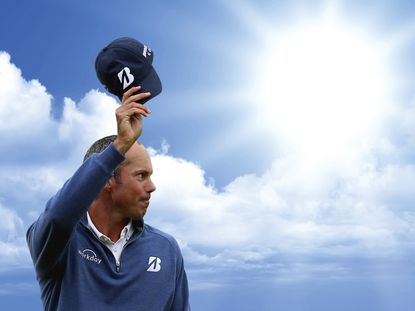 Golf Monthly Newsletter
Golf tips and expert instruction, golf club reviews and the latest golf equipment.
Thank you for signing up to . You will receive a verification email shortly.
There was a problem. Please refresh the page and try again.
Fergus Bisset meets seven-time PGA Tour winner Matt Kuchar to talk about his positive golfing philosophy, the reasons for his consistency and his ambitions within the game
Standing on the practice green at Cragielaw Golf Club, the dark clouds brewing on the horizon began to move ominously closer, the wind whipped up and the rain started to fall. The assembled journalists winced against the elements but Matt Kuchar didn't flinch. He was engrossed in a description of his arm lock method of putting – how it developed and how it has played a key role in helping him become one of the world's top golfers.
"Is this guy for real?" I thought as I pulled up my collar and tried to hang tough. "Surely, he's going to suggest we look for shelter?" But Matt carried on regardless – he was enjoying himself. It wasn't until one of his team appeared with an umbrella that his concentration wavered and he glanced skywards. "Oh, this will blow through," he said. "Look, I can see blue sky."
Those five minutes summed up the character of this incredibly affable 37-year-old. He's just a 'glass half full' type of guy.
Related: Improving consistency
At the Shell Houston Open in 2014, Kuchar held a one-shot lead over Matt Jones coming to the final hole. From the middle of the fairway he hit a terrible shot, pulled left into the water. Watching it drop into the hazard, a microphone picked up his reaction. "Oh that's in the water. Golly Matty!" That was an incredible thing for British spectators to hear. For us, it was the reaction of a man who had suffered a spot of bad luck playing snakes and ladders with his children; not one who had, most likely, just blown a chance to claim one of his profession's most prestigious prizes. And that's what transpired when Jones pitched in from short of the green on the first extra hole of a play-off against 'Kuch' to claim the victory.
"Fantastic to birdie the hardest hole on the course twice," said Kuchar afterwards in praise of Jones. "Impressive stuff."
That's Matt Kuchar – broad smiling, cap doffing and displaying consummate sportsmanship, no matter what the game throws at him.
But don't let the freewheeling exterior fool you – inside Kuchar is a hugely competitive golfer and person. He's someone with a great desire to win and to be the best. He'd simply like to do it with a little humility, and that can only be admired.
From a young age Matt was a fine athlete who excelled in a variety of activities, and, since that time growing up in Florida, he's always wanted to be a top-level sporting star.
"Any sport that I took up, I wanted to be on TV doing it," he says. "When I was a tennis player as a kid, I wanted to be Boris Becker. I played basketball and I wanted to be Magic Johnson. When I decided to play golf, I didn't just want to be an okay golfer, I wanted to be as good as I could be. I wanted to be on tour and I was fully committed to getting there."
And Kuchar enjoyed great success as a young player. In 1996 he narrowly lost to Tiger Woods in the semi-finals of the US Amateur and he took that title the following year. He finished as the low amateur in both The Masters and the US Opens of 1998.
Following sage advice from the late Payne Stewart he elected to finish his college education at Georgia Tech, rather than turn pro straight away, and he entered the paid ranks after graduating in 2000.
He enjoyed early success on the PGA Tour. In his first full season in 2002, he won the Honda Classic and earned more than $1 million. The future looked bright, but he then went into something of a slump and by 2006 he'd lost his card.
"Yeah it was a hard stretch," he says, "but I learned from that. To win on tour is great. But to understand what it takes to battle, to go out on the Nationwide Tour and fight for your right to compete against the best again, that gives you a great perspective."
And it's a sign of Kuchar's innate determination to succeed that he decided to rebuild his game, together with coach Chris O'Connell. To find greater consistency, they developed a one-plane, flatter swing that Kuchar took to immediately.
"It was amazing really, I got better right away," he says. "I think a lot of guys start working with somebody and they feel they have to get worse to get better. That doesn't make a lot of sense to me. I got better right away and have continued to improve."
Today Kuchar is known as one of the most consistent players in world golf. Between 2009, when he announced his return to the big time with victory in the Turning Stone Resort Championship, and 2015 he has notched up 59 top-ten finishes on the PGA Tour and has earned almost $30 million in prize money. Kuchar believes the hard work he put into his game is key to his consistency.
"In the work I've done with Chris, one of the fundamental objectives has been to eliminate clubface rotation through impact," he says. "That means I don't need to have absolutely perfect timing on every swing. I'm trying not to think of the clubface moving from open to closed through the strike, I feel that leaves too small a margin for error."
Kuchar has also worked hard on his putting and, together with Bob Bettinardi, he has developed a special putter to facilitate his unique arm lock method, with the putter grip riding up the left forearm. Kuchar is clearly dedicated to finding solutions to make his game as good as it can possibly be.
There may be technical reasons contributing to his sustained recent success, but just as important (perhaps more so) is Kuchar's general philosophy on life and his quiet self-confidence.
"I'm in a place with my game that I'm really comfortable with," he says. "When I first started I would take a look down the range and I might have watched Tiger hit towering 2-irons. I'd be envious of those, and maybe try to replicate them. But I'm more accepting now. I can accept that's not a shot that I'm going to produce. I can't carry a 2-iron 250 yards through the air and land it softly. I understand my game pretty well and I'm happy with it. I know the shots I can hit and I work hard on making those as good as they can be. I play to my strengths."
And one of those strengths is clearly Kuchar's fortitude.
"I don't work with a sports psychologist because I think I have a good mentality for the game already," he says. "I stay relatively fit, playing tennis, enjoying outdoor pursuits with my wife and two kids – there's no need for the gym when you have them to keep you on your toes! I look after myself and, as such, I've stayed relatively injury-free."
Kuchar has won seven times on the PGA Tour and has remained within the top 20 on the Official World Golf Ranking for most of the last five years. But there's an unavoidable question mark over whether Kuchar really has the desire to stand at the highest pinnacle of the game. Is he too comfortable with his position as one of the very good, but not quite great, players? Kuchar is quick to refute that suggestion and he points to one tournament that he covets above all others.
"The Masters," he says with a steely look in his eye. "I went to Georgia Tech and have all sorts of connections. I really, really want to win at Augusta." That's pretty clear-cut then!
He also has ambitions beyond the individual game, particularly with regards to the Ryder Cup and representing his country.
"I've played three times and I'm yet to experience being on the winning side. That's something I want to do," he says. "There have been so many thoughts going around about what the USA has done wrong, and what it needs to do. But quite simply it just comes down to playing that fraction better. There are always suggestions we don't perform so well as a team but you know, at Medinah we had a four-point lead going into the singles. As far as the 'team' portion of that event went, we had it comfortably won."
And Kuch is excited to have Medinah captain Davis Love III back at the helm.
"He was a fantastic captain last time out and I'm very pleased for him to get the job again. He's a good friend of mine and of many of the US players," he explains.
What's clear from spending time with Matt is that he truly loves what he's doing. Whether he's playing, practising, even conducting a putting clinic, he just enjoys golf. There are plenty of pros out there one wouldn't be able to say the same thing of.
"Yeah, I loved golf from the moment I took it up," he says. "I got addicted and even when things weren't so good, I just wanted to keep playing, to keep getting better. You know, I still want to do those things."
Kuchar is an optimist. He clearly believes there is still more to come from his game; that there are unwritten chapters in the story of his golfing career. He sees the blue sky not the dark clouds, and that's a lesson to us all.
David joined Golf Monthly in 2015 as a content editor for the magazine and regularly contributes to the website. He has worked in magazine publishing and editing since 2003. He is a keen golfer and up until recently was a member of Blackmoor Golf Club in Hampshire. He has covered various big events and tournaments for GM, the highlight of which was witnessing Tiger Woods win his 15th Major at Augusta in 2019. Email: david.taylor@futurenet.com