Matt Kuchar: Putting Masterclass
Fergus Bisset gets a putting lesson from Matt Kuchar of the USA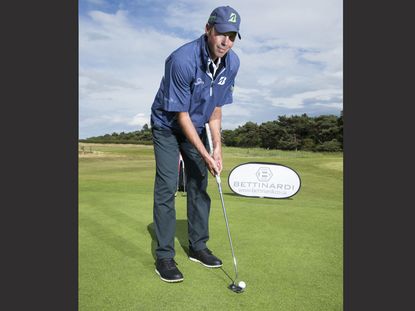 (Image credit: Kenny Smith)
Matt Kuchar is one of the best putters in world golf. Fergus Bisset went to speak with him about his Arm Lock technique and self-designed Bettinardi putter.
Putting has never been my strongest golfing suit. In fact, I think it would be safe to say my game deteriorates steadily from the tee, as I get closer to the hole. It's at its weakest when I reach about three feet from the cup.
I'm willing to listen to any sage advice on how to improve my travails on the greens, so when I received an invite to a putting clinic with Matt Kuchar at Cragielaw GC in East Lothian, on the eve of the Scottish Open, I was quick to rsvp in the affirmative.
After doing a bit of intraweb-based research on "Kuch" before driving down the road, I became even more excited at the prospect of a magic elixir to cure my seemingly terminal putting condition.
Coming into the Scottish Open, Kuchar has single putted 44% of greens on the PGA Tour in 2015 – that's 1% more than Jordan Spieth. So far on the circuit this year he's faced 504 putts of three feet or less – he's holed 502 of them. Holy heck! If I could have done that this year in the Medal rounds I've played, my handicap would be down about three shots. It's little wonder that Kuchar is such a consistent performer and has spent the last five years in, or around, the top-10 on the Official World Golf Ranking.
So what's the secret? Well Kuchar was at Cragielaw to give the journalists assembled a short clinic on the "Arm Lock" style of putting that he has developed – a method that has been deemed legal by the USGA when the anchoring ban starts in January 2016. He was also there to show us the Bettinardi Kuchar Model 1 and Model 2 putters he has co-designed with legendary putter craftsman Bob Bettinardi, and even let us have a go with them!
First thing to say is: What a nice guy Matty is! I'd sort of expected him to be that way from what I've seen on the telly. But, in person, he's just as polite and friendly as he is in front of the cameras. He was genuinely delighted that we'd come to see him talk about his putting and he wasn't deterred by a squally shower that rolled in over the putting green at Cragielaw just as he embarked on his demonstration.
Back to the Arm Lock: The technique came about gradually as Kuchar began to grip down a standard length putter and rest the top of the grip on his left wrist. He wondered what would happen if he extended the grip and rested it further up his left forearm.
Working together with Bob Bettinardi, Kuchar tried a variety of different options before putting the Bettinardi precision-milled Kuchar Model 1 blade into play, and enjoying considerable success with it. The putter is 42" long with a long grip that he locks parallel to the left forearm for a more stable stroke. The putter features a loft of 7 degrees (compared to the standard 2-4 degrees) in order to compensate for the forward press that goes with the Arm Lock. The important thing to stress, and something Kuchar makes clear, is that this technique is legal.
"It's not considered anchored, as the butt end of the putter still moves," he says. "I really see it taking off in 2016 when the anchored putter ban has taken effect. Because of the way it sits in your right hand, it keeps the right angle in the wrist and the shoulder – this helps you use more of the bigger muscles and eliminate some of the little flinching muscles that cause missed putts."
Sounds good to me. What's it like then for someone of a fragile putting disposition? Well at first (of course) it felt a little strange, almost awkward and I wasn't confident of keeping the grip in the correct position on my forearm – the top of the grip should sit 2" below the elbow so, obviously, different lengths of Bettinardi Kuchar putter are available for players of different heights. Recently released by Bettinardi is an Arm Lock training aid that helps you to keep the grip in the right place on the forearm. It's a neoprene tube that goes on your forearm like a bandage with a Velcro strap that attaches the grip to your arm – just for practice of course.
After a few minutes, I began to get the hang of it and the results were undeniable. From short range I was pouring the ball into the hole in a way I wouldn't normally expect to. Granted this was a pressure-free situation and it would remain to be seen how the technique would hold-up if I had a 4-footer to make the buffer zone. But, first impressions are that this will be a serious, and viable, option for those who struggle with their putting – certainly those who need an alternative to a belly or broom-handle. Also coming up in a future issue of GM – Kuchar will describe his putting in more detail: his Arm Lock technique, his routine and his practice… Keep a look out.
Another good first impression was made at Cragielaw: by the Bettinardi putters. The whole range was there to try, all the standard models as well as the Kuchar Arm Lock ones. They are beautiful, both to look at, and to putt with. Each putter is crafted from one piece of carbon steel and is precision milled to create an elegant finish. The ball comes off the face with a wonderfully soft feel and I found this was great for achieving distance control. Very nice indeed.
As I write this Kuchar is looking good in the Scottish Open at Gullane. His putter is clearly working well on the links greens….
Fergus is a golf obsessive and 1-handicapper. Growing up in the North East of Scotland, golf runs through his veins and his passion for the sport was bolstered during his time at St Andrews university studying history. He went on to earn a post graduate diploma from the London School of Journalism. Fergus has worked for Golf Monthly since 2004 and has written two books on the game; "Great Golf Debates" together with Jezz Ellwood of Golf Monthly and "The Ultimate Golf Book" together with Neil Tappin (also of Golf Monthly)... Fergus once shanked a ball from just over Granny Clark's Wynd on the 18th of the Old Course that struck the St Andrews Golf Club and rebounded into the Valley of Sin, from where he saved par. Who says there's no golfing god?