How Should Non-Member Handicaps Be Viewed?
Currently, golfers who aren't members of union-affiliated clubs can only get an unofficial handicap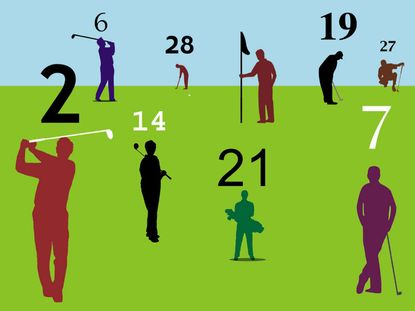 Golfers who aren't members of union-affiliated clubs can only get an unofficial handicap, but what value do they offer the holder?
How Should Non-Member Handicaps Be Viewed?
An official CONGU handicap can only be allotted to an individual who is a member of a golf club affiliated to one of the National Unions of Scotland, Ireland, England or Wales. There are organisations that will calculate an unofficial handicap for use in social golf, but these handicaps won't be accepted in opens and some clubs require visitors to present an official CONGU handicap before playing. Is this right? Should non-club members be discriminated against in this way?
At a time when the cost of private membership is prohibitively high for some, particularly younger people, and when golf is struggling to attract and retain participants, could there be more flexibility?
Related: How do I get a golf handicap?
Various organisations will calculate a handicap if an individual sends them three cards (and an administrative fee) by post or electronically. They will then adjust this 'unofficial' handicap with any card sent into them. It should be stressed the onus is very much on the individual to do this.
For social or society golfers, these unofficial handicaps are great. They allow an individual to participate in fun events with friends, confident the amount of strokes they are taking is fair. They also allow someone who plays fairly irregularly to monitor the level at which they are playing. Striving to improve a handicap is one of the most satisfying pursuits in golf and the chance for a non-club member to enjoy this element of the game should be viewed positively.
For the purposes of proving your competency in order to play as a visitor at a club, a non-member handicap should suffice. A number of clubs and facilities seeking handicap certificates before play have already recognised and accepted the validity of non-member handicaps from the more established providers. And let's face it, we all know golfers in possession of a valid CONGU handicap who are more than a couple of degrees removed from competency!
Related: How are handicaps adjusted?
To simply facilitate playing non-competitively, a non-member handicap should be viewed as a good thing. It allows more people to enjoy more aspects of the sport, be it experiencing different courses or the challenge of trying to improve their score. It's when things get competitive, though, that issues arise.
The problem with an unofficial handicap is in its title. Although there are providers able to calculate a handicap reflective of playing ability and issue a certificate, there's nothing to prove the handicap is accurate, other than the individual's word that the cards submitted were genuine.
Golf is a game of integrity, and no doubt the overwhelming majority who obtain an unofficial handicap do so honestly. But without the backing of a club's administration, the accuracy of an unofficial handicap is nigh on impossible to police outside of a particular, self-regulating social circle. This makes it untenable for a club or facility to accept these non-member handicaps for open competitions.
Related: Golf's handicap allowances in match play
Problems would inevitably arise if someone playing off an unofficial, non-club handicap was to come in with an impressive winning score in an open. The other competitors would question the validity of the victory and the individual concerned would be made to feel highly uncomfortable.
There's an argument that protecting the official club handicap system is important to the future of golf. As a club member, you are making a significant investment in golf and its future. Private and proprietary golf clubs and facilities can only survive through the financial input of members. Something you receive in return for your investment is the chance to play in club competitions and obtain an official club handicap. This allows you to play in opens and enjoy discounted competitive golf offered reciprocally between clubs.
Would it be fair for an individual to pay a nominal fee to obtain a handicap and then benefit from the cheap golf on offer at opens? Perhaps not. Maybe allowing that to happen would be harmful to golf. How many would turn their backs on clubs in favour of the cheaper option? How many facilities would go down the pan as a result?
Related: England Golf to crack down on bandits
And, in fact, it doesn't have to be a bank breaker to become a club member. In most parts of the country, golfers will be within striking distance of a municipal course where membership of the associated clubs will be relatively affordable. An individual could pay the membership, which is generally far lower than at clubs responsible for maintaining their own course, and then pay green fees to participate in competitions to return the three cards. Individuals going down this route would then be able to participate in open competitions.
The non-member handicap is an excellent and useful tool for unattached social golfers to gauge and monitor their ability and play against friends. If issued by a recognised provider, it should give sufficient proof of playing ability. But the non-member handicap is not regulated by club or governing body and thus it cannot be recognised for competition purposes. Those golfers looking to play competitively in opens must find a way to join a club. If they wish to take the game seriously enough to compete for prizes, they have to be prepared to invest a little back into the sport.
Don't forget to follow Golf Monthly on Facebook, Twitter and Instagram
Fergus is a golf obsessive and 1-handicapper. Growing up in the North East of Scotland, golf runs through his veins and his passion for the sport was bolstered during his time at St Andrews university studying history. He went on to earn a post graduate diploma from the London School of Journalism. Fergus has worked for Golf Monthly since 2004 and has written two books on the game; "Great Golf Debates" together with Jezz Ellwood of Golf Monthly and "The Ultimate Golf Book" together with Neil Tappin (also of Golf Monthly)... Fergus once shanked a ball from just over Granny Clark's Wynd on the 18th of the Old Course that struck the St Andrews Golf Club and rebounded into the Valley of Sin, from where he saved par. Who says there's no golfing god?