How To Find The Right Metalwoods For Your Game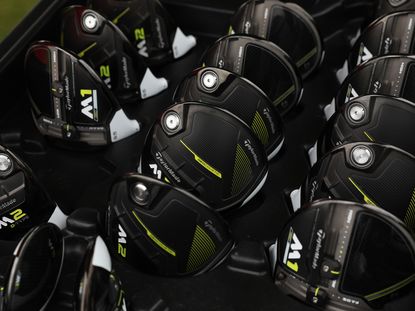 Thinking about new woods? Here are our top tips and key considerations on how to find the right metalwoods for your game…
How To Find The Right Metalwoods For Your Game
Most golfers now agree that to maximise the performance benefits new technology offers, a thorough custom fitting is essential. But this is just the start of the journey and there are some important factors to consider when thinking about how to find the right metalwoods for your game. Here are our top tips and key considerations on how, alongside a qualified expert, to find the right metalwoods for your game…
1 Ask questions
How does the loft of the club affect the spin rate? What's the most forgiving driver setting and how does that affect your ball flight? How does a heavier shaft affect performance? It is important to put the ball in the court of the fitter, test his knowledge and try to build a picture for why you might need a certain set up. This is also your chance to discuss your game, too. Do you need a hybrid option to use from the rough? Will you use your 3-wood more from the tee than the fairway? Do you struggle with your long irons and want something that is easier to launch? Be honest with yourself and your fitter, it is all about finding exactly the right club for you. Finally, if you want to try a different head and shaft combination, ask to do just that. The more options you try, the better you'll feel about the overall package you end up with.
Video Review: TaylorMade M1 Driver
2 Lose your preconceptions
When it comes to thinking about how to find the right metalwoods for your game you might think you know your spec and your preferred line-up, but you're likely to get far more from a custom fitting when you go in with an open mind. 'I'm a 9.5˚, stiff shaft player…' Does that sound like you? Technology has changed massively in recent years, especially where metalwoods are concerned. Your opinions may well change after just a short while on a launch monitor. Be willing to try everything on offer – you never know where your next performance gains will come from!
Video Review: TaylorMade M2 Driver
3 How important are looks?
Modern metalwoods, in general, combine superb looks and performance. It then comes down to personal preference in terms of the subtle differences in head sizes, shapes, colours and alignments. The most important thing is that you feel confident when you're looking down at the clubhead behind the ball. Some amateurs make the mistake of selecting a smaller head shape when their ability to consistently shape the ball is not quite there. Be honest with your own skill level because you can always opt for a smaller head shape as your game improves. It might be that you feel comfortable with a relatively compact driver (when the ball is teed up) but in the fairway woods and hybrids you want as much confidence and forgiveness to look down on as possible. This is another reason why it is important not to arrive with any preconceptions – your perfect driver, fairways and hybrids might feature some important differences.
4 Do I need adjustability?
The adjustability on offer in many modern metalwoods has given fitters and the end user more choice than ever before to achieve launch angles, spin rates and shot shapes that are fully customised. Whether you need complete personalisation depends on your own swing and the consistency with which you deliver the club. Your custom-fitting technician will use adjustability if it unlocks extra performance however, it might be that a well-fitted but less adjustable driver or fairway wood is right for you. Whether what you end up with is fully adjustable or not, when it comes to how to find the right metalwoods for your game make sure you go through the fitting process – very few players end up with a standard shaft, loft and face angle combination.
5 Launch monitors: Too much information?
After a few shots, you'll start to get some meaningful data that goes way beyond how far you're hitting the ball - we're talking ball speed, launch angle, backspin and smash factor (how efficiently you are striking the ball)… the list goes on. The data from launch monitors has allowed specialised custom fitters greater scope to ensure your metalwoods accurately match your swing. Moreover, it can make a huge difference to your fairway wood and hybrid line-up. Knowing exactly how far each club goes, you will be able to better plug any distance gaps that appear in the top end of your bag. Whether you are calling on the expertise of your local pro or buying from a big off-course golf store, our advice would be to ensure you go through a metalwoods fitting with a launch monitor.
6 Shaft is key
The shaft is the engine of the club and is a crucial factor in how to find the right metalwoods for your game. A custom fitting will provide you with a whole range of numbers, one of those being swing speed. In general, less powerful swingers need more flexibility, and more powerful hitters require the stability of a stiffer shafted club. Try various shafts to maximise performance benefits in your metals. It's not only the type of shaft, but the length as well, something which has a great impact on distance and accuracy. Of course, you will only know the correct length of shaft for you if you run through a fitting.
7 Get gapped
This is crucial. There's little point in your longest iron going the same distance as your hybrid. Worse still, if there's a 30-yard gap between your longest iron and your hybrid, you're seriously harming your scoring potential. When it comes to working out how to find the right metalwoods for your game, remember that your hybrids and metals should work in conjunction with your iron set and the combination will be specific only to you!
8 Where do you miss?
In an ideal world you'd hit the ball long and straight. However, most amateurs would see their handicaps tumble quicker if they were able to control their accuracy. Distance gains will come naturally with new technology and the latest materials used in the crown, for example, which help increase ball speed. A custom fitting will help identify your poor shots and tighten up your dispersion. If you consistently miss in the same place, adjusting the face angle could unlock a much higher level of performance.
Articles created in partnership with TaylorMade.