How Can Golf Clubs Work Better Together?
Fergus Bisset asks how clubs might find ways to work better together in order to enhance their offering and improve their efficiency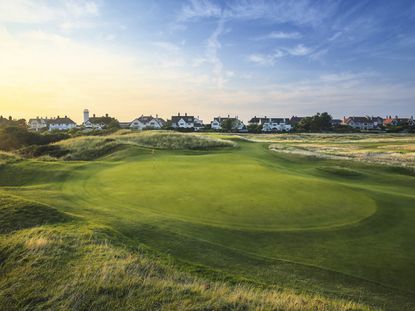 Fergus Bisset asks how clubs within striking distance of one another might find ways to work better together in order to enhance their offering and improve their efficiency
Back in the latter half of the 20th century, golf clubs across the UK were generally doing quite well. Waiting lists were often full and all looked rosy for the future. Fast forward 25 years and the picture is rather different. Economic and social conditions have changed, and people – the younger generation in particular – have less disposable income and less time to spend it. Golf club membership has become a luxury that, for many, is difficult to justify.
According to England Golf's most recent membership survey, only 10% of clubs now have a waiting list in any membership category and 95% have membership vacancies. So clubs must work harder than ever to succeed. One route to explore is joining forces with other local clubs to find ways of increasing efficiency, and elevating the quality of what they can provide to potential members and visitors. With a little effort and co-operation, golf clubs can work better together.
An obvious way of making a club's membership offering more appealing is to establish reciprocal playing agreements. Membership of a club might seem significantly more attractive to an individual, or to a family, if it also provides reduced green fees at surrounding courses.
As an example, Launceston Golf Club in Cornwall has reciprocal arrangements with 15 clubs in Cornwall and Devon, giving their members the chance to play these tracks, plus a selection of courses further afield, at significantly reduced rates.
Setting up such agreements potentially provides a double revenue stream – not only might more prospective members be swayed to join, ramping up the subs intake, but it should also mean that players from other clubs will make use of the reciprocal arrangements, when otherwise they may not have bothered. Although these visitors will play at a reduced rate, few clubs have such a packed tee sheet that they wouldn't benefit from the discounted green fees plus possible bar and catering income.
Clubs could go further and look to offer deals on secondary memberships. Alyth Golf Club near Blairgowrie in Perthshire has teamed up with nearby Strathmore Golf Centre to offer members at each the opportunity to join the other for a reduced rate as a secondary member. Conditions, in terms of entering club competitions and the like, apply but it generates revenue that would not otherwise have been forthcoming.
Clubs can also work together to promote their local area. The existence of one golf course, even if well marketed, is unlikely to draw golfers to an area not otherwise on their radar. However, four or five interesting-looking courses within easy striking distance will appeal far more. Clubs could come together to produce advertising or they could approach a PR firm to help them promote their golfing area.
Clubs could offer discounted 'area tickets' to visitors. They could also come together to host an annual event that promotes their region and its courses. This September, the seventh Wirral Golf Classic took place over the superb courses at Caldy, Heswall, Wallasey and Royal Liverpool. A 72-hole Stableford competition open to men and women, it has been hugely successful, drawing many golfers to the area in recent years.
Social events and off-course activities are suggested and included in the information that goes out to potential participants to encourage those with non-golfing partners or family members to consider entering.
A similar event is run each year in Aberdeenshire. In the Royal Deeside Golf Classic, entrants compete over the beautiful inland courses of Banchory, Aboyne, Ballater and Braemar and are also encouraged to seize the chance to sample Deeside's stunning scenery and history. Many golfers from across Europe now return for this event year on year.
Clubs could look to co-ordinate the scheduling of their open competitions, perhaps staging one on a Saturday and another nearby on Sunday, allowing golfers to make a weekend of it.
They could also consider setting up an annual open aggregate competition among local clubs, with each putting a small contribution into the pot, so the winner of the best aggregate nett or Stableford score across all the events takes home a bonus prize.
Closer co-operation between local greenkeepers can also help streamline costs and efficiency. The purchase and maintenance of greenkeeping equipment is a significant expense, so clubs could establish, or look to join, local machinery sharing schemes to spread the costs of more specialised equipment. And when it comes to purchasing essentials like top dressing or fertilisers, greenkeepers could consolidate their buying power with colleagues at nearby clubs to help drive down costs.
For golf clubs to survive, they mustn't view their neighbours as competitors. They should be as proactive as possible, communicating closely with them to improve what they can offer to prospective members and visitors, marketing their product successfully to increase revenue and making cost savings by consolidating on- and off-course expenditures where feasible. With effective communication, golf clubs can work better together.
David joined Golf Monthly in 2015 as a content editor for the magazine and regularly contributes to the website. He has worked in magazine publishing and editing since 2003. He is a keen golfer and up until recently was a member of Blackmoor Golf Club in Hampshire. He has covered various big events and tournaments for GM, the highlight of which was witnessing Tiger Woods win his 15th Major at Augusta in 2019. Email: david.taylor@futurenet.com