How Can Clubs Make Golf More Appealing To Youngsters?
What can golf clubs do to entice more children and young adults?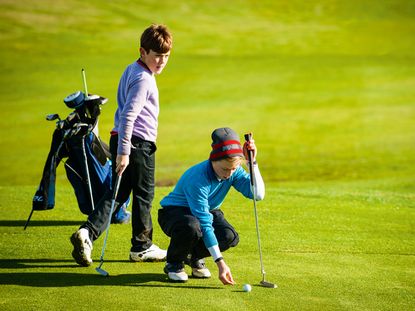 With such a youthful professional landscape, now is the time to attract more youngsters to the sport. Fergus Bisset asks what can golf clubs do to entice and retain children and young adults?
How Can Clubs Make Golf More Appealing To Youngsters?
Golf is a sport that can be enjoyed by all. The game has a broad appeal on a number of levels. It's challenging, sociable, potentially competitive and the handicap system allows players of mixed abilities to enjoy a game together. It's a pastime that should appeal to all generations, but it continues to be a struggle to attract, and retain, significant numbers of young people to golf.
As we grow older many of us view the youth with increasing bemusement: why do they like 'that'? Why are they doing 'that'? Surely they don't really want to wear 'that'? It has always been, and will always be, the case. But, of course, peel away the materialistic differences and there's not so much to separate a 17-year-old from a 70-year-old.
What does a young, or an older, person want when they are considering recreational activities? They want to have fun, they want to accomplish something, they want to feel good, they want to be with like-minded people, they want to have a laugh and they want value for money. Golf can deliver on all these requirements and this is the message we need to get across to teenagers and young adults.
The hierarchy of the golf club, though, tends to be dominated by older members. These figures have the most experience and knowledge of how to run a club and, particularly if they are retired, have more spare time. But, without input, how can the older members be expected to consider the requirements and wishes of younger golfers?
Related: Family the key to growing golf according to study
A good idea is to have a youth representative on the committee, whose role is to convey what they and their peers want from the club, what they find frustrating, what they feel could be improved and what might be done to attract more youngsters to join.
And what might committees expect to hear from a voice representing the youth? Cost is, of course, a significant factor for most young people, particularly those just starting out in adult life. Flexible memberships, where credits for rounds can be purchased, might make golf more viable for a number of young adults. Tiered memberships based on age also make a great deal of sense – a transitional phase between junior and full member.
How about reduced green fees for the under-25s? And, young members could be allowed to take on a certain number of (young) guests for free each year. If clubs can encourage more young people to pick up a club and play, it's inevitable that more will decide to take up the game seriously.
Young people, understandably, want to socialise predominantly with other young people, and golf clubs have to facilitate this. A club where every competition is drawn won't appeal to youngsters. The average 21-year-old doesn't want to spend five hours in the company of an octogenarian with a pair of ineffective hearing aids.
Continues below
Expand Should Juniors Play In Adult Club Competitions?
Should Juniors Play In Adult Club Competitions?
Encouraging juniors should be on the agenda of…
Expand Debate: Should Clubs Offer Free Membership To Juniors?
Debate: Should Clubs Offer Free Membership To Juniors?
Two Golf Monthly regulars argue their differing views...
Expand What Makes The Perfect Golf Club For Juniors?
What Makes The Perfect Golf Club For Juniors?
Recent research reveals what young people expect from…
Thanks to social media, mobile networks and 4G, younger people have become less likely to plan casual activities in advance; they operate more in the present than the future. Golf clubs have to be aware of this. Most 20-year-olds don't want to book a tee time to play a week in advance.
They want to look out of the window, see good weather, message a pal and go and play immediately. Clubs could set aside a time per hour for walk-on play, or have a couple of times each hour that can only be booked on the day.
The golf club needs to be an appealing place for younger people to hang out. Is there an area with a pool table? Is there a room, or some space, with comfy seats and a TV? Is there good Wi-Fi throughout? Does the kitchen consider what the young members want to eat? Is there a reason for young people to come to the club?
Related: Are golf club joining fees good for the game?
Clubs can foster ties with local schools if they are looking to attract new juniors who might go on to be youth or young adult members. In England, the Golf Foundation works tirelessly to promote junior golf and the charity can help clubs connect with schools.
The Golf Foundation has eight full-time regional development officers (details can be found at golf-foundation.org) who can sit down and talk to any club to offer guidance on how best to set up associations with schools. England Golf has also played a key role in the initiative to link clubs with schools, and its county development officers can work with clubs to provide ideas on junior participation and membership.
ClubGolf Scotland has introduced more than 50,000 primary school children to golf in the last 12 months, and roughly the same number of primary and secondary school kids in Wales have been introduced to golf in the same period with Golf Foundation support.
Clubs need to capitalise on this exposure. They could speak to schools, encouraging them to consider the merits of golf, offer coaching sessions or host a junior open day that could be promoted in the school. Maybe the club could allow the school use of the course for a day to run an annual competition?
In a golden age for professional golf when young players like Jordan Spieth, Rory McIlroy and Lydia Ko are thrilling audiences around the world, now is a perfect time to attract youth to the game.
Ours is a sport for life that can open doors and forge the strongest friendships. Within each community, golf clubs should take on the responsibility of conveying this message. Clubs must listen, be sympathetic to the requirements of juniors and young adults and perhaps make allowances to accommodate these.
They must also take the lead in attracting junior members by forging alliances with schools and showing off what's great about our sport. With just a little work, understanding and flexibility, golf clubs in the UK can secure their own futures.
Let us know your view on our social channels
Don't forget to follow Golf Monthly on Facebook, Twitter and Instagram
Fergus is a golf obsessive and 1-handicapper. Growing up in the North East of Scotland, golf runs through his veins and his passion for the sport was bolstered during his time at St Andrews university studying history. He went on to earn a post graduate diploma from the London School of Journalism. Fergus has worked for Golf Monthly since 2004 and has written two books on the game; "Great Golf Debates" together with Jezz Ellwood of Golf Monthly and "The Ultimate Golf Book" together with Neil Tappin (also of Golf Monthly)... Fergus once shanked a ball from just over Granny Clark's Wynd on the 18th of the Old Course that struck the St Andrews Golf Club and rebounded into the Valley of Sin, from where he saved par. Who says there's no golfing god?