10 reasons golfers are great on a night out
We reveal 10 reasons why a golfer will ensure your night is one to remember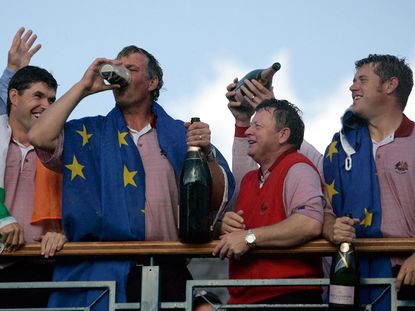 (Image credit: Getty Images)
From spotting trouble from 250 yards to nailing pub golf, getting a golfer onboard will ensure your next night is one to remember
Much like a wedding, festival or holiday, a lads night out is a special event to look forward to. So much so that a little planning is required.
Getting the beers in and choosing a starting venue is pretty straight forward, but who should you invite?
Well, if we've learnt anything from our time, there should definitely be a golfer or two on your list. Here's why…
1 – Golfers are a never late
Penalties for being late and missing your tee-time are punishing in golf, and that has taught us to make sure we arrive anywhere with plenty of time to spare, which is great news for you, as we won't leave you in a bar on your own for ages.
2 – Bouncers like golfers
We might take a lot of stick for golf's dress code from outsiders, but lets face it, nobody has ever been turned away from a nightclub for wearing chinos and leather-soled shoes.
3 – Golfers laugh at themselves
Taking the mick out of each other is part and parcel of an enjoyable round of golf, and as golfers all know, not taking yourself too seriously when a topped drive or duffed chip is just round the corner is key. As the night wares on, you'll also be thankful of our unnatural grasp of innuendo.
Related: 18 funniest golf innuendos
4 – Golfers love to talk nonsense
We often have to kill time while stood around waiting on tee boxes and fairways, so we can come out with some great debates to liven up the conversation, like who is the worst England player of all time? Could we beat Rory McIlroy if he played left-handed? Or the ever popular, would you rather fight one horse-sized duck or 100 duck-sized horses?
5 – Golfers invented Pub Golf
The king of all pub crawls, Pub Golf can be 'played' over nine or 18 'holes'. Each bar is considered a hole, and prior to 'teeing off', pars ranging from 1 to 5 need to be assigned to each bar.
The par number represents how many sips/gulps it should take to complete the drink at that 'hole', with the number of gulps taken recorded on a scorecard.
We recommend you assign different drinks to different 'holes'. A simple shot should be a par 1, while pint of beer might be a par 4. We also recommend a time limit for each hole of around half an hour, but this can vary depending on the size of your group.
Forfeits for spillage, finding the water hazard (going to the toilet) and other things can also be introduced to make things more interesting.
Related: How to play golf with a hangover
6 – Splitting the cab fare or bar tab? We're experts
A lifetime of adding up Stableford points and meticulously pawing through medal scores has made us a dab hand at mental arithmetic, saving you enough time to get in another round. You're welcome.
7 – Golfers are optimists
Par every hole from the 6th to reach the buffer? Golfers never say never, and this attitude can be a game-changer when you're out on the pull or trying to revive a mate who has had one too many.
8 – No more awkward conversations
Worried about bumping into your ex or your old boss? Fear not, golfers are great at awkward conversations thanks to all the time we spend chatting to randomly drawn playing partners who we have nothing in common with. "So, risk management, eh - that sounds interesting, tell me more."
9 – Golfers, not fighters
Golf is a self-policing sport so we're pre-programmed to avoid even the slightest hint of a rules-breach. As such, we can spot a potential punch-up a mile off. Playing a game as complex as golf also means we are far more likely to resolve disputes by bowing to a higher authority, so no more getting kicked out of bars for back-chatting the bouncer.
10 – Golfers carry spare change
The night is almost over, but the bright lights of the fruit machine catch you eye from the kebab shop. No change? No worries. We often carry spare change in our chinos (as well as tee pegs and ball markers) to resolve our bets at the end of a round...
Jake O'Reilly specilaises in equipment coverage, and joined the Golf Monthly team in 2013. Before this he graduated from the University of Huddersfield with a Sports Journalism and Media degree, and worked at a number of British golf magazines. Follow Jake on Twitter
@jake0reilly