18 Funniest Golf Innuendos
From shaving the hole to enjoying your foursome, here are our favourites...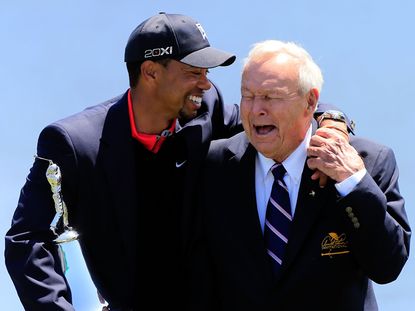 (Image credit: Getty Images)
From shaving the hole to enjoying your threesome, golf innuendos make those four hours out on the course that little bit more enjoyable. Here are some of our favourites...
From shaving the hole to enjoying your threesome, golf innuendos make our rounds that little bit more enjoyable.
Some are clever and some are just lewd, so if you're easily offended we recommend you redirect your attention to our articles on why you're lucky to date a golfer, or how to play well when hungover.
If not, read on and let us know your favourites. Have we missed any? Let us know via @GolfMonthly on Twitter and on our Golf Monthly Facebook page.
1 - After 18 holes I can barely walk
Golf can be tough on the body. We recommend using a trolley.
2 - The extra length is really helping me get it in the hole
Belly putters aren't for everybody, but if you're struggling with holing out, they're worth a try.
3 - My hands are so sweaty, I can't get a good grip
Golf on a hot summers day may sound perfect, but it has its challenges.
4 - That's a very stiff shaft
Testing drivers can be good fun, but getting your shaft flex right is crucial. We recommend a custom fitting to find your best combination.
5 - I'm going to wash my balls, want me to wash yours too?
Sand and mud on your balls will affect their performance in the air and around the greens, and nobody wants that.
6 - That guy's got incredible length!
Distance off the tee is a real bonus, but only if you know how to handle it.
7 - Grip it softly and stroke it smoothly
There are many ways to improve your putting, and this tip is among the best.
8 - I've had too many strokes, I think I need to change my grip
Sometimes all it takes is a small change in your technique to transform your scores.
9 – I think my shaft is just too long
A long shaft is often very hard to control, and if you're struggling for accuracy, it may be worth considering chopping some of yours off.
10 – He handled those humps really well
To be a good putter you must be able to read the break on even the toughest of sloping greens.
11 – He snuck that in the backdoor
No matter how hard we try, not every putt will roll in the middle of the cup, and the backdoor is a much better alternative than a lip-out.
12 - It looks pretty wet down there
Definitely the last thing you want to hear when your ball has just toppled over the edge and into a hazard.
13 - You can either bang it in the back or slip it in gently
A good putter knows when to play the break and when to hit it firm and straight.
14 - That's a hole to be respected
Sometimes being brave just isn't an option, and favouring a safe strategy off the tee will keep your scorecard intact.
15 - I tugged it a little
Pulling your shots can be very frustrating, be fear not, we've got some great instruction tips here.
16 - I just shaved the hole
If you miss by an inch, you miss by a mile, putting is a game of very small margins.
17 - Keep your head down and spread your legs a bit
We've all probably been told at one time or another to keep our heads down and focused on the ball, while even weight distribution should help your balance and control.
18 - I really enjoyed that threesome/foursome
Playing on your own or in a pair can get boring after five or six holes, it's much better to play in a trio or quartet.
Get the Golf Monthly Newsletter
Tips on how to play better, latest equipment reviews, interviews with the biggest names and more.
Jake O'Reilly specilaises in equipment coverage, and joined the Golf Monthly team in 2013. Before this he graduated from the University of Huddersfield with a Sports Journalism and Media degree, and worked at a number of British golf magazines. Follow Jake on Twitter
@jake0reilly