Is The Golf Course The Place to Find Love?
Katie Dawkins discovers a few success stories when it comes to finding love on the fairways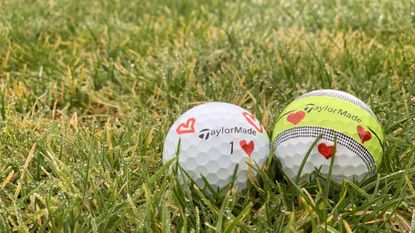 (Image credit: Katie Dawkins)
Years ago when I was a young trainee professional, men definitely outnumbered women in golf clubs by a silly to 1. The chance of bumping into a future husband was probably right under my nose, but to be honest, aged 19, I was more interested in my own golf than finding my soulmate. I met my husband in a pub after quite a few vinos and with a very loud heavy metal band playing…
But does taking up golf actually give single women a chance of finding that special someone. Prior to the pandemic women accounted for only 12-14% of golfers. This figure has over doubled thanks to lockdown.
I asked women from Yvonne Brooke's Facebook Page, The Ladies Golf Lounge, whether any of them had found love on the fairways? Yvonne herself met her husband whilst learning to play golf.
Women across the world responded and the fairways did indeed lead them to finding their soulmate. For some, seeing the golfing light also helped them to love themselves more, and here are some examples of those fairytales:
"Following my divorce, I decided to do more within my golf club. I joined the executive committee as Lady Secretary and fell in love with the Competition Secretary. We have been together for 17 years now. Love golf."
"I met my husband because of golf. We were both on a dating site and he was only searching for partners who played golf and came across me! That was nearly 20 years ago."
"I met my husband 30 years ago at a work golf day when I hit my golf ball into a tree and he climbed the tree to get my ball! We have played mixed golf ever since."
"Neil and I were introduced when his aunt (my golfing friend) signed us up to do the MacMillan 72-hole golf challenge! A year later we're planning our future together."
"I met my husband on a golfing holiday in Spain! He was with a group of men, I was with a group of ladies and the holiday was organised by a friend from my club. That was 28 years ago and we will have been married 23 years this June."
Amazing success stories, then there's one woman that explained, "I took up golf and then left my husband....I discovered I loved golf more than I loved him… The more I fell in love with golf, the more I realised what I wanted out of life. I now help run a society with over 900 fb members, (the majority of which are male) so I've met hundreds of new friends and have been on golfing trips at home and abroad. This golf girl is loving life."
So yes, if it's a man you're after the odds are indeed in your favour. It may not have to be that longwinded. With solo golf holidays and dating sites such as Elite Golf Dating popping up, the probability of being matched with a like-minded golf fan is far less down to chance. We all know couples who have got together through dating sites, so why should it not work for golfers. This is genius. It saves everyone all that time wondering if the person they've got eyes for at the golf club is actually eligible, or does he have a wedding ring on under his golf glove?
Golf is such an incredible sport that teaches us so much about ourselves. I truly believe you see the person for who they really are on the golf course. Tempers flare, compliments are given, kindness is demonstrated. It is fairly quick to spot someone's flaws as well as their strengths whilst playing a round with them.
TopGolf venues make a perfect first date playground. Back in the day, you'd have gone bowling or to the cinema. Now you can smash the ball past the guys and if it impresses rather than intimidates them, they may just be the one for you. Toptracer is the perfect tool to spark a conversation or a hint of competitiveness and flirtatiousness. Perhaps Speed Dating needs to take to the bays?
Having spoken to a number of eligible single men on their views on prospective girlfriends, if a woman plays golf is she more or less appealing as a partner?
A certain young gentleman alluded to the fact that if a woman plays golf it would be a plus for him. "I think it would make me want to go out with them more because it's a shared interest. I think as far as hobbies to do together, golf is a really good one because it's outside, a nice walk, but can also be a bit competitive too."
Giving golf a go may find you a partner for life. I know couples who spend their days playing round after round together and have done for decades, they wouldn't have it any other way. But what golf also gives us is a love for ourselves, a feeling of self-worth. We find love in friendships, teams, and an appreciation of the landscape we walk upon whilst playing a round.
There is so much to love about golf, if you're lucky enough to find your one true love amongst all that awesomeness then even better.
Advanced PGA Professional and freelance contributor
Katie is an Advanced PGA professional with over 20 years of coaching experience. She helps golfers of every age and ability to be the best versions of themselves. In January 2022 she was named as one of Golf Monthly's Top 50 Coaches.
Katie coaches the individual and uses her vast experience in technique, psychology and golf fitness to fix problems in a logical manner that is effective - she makes golf simple. Katie is now based at the stunning Hamptworth Golf Club on the edge of the New Forest. An experienced club coach, she developed GardenGOLF during lockdown and as well as coaching at Hamptworth she freelances, operating via pop-up clinics and travelling to clients homes to help them use their space to improve.
She has coached tour pros on both LET tour and the Challenge Tour as well as introduced many a beginner to the game.
Katie has been writing instructional content for magazines for 20 years. Her creative approach to writing is fuelled by her sideline as an artist.