Trophee Hassan II 2016 Blog 4
James Mason's from planetgolfreview finishes his blogs from Trophee Hassan II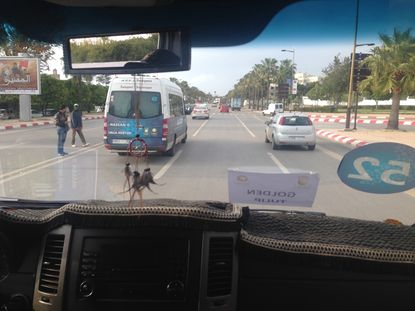 James Mason from planetgolfreview continues his trip
Trophee Hassan II 2016 Blog 4
So this will be my final blog from the 43rd Trophée Hassan ll and 22nd Coupe Lalla Meryem and you will not get to hear about how they booted me out of the Kings party…
You will be pleased to hear I finally got to sit down with Aditi Ashok and I was also able to meet her wonderful parents.
Unfortunately there were no embarrassing stories for me to tell, but you can define Aditi's path through professional golf with this one story that her mother told me.
In a tournament Aditi had made the green side bunker in two and proceeded to skull the shot through the green and into a bush, eight shots later she put the ball on the green and hold the putt to card a 13.
Determined that would never happen in her career ever again she spent the next three month, three hours a day practicing bunker shots from every conceivable lie – that my friends shows why this young lady from Indian will not only make the grade but go on to become one of the biggest names in women's golf – for the full interview look out for planetgolfreviews Open Championship issue in July.
It has been great getting the courtesy cars laid on by BMW and Range Rover each morning but I do feel like a broken punter each night when we are all loaded into a mini bus for the trip back, but at least we have the police escort to get us through most of the evening traffic.
My editor who is a blue is going to hate this section, but no matter where you go in the world not only will you find an Irish bar – because an Irishman has been there before you and knows exactly what you need when it comes to refreshing beverages – but you will also find fellow Liverpool supporters.
And so it was, right opposite my hotel was an Irish bar with Moroccan, Austrian and Danish Liverpool supporters, to watch the mighty reds make it through to another final. I could go on about real supporters getting tickets, but we all know how UEFA and FIFA work, and how they are not interested in real football fans.
Tomorrow I will not be at the course to watch day two of the Trophée Hassan ll, as I will be playing in the Friendly Cup, which I am looking forward to. Morocco is a great place to visit and if you are a golfer you should certainly bring you clubs and play a few of the great courses in Rabat or Marrakesh.
Until next time my friends I wish adios.
James Mason is a senior contributor for Golf Monthly magazine and editor of planetgolfreview.com and has producing destination and equipment reviews for Golf Monthly, Greenside, and Middle East Golfer magazines. He has also produced destination features for Golf World and Going for Golf magazines and interviews for Middle East Golfer and Qatar Airlines. James was captain of Coventry university golf team and now plays off a 5 handicap.