'Wild Thing' Daly
Wayne Riley talks about the day that the maverick that is John Daly entered the world of professional golf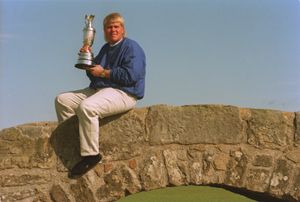 It was 20 years ago, but I remember it like yesterday. He arrived like the Lone Ranger, wielding a white-headed driver to go with his white-headed mullet. John Daly got his call-up at late notice to play in the 1991 USPGA Championship at Crooked Stick due to the withdrawal of Nicky Price. Without a bagman, the boy from Arkansas enlisted the services of the Zimbabwean's caddie, the late, great, Jeff 'Squeaky' Medlin. Together they set about rewriting the record books and changing the face of the championship. Everyone remembers those Hulk Hogan tee shots, but the putting was something else. It didn't matter if he was 10, 15 or 20 feet away, Daly drained them from everywhere that week. He was the complete golfer, and I don't remember there ever being a buzz around the traps like the one he provided after that win in Indiana.
I played quite a bit of golf with Daly the next year. He was the PGA champ, and I had won the Australian Open, so we were paired on several occasions around the world - much to my delight. If it was my honour, tight little hole, "give me a 3-iron please. I'm happy just to knock it down there somewhere." But with a strut that would make a Philadelphia lawyer take notice, Daly would pull out his driver. If he hit the fairway, it was all well and good, but let me tell you, the bird life was a bit on edge when he was around.
I have never seen any man drink so much diet coke, and eat as many M&Ms as big John did. That gut must have been churning like a cement mixer out on the golf course. Always a smoke hanging out of his mouth, a boy who loved a beer, when he arrived, the prawn sandwich brigade must have been regurgitating in the members' bars. There was nobody else like him.
I have heard all the stories. Throwing TVs out of hotel rooms and all that nonsense, the drinking and the ex-wives, and then you had the gambling. Yes the bloke liked a punt. Don't we all. The problem with John was that he obviously wasn't very good at it. In his book, My Life in and out of the Rough, he claimed that he lost somewhere between $50-$60million during 12 years of heavy gambling. How much of that is accurate is anyone's guess, but whatever the final number may be, I can bet it won't be pretty.
That said, there has never been any question about his golf. Winning the 1995 Open at St Andrews - the Home of Golf - is just about as good as it gets. But I will let you people ponder over it: will Daly be remembered for his two Major victories and as a guy who changed the face of golf with unquestionable, natural talent, or will it be for his flamboyant and quite often troubled lifestyle away from the security of the fairways? I would like to think both, as both have made John the man who the greater golfing audience love and warm to. He brings numbers and colour wherever he goes, and that is good enough for me.
These days John is still a major part at many golf tournaments, if not the major force that he once was. He travels with his guitar and loves his music. Essentially it's the same John Daly, although he's lost a fair bit of timber due to a gastric band being fitted as well as cranking things up in the clothing department with his choice of colourful apparel. Whatever the man wears or weighs, he's always good value.
Twenty years after making that incredible entrance at the PGA, if I was asked to sum John up, I would simply say that he is a man's man - just a decent guy who has at times got himself into a spot of bother. But we have all been there and done silly things at some point in our lives, haven't we? Good on you Wild Thing, one of the game's most naturally talented players. Golf has been a better place with you in it...
Betting experts, writers and video producers. Couple of guys in our early 20's looking to bring the sport that we love into a new era.'