Drugs on the Links: golf blog
Nicholas Gamble explains in this golf blog why drugs may not always help golfers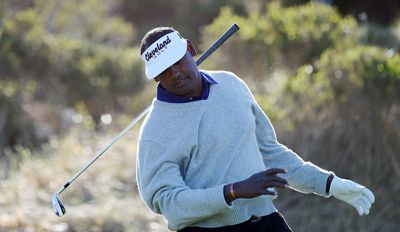 Get the Golf Monthly Newsletter
Thank you for signing up to Golf Monthly. You will receive a verification email shortly.
There was a problem. Please refresh the page and try again.
Golf blog
Recent events involving Vijay Singh and his deer spray, have thrown the issue of drugs in golf back into the spotlight. With every other sport cracking down on drug cheats, and the Olympics on the way, the focus has turned to what Golf is going to do about it. If the verdict on Vijay is anything to go by the answer is not very much. And actually, that's ok.
The PGA's decision to clear the big Fijian to play on tour has drawn a lot of criticism from some prominent members of the golfing world. Greg Norman is one in particular who sees the PGA's leniency as a mistake. In a recent interview with The Australian newspaper, Norman described the tours anti-drugs policy as 'disgraceful', saying 'we need to do blood testing...The golf associations have to get together and step it up'.
The Great White Shark has a point. Golf needs to be wary of the effect performance enhancing substances can have on a sport. You only need to look at the damage that has been done to cycling. And golf certainly does not want to have Tiger or Rory as the new Armstrong.
But I think it's also important to remember that golf is a sport that is not so open to the lure of performance drugs. Granted some aid recovery from injuries and can help a player to continue to practice for longer, which will appeal to today's ultra-professional pros. However, common effects such as increased strength that are seen in other sports from the taking of banned substances, don't play such a big part. Big hitters don't always win. The sport requires a touch and imagination that cannot be derived from any substance I am aware of.
Golf needs to keep an eye out for drugs, but I don't think it has to constantly look over its shoulder like other sports.
Get the Golf Monthly Newsletter
Tips on how to play better, latest equipment reviews, interviews with the biggest names and more.
Nick was a freelance writer for Golf Monthly from 2012 to 2014.