Golf Blog: The old and the new
Lewis Pacelli explains in this golf blog about his thoughts on electric trolleys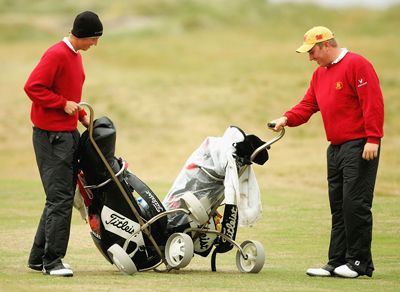 Golf Monthly Newsletter
Golf tips and expert instruction, golf club reviews and the latest golf equipment.
Thank you for signing up to Golf Monthly. You will receive a verification email shortly.
There was a problem. Please refresh the page and try again.
Golf Blog: The old and the new
I have been able to play a lot of golf over the summer months, taking advantage of what has been Mediterranean-esque weather.
The beauty of this sport is that all ages can play together; making use of the handicap system so we can still challenge each other.
Last Friday my main golfing buddy and I played the delightful championship course, Cottesmore in West Sussex.
Upon arriving we had our usual catch up and met two members in the clubhouse who were in their late 70s and about to make their way to the first tee.
We all decided to group together and enjoy a round, choosing to convene at their allotted tee time.
As I muddled around looking for my glove, my friend came round the corner with one of these new electric trolleys, basking in its effortless nature.
The embarrassment that overcame me as my 24-year old mate waltzed down the path exerting no energy whatsoever, whilst these two 'old boys' were happy (and excited) to pull their clubs on a normal trolley.
Obviously, we all gave him as much stick as possible, so much so that one of the elderly guys decided to prove his worth by carrying his clubs for the front nine.
And wow did he show up someone 50 years his junior.
I can understand the reasons behind this trolley but anyone under the age of 70 or who is fit and healthy should not be allowed to use it.
I do think that a big part of this sport at amateur level is the chance to wander through the countryside, relaxing and chatting to different generations.
So the idea that a young and mobile 20-something is using aid to walk around an 18-hole course is mind-boggling.
But the fact that someone nearly in their 80s jokingly made a fool out of a youngster who could easily be their grandchild can only happen in golf.
He carried his clubs with ease, but we all recommended that for the back nine we get a trolley back. Just incase.
As for the score? They battered us 5&4.
Lewis Pacelli writes for Down the 18th "Golf Betting and Opinions from a young perspective" (opens in new tab)
Lewis was a freelance writer for Golf Monthly in 2013.