@GolfPeach: TPC Sawgrass And Golfers' Fear Of Water
Instagrammer @GolfPeach has her say on the famous TPC Sawgrass course and golfers' fears of water hazards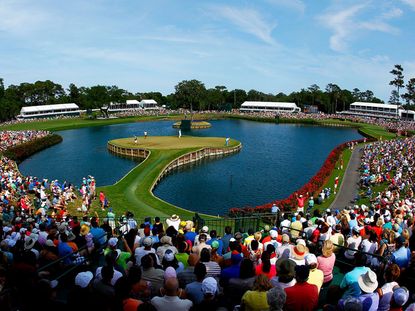 (Image credit: Getty Images)
Instagrammer @GolfPeach has her say on the famous TPC Sawgrass' Stadium course and golfers' fears of water hazards
@GolfPeach: TPC Sawgrass And Golfers' Fear Of Water
Follow @GolfPeach on Instagram (opens in new tab)
The Players Championship looms and so does...DANGER! WATER!!
There are few things more satisfying for a club golfer than to hit a shot just like a pro. It may be 1 of 101 on a particularly bad day but when a bunker shot gently comes to rest right next to the hole or a soaring approach shot checks and stops pin-high, it is difficult to resist the temptation to aim a wave at an imaginary gallery.
That is why it is nearly as gratifying to see a pro mess up!
Next week at Sawgrass, some of the finest golfers on the planet will pitch their balls into the lake surrounding the famous island 17th green. The hole measures just 135 yards and in the Florida spring sunshine most of the players will have no more than a wedge in their talented hands. But even as they walk to the tee and acknowledge the applause, they know the adoring fans have gathered in that spot like circling vultures. They have come to see reputations tumble into a watery grave.
Hitting a ball into a water hazard seems so final. Not only will you never see it again but the sad splash as it disappears sends ripples across the surface that can rock the hull of an entire round. At Sawgrass, the crestfallen victims face a walk of shame to a neighbouring drop zone where the same stretch of 'H2O' must be renegotiated with much the same club. Bob Tway, a Major champion in his day, took five attempts to clear the water en route to a 12 in 2005. Good job he got his balls for free.
The very mention of 'water' on a golf course comes complete with the sinister sound of the eerie strings that precede the scariest moment in a horror movie. "Have you played Bearwood Lakes before?" the pretty young heroine asks innocently. "Not Bearwood Laaaakes!" replies her grizzled old uncle in a haunted voice. "You do know it's got…." – cue Psycho shower scene music – "…. water!"
Fortunately, as a Bearwood Lakes member myself, I am now used to taking on said water on a regular basis. It doesn't frighten me! But that doesn't mean I don't occasionally reach for an old, bruised ball from my bag before trying to clear it. And when I do clear it, a sense of relief is my overriding reaction before I look further to see exactly where on terra firma my ball has gone. Water hazards are just a little bit more intimidating than any other obstacles we encounter on a golf course.
Read @GolfPeach's other Golf Monthly blogs:
Expand 'Another Tiger Woods Win Will Knock Every Other Sport Out Of The Headlines'
'Another Tiger Woods Win Will Knock Every Other Sport Out Of The Headlines'
Read GolfPeach's latest blog
Expand Gimmes In Golf: "A Golfer's Policy On Concessions Is A Window Into Their Soul"
Gimmes In Golf: "A Golfer's Policy On Concessions Is A Window Into Their Soul"
Have a read of @GolfPeach's latest GM blog
Expand Why Top 100 Golf Course Rankings Will Never Please All…
Why Top 100 Golf Course Rankings Will Never Please All…
@GolfPeach has her say on the controversial Top…
The story goes that it was the wife of the man that designed the Stadium Course at Sawgrass who insisted on turning the 17th green into an island. Pete Dye originally envisaged a less demanding target but when a crater accidentally appeared during the construction of the hole, Alice Dye (also a renowned course architect) persuaded him to completely encircle the putting surface with water except for a narrow walkway for access. Another time of the month and she might have suggested the players swim across!
And so a golfing landmark was born. It is estimated that an annual swarm of well over 100,000 balls disappears into the surrounding lake. Divers are despatched four times a year to collect them.
In 2007, no fewer than 50 'professional' tee shots 'got wet' during a single breezy round of the Players' Championship. Even with all of the advanced club technology, scientific swing analysis and sports psychology that these athletic millionaires have at their disposal, they are sufficiently freaked by a short stretch of calm water to follow the rest of us down into Davy Jones' locker. Karma.
I have not yet had the pleasure of a visit to Sawgrass but I have played the par 3 17th on the Earth Course at Jumeirah Golf Estate, home of the World Championship tournament in Dubai. It is similar in design to Alice Dye's wicked invention. You cannot see much other than water and sand from the tee and the penalties for going long are just as monstrously moist as being short. And…
… well, I hit an arcing thing of beauty off the sweet spot of my rescue club up onto the slightly raised green and held the putting surface. Did I par the hole? Did I play the rest of the course well? I don't remember and I don't care! I got the ball on to an island green on a top tournament course at my first attempt… and that's more than some of the finest golfers in the world will manage next week!
The leading website from the world's oldest golf magazine, we're the go-to destination for amateur and keen golfers alike who are keen to up their golfing game. As well as expert course reviews, news and tips to improve your handicap our golf-focused travel content will help you pair teeing off with your travels in some of the best destinations around the globe.