Golf Is Great, But It Needs To Modernise
@GolfPeach's latest blog looks at what golf can do to modernise itself after some funny incidents at clubs recently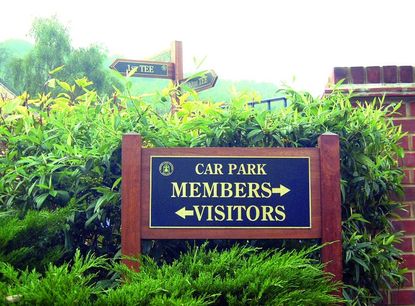 (Image credit: Eagle Promotions)
@GolfPeach's latest blog looks at what golf can do to modernise itself after experiencing some funny incidents at clubs recently
Golf Is Great, But It Needs To Modernise
Follow @golf_peach on Twitter and @GolfPeach on Instagram
It is less than five years since I first picked up a golf club so I can't pretend to be an expert on anything, but there is one area of golf where I may just have more insight than many of you. I can still remember what it's like to be a beginner.
I recently played 9 holes with 'Mr GolfPeach' at Dalmahoy in Edinburgh. We were sent out behind a fourball of young guys enjoying a bit of a laugh after a heavy night on the town. Not only was their limited golfing experience all too evident amid the flurry of flying divots and mulligans, but they also had no notion of the basic etiquette of inviting us to play through them. It was like being stuck behind a convoy of drunken learner drivers on a single-track road.
I didn't know whether to laugh or to cry (or to whistle a tee-shot over their heads by way of a hint!). For once, I watched these engaging, enthusiastic, athletic golfing novices laughing over fresh-air shots and chunked chips and I tried to see the bigger picture. If their fun day out was enough to whet even one of their sporting appetites sufficiently to give golf a serious try, then this sporting religion of ours would have a new convert.
Nearly everyone in golf is agreed that the sport needs to move with the times if it is to appeal to a broader church. It is probably a comment on the state of the golfing economy that once-exclusive Dalmahoy has now to accommodate 'pay and play' customers of questionable golfing pedigree. But then it's not that long since I didn't know a bunker from a birdie either. Even Tiger had to start somewhere.
The following day, we had the privilege of teeing it up at Carnoustie exactly two weeks on from the final round of the Open. How understanding and enlightened would I have been if 'the Dalmahoy Boys' had reappeared in the match ahead of us there?! If golf really is committed to a total revolution, what would be wrong with opening the Championship course to all-comers for the rest of the school holidays so that thousands of children could swarm across the famous links with plastic clubs and balls and build sand castles in the Spectacles and paddle in the Barry Burn?
Is that what I am advocating? No, no, no. Oh nooooo!
Yes, I think golf needs a good shake in the fresh air like a snug old blanket from time to time. Much as I enjoyed playing the classic links at Luffness recently, I didn't enjoy being told I couldn't walk to the loo through an empty dining room because I was a woman. Some of the best players in the world looked stylishly cool in crew-neck golf shirts at Carnoustie and yet they would have been invited to purchase a more suitable garment with a collar before being allowed to play certain British courses. Some cobwebbed corners of golf need a vacuum cleaner taking to them. Outdated barriers to entry send out entirely the wrong message. Yet we shouldn't continually be pointing out what is wrong with the game but what is already right about the game!
Every time I hear of a new initiative to modernise golf, I think of all the things I have grown to love about the game in these last five years… love about the game just the way it is. As someone who did think it was a stuffy, fusty old preserve of the bored and the boring until quite recently, I actually think golf's first challenge is to show the outside world what it already has to offer. I don't believe golf needs reinventing.
The rules of the game are getting a welcome reworking and short form versions of golf are being trialled at professional level. Wheels are in motion to speed up and open up the sport. Even Muirfield is building a ladies' locker room! But the biggest ally to getting me to graduate from a course of lessons on the safety of the range to the scary loneliness of the first tee was a welcoming lady captain at our club. She was the person that convinced me that everyone messes up on the 1st at some time. The sooner I did it, the sooner I would begin to understand this damned game and all of its veiled glories.
Golf is the most wonderful fellowship. Once you fall beneath its spell, the addiction can only be fed by playing it, discussing it, even dreaming about it. What a magical confession by Georgia Hall that she had stood over putt after putt on the practice green since the age of 9, whispering to herself 'this for the Open Championship'. Who hasn't?? And maybe, just maybe, my patience helped those crazy hackers at Dalmahoy to act out the same fantasies (when they finally got the ball onto the green!!).
I've got good feelings about the modern governance of the game in the hands of Martin Slumbers, Keith Pelley and co but the best leads to new business are always personal recommendations. If we as golfers can promote rather than protect the game we know and love, the message has a better chance of sticking. It may even mean the good members of Carnoustie (and every other club in the UK) do arrange an annual Open day where the rest of the local community – young and old – are welcomed in and offered an insight into what we get out of this strange old game.
Five years ago, I didn't have a clue. Now, I'm hooked and whispering like Georgia.
The leading website from the world's oldest golf magazine, we're the go-to destination for amateur and keen golfers alike who are keen to up their golfing game. As well as expert course reviews, news and tips to improve your handicap our golf-focused travel content will help you pair teeing off with your travels in some of the best destinations around the globe.