Gary Wolstenholme: One of a Kind
Honoured by the Queen but overlooked by the R&A, one man has just added another chapter to the many ups and downs of his controversial life. Bill Elliott discusses…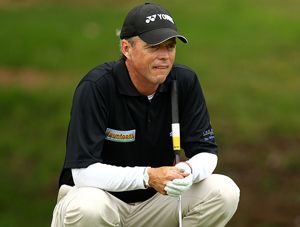 Buried somewhere underneath the small mountain of newsprint focusing on the Ryder Cup recently was one of the better stories of this or any other golfing year.
You may have noticed it: Gary Wolstenholme won the Casa Serena Open on the Senior Tour. This was only the second senior event he had played and by winning the €90,000 first prize in Prague in September he damn near doubled his lifetime earnings. I may be exaggerating a bit here but not by much.
Until he was 48 - he turned 50 this summer - Wolstenholme had been the last in a long line of committed amateurs. He is also something of a maverick and certainly a bit of an eccentric. It is hard to escape the notion that he often delights in adversity - which is a good job as he has certainly experienced enough.
There is, however, no gainsaying his magnificent obsession with the old game and a dedication that has brought him a treasure chest of honours including two Amateur Championships and six Walker Cup appearances. This is some record. He would almost certainly have added to it had it not been made clear to him a couple of years ago that no matter what he won he was now considered too old for top-line stuff like the Walker Cup.
This outraged and disappointed him. The decision to focus on youth meant he was no longer in the frame for anything other than more financial hardship. I can see both sides of this argument but, as it turned out, it was probably for the best.
After a lifetime spent pursuing a potpourri of rather dull jobs to fund both a modest lifestyle and excessive golf, he is now exempt for two years on the Senior circuit. Victory in Prague has shown him finally that he really does have what it takes to mix with the professionals and so make some decent money at last. This money thing is quite important for a man who had to sell his house and move back in with his mother a few years ago. Sliced how you like, this was a tough decision both for him and his mum. No wonder he dedicates his autobiography (The Long And The Short Of It) to Joan who has supported him in so many different ways over the years.
And while there have been many highlights to record - playing with Arnold Palmer at the Masters, beating Tiger Woods at Porthcawl in a Walker Cup: just a couple - there have been some serious downsides to his amateur career.
Always slightly an outsider, he admits he has been the victim of low-rent bullying by younger team-mates, his hotel room trashed, his precious golf balls stolen. This is fairly low-grade but still disgraceful and although there is always two sides to any story it would be hard to justify such idiotically cruel behaviour.
"Yes, I am outspoken, forthright and opinionated and I have always spoken my mind and perhaps that is why I was never particularly embraced by anybody," he writes. If there is a sense of paranoia here then it is perhaps understandable.
In 2005 he was invited to join The R&A only for the invitation to be withdrawn after a brace of members wrote to chief executive Peter Dawson to suggest Wolstenholme was "not suitable". Two years later he had serious consolation for this embarrassment when he was awarded an MBE for services to the game. Queen 'yes'; two R&A members 'no'. It really is a funny old world.
Still, it seems that Gary is likely to have what amounts to the last laugh as he embarks on a new career in the game that has defined his life. "The R&A thing made my mind up to turn pro because it seemed there really was nothing left for me in the amateur game. They do so many good things for golf and maybe I could have helped but it wasn't to be," he tells me.
"Now money is my motivation. I need it to secure my own future and my mum's. When I rang from Prague to tell her I'd won, her enjoyment of the moment meant more to me than anything. I suppose I am a bit like Marmite, people either love me or hate me but I've had so many messages of congratulation recently that I have felt a lot of affection and it feels, well, nice." And so it should. Wolstenholme's is a story worth reading because there really will never be another golfer like him. I wish him well.
Bill has been part of the Golf Monthly woodwork for many years. A very respected Golf Journalist he has attended over 40 Open Championships. Bill was the Observer's golf correspondent. He spent 26 years as a sports writer for Express Newspapers and is a former Magazine Sportswriter of the Year. After 40 years on 'Fleet Street' starting with the Daily Express and finishing on The Observer and Guardian in 2010. Now semi-retired but still Editor at Large of Golf Monthly Magazine and regular broadcaster for BBC and Sky. Author of several golf-related books and a former chairman of the Association of Golf Writers. Experienced after dinner speaker.