Are You An (Unintentional) Golf Cheat?
Carly Frost explains why golfers may be breaking the rules without even realising it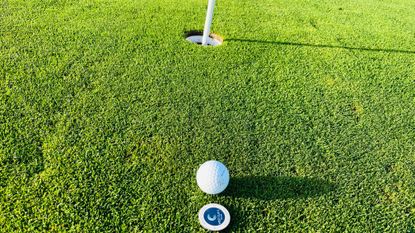 (Image credit: Carly Frost)
Did you know that the first known written set of rules for golf (way back in 1744) consisted of just 13 rules? What a wonderfully simple game it must have been. Nearly three centuries on, the Rules of Golf, published and approved by the USGA and the R&A, had extended to 34 rules before being reduced down to 24 following the major Rules revisions of 2019, then back up to 25 in 2023 as the modifications to the Rules for players with disabilities transitioned from Local Rule to Rule 25. Even so, it's no wonder so many of us break them. We simply don't know them all. To make matters worse, they get revised and amended every few years (they've just been updated again this month) so the things we thought we knew may have now changed.
I play golf every week with women who are cheating and they don't even realise. It's often simple things such as taking a penalty drop in the wrong way, or having a practice swing and accidentally improving the lie before playing the shot. The list is long. Let's face it, we don't exactly encourage newcomers to golf to have to learn the rules. There's no test to pass to show their knowledge before they can play on the course. No requirement to even look at the rules. There may no longer be a printed rule book as of this year, but how many golfers have access to the R&A Rules app on their phones? Golf is a self-regulating game, it's just one of those things that we are expected to learn as we go along. And we certainly don't want to put beginners off by overwhelming them with the rules before they've really got into golf.
I've been playing golf for 30 years and was fortunate to have some wonderful rules mentors when I was a junior who kindly pointed out how I should take a drop, mark my ball on the green, attend the flag and avoid doing things that would cause me a penalty shot in strokeplay or a loss of hole in match play. I try to pay this forward any time I can by showing other women golfers the correct way to do things and never chastising or challenging them if they get a rule wrong.
I also had to learn some rules the hard way by being called out for getting them wrong. One nasty opponent claimed a hole from me when I took a penalty drop from water that she could (after I'd played the next shot) prove, by measuring with her feet, I had played from a point nearer the hole.
Another unfortunate incident happened in a club foursomes match, where my partner and I were one-up on the par 3 18th tee. I hit my shot onto the green near the pin and our opponents asked if they could count the clubs in my bag out loud. I looked at them in shock and of course did so, discovering that one of my son's wedges had been left in my bag from an after-school practice session we'd done the previous day. I hadn't spotted it because the shorter shaft had meant it had slipped down and was almost invisible. But my hawk-eyed opponent had. She'd probably clocked it early on but tactically decided to call me out on it at this critical point in the match. Not only did they claim the hole, but we went on to lose the match and the title. A silly mistake by me.
Personally, I don't like to call people out on breaking rules because I think it's unsporting. But if I see someone doing something really wrong, I'll gently remind them how to do it right. I'm also the first person to put my hand up and say I'm not a total expert. I don't know the rules inside and out. I tend to second guess myself. I believe I know the rule, but I'm not sure, so I'll double check.
Even with great knowledge, I'm sorry to say that there are still women who deliberately break the rules. We all have that player in our section who somehow mysteriously manages to find her ball every time it disappears into the trees. What about the "Mrs Marks-It-Nearer" or "Courtney Count-Wrong" - they all exist! These real cheats intentionally and deviously break the rules because they know they can get away with it. If you are guilty of knowing ways to manipulate and better your score then you are probably looking at the game from the wrong perspective and will no doubt get bad karma (and a few triple bogeys!)
In a bid to help you become a more informed player I've listed out some rule-breaking scenarios I see happening frequently. If even just one or two resonate with you then I've helped someone save shots and more importantly the embarrassment of being called out on unintentional cheating. After all, we play golf for enjoyment, the rules are there to keep the game fair and honourable for all. But let's also keep it fun.
* Don't take a practice swing too close to your golf ball in the rough as it could be deemed to be improving your lie. Swishing some of the long grass away with a practice swing can make it easier to hit the ball out of the trouble.
* Beware not to clip any branches of a tree with your practice swing. Like the recovery shot from rough, it could be classified as improving the chances of you making a good connection and hitting that recovery shot out.
* You can't switch golf balls during a hole unless you can prove that your ball has become cut or cracked (not merely scratched, scraped or discoloured). I once hit a telegraph pylon that practically sliced my golf ball in two and was allowed to switch balls for this very reason.
* When taking relief, perhaps from a cart path, you must find the nearest point of complete relief - not the best! Sometimes the nearest point means dropping into a bad lie, but rules are rules.
* When you have a similar putt to your playing partner in foursomes or fourball on the green, you must not stand directly behind her and watch while she putts. You can, however, stand to one side and quickly step in as soon as the putt is struck to watch it roll out.
*When you mark your golf ball on the green be careful not to nudge it! I see women accidentally shunting the ball forward an inch with a shaky hand and the marker goes forward with it, nearer the hole!
*Be careful replacing your golf ball back down on the green. It must go exactly where it came from - usually directly in front of your ball marker for most golfers. Don't replace it nearer the hole with a little gap, that's cheating.
*The same doesn't quite apply to 'pick, clean, replace' on the golf course during a period of winter rules. Although you can pick it up, clean it and put it back down, you may place it back within six inches (usually) of where you marked it - as long as it's no nearer to the hole. That distance is not mandatory and may vary (e.g., one club-length at some courses) but it only applies in areas cut to fairway height or less.
*Have you ever had someone telling you you're dipping your toes in the water? What they mean is you're standing in front of the red tees. Teeing off ahead of the markers is a rule violation with different outcomes in strokeplay and matchplay. If in doubt always put your peg in the ground a few feet back (up to two club lengths) of the red markers so that there's no question.
*You have a 10.10am tee time in the monthly medal but the group in front of you cried off and the hole is clear at 10am. Rather than wait around you tee off. Did you know that's breaking the rules?! Personally, I think it's pretty pathetic if someone calls you up on this one… but they could!
*Know the difference between red stakes and yellow stakes and how you take a penalty drop from them. From a yellow stake you can take stroke-and-distance relief either by going back to the spot from where the previous stroke was made or by taking it back as far as you like outside the penalty area, keeping the point where your ball last crossed the edge of the penalty area between the hole and the spot where you drop. The reds additionally allow you to take lateral relief of two club lengths no nearer the hole to the side of the penalty area at the point where your ball crossed the edge.
*You must measure club-lengths with the longest club you are carrying that round other than your putter. Usually this will be a driver or fairway wood, and it's best not to leave the headcover on while measuring. While this doesn't, in itself, attract a penalty, there is a danger that you could end up dropping outside the area you are entitled to and playing from a wrong place as a result. So it's probably safest to always take the headcover off when measuring out one or two club-lengths.
*Don't play off the wrong handicap. With the world handicap system your index can change overnight. Always check it before you tee off.
*Do you use a distance measuring device like one of the best golf rangefinders? Check that you have the slope function switched off. Knowing the distance to add on/take off for elevation change is cheating.
*Check your old driver isn't illegal! January 1, 2010 was D-Day for drivers. On this day golf's governing bodies published a list of conforming clubs. If yours isn't on the list it is illegal for use in competition play (both amateur and professional).
*It's advisable to use a permanent waterproof pen to put a unique and personalised mark on your golf ball so that you can identify it (I always draw a smiley face on mine). Without your own markings it makes it harder to know for sure if that Srixon Soft Feel 3 you find is actually yours or another identical Srixon Soft Feel 3 ball that someone else lost, and that can lead to problems from a rules perspective.
Carly Frost is one of the golf industry's best-known female writers, having worked for golf magazines for over 20 years. As a consistent three-handicapper who plays competitive club golf at Parkstone and the Isle of Purbeck courses in Dorset every week, Carly is well-versed in what lady golfers love. Her passion for golf and skill at writing combine to give her an unbeatable insight into the ladies game.
Carly's role at Golf Monthly is to help deliver thorough and accurate ladies equipment reviews, buying advice and comparisons to help you find exactly what you are looking for. So whether it's the latest driver, set of irons, golf ball, pair of shoes or even an outfit, Carly will help you decide what to buy.
Over the years Carly has been fortunate to play some of the greatest courses in the world. Her view 'from the ladies tee' is invaluable. She ranks Sea Island, Georgia, USA, where she met her husband, world-renowned golf coach Dan Frost, among her favourite golf resorts. Their aptly-named eight-year-old son Hogan is already hitting the ball as far as Mum and will undoubtedly be a name to watch out for in the future.
Carly is a keen competitor and her list of golfing achievements are vast. She is a former winner of the South West of England Ladies Intermediate Championship, a three-time winner of the European Media Masters and she once beat an entire start-sheet of men to the title of Times Corporate World Golf Champion. She has played for both the Dorset and Surrey County Ladies first teams and is known for her excellent track record at matchplay.
Carly holds the ladies course record (68) at her home club Parkstone and her lowest competition round (seven-under-par 65) was carded in the pro-am of the Irish Ladies Open at Killeen Castle, playing alongside Solheim Cup superstar Anna Nordqvist. Although her current handicap index has crept up to 3.7 since Covid she has her sights firmly set on achieving that elusive scratch handicap and hopefully playing for her country when she's 50.
Carly's current What's In The Bag?
Driver: Callaway Epic Max, 10.5°
Fairway wood: TaylorMade SIM2, 15°
Hybrids: Titleist TS2, 19°, 21°, 24°
Irons: Mizuno JPX900, 5-PW
Wedges: Cleveland RTX, 52°, 56° and 58°
Putter: Scotty Cameron Futura X5
Ball: 2021 Callaway Ladies SuperSoft