6 Ways To Spot Counterfeit Golf Clubs
We identify how to prevent being stung as the number of counterfeit clubs continue to rise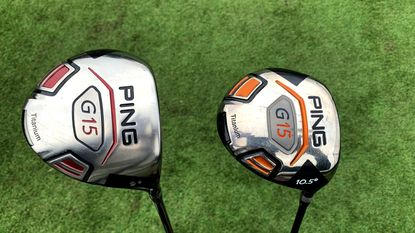 (Image credit: Future)
With golf's popularity growing amid increasing prices, the demand for cut-price equipment is soaring and it seems fraudulent manufacturers have identified this as the perfect opportunity to upscale the production of counterfeit golf clubs. There are an estimated two million counterfeit clubs in circulation and the idea of securing a 'bargain' among the best used golf drivers or best used golf irons through sites such as Ebay and Facebook is leaving many golfers shortchanged upon finding out they have purchased fake equipment. This by no means a new problem among the best budget golf clubs, however spotting fakes has become increasingly more difficult with better materials, paints and attention to detail being employed to create counterfeit golf clubs that look even closer to the real deal.
To help golfers spot a fake from the genuine article, we spoke to Andrew Masterson from the U.S. Golf Manufacturers Anti-Counterfeiting Working Group as well as Luke Peterken from pre-owned retailer Replay Golf (opens in new tab) to determine the six main things golfers should be looking out for when purchasing golf gear online.
1. Performance
The most obvious way to identify a counterfeit golf club will be in the performance of the product. Major manufacturers spend millions of dollars every year on the design and technology of the best golf drivers and other clubs to have it perform to very high standards - something a counterfeit organization can't compete with. There is always a difference in the base level materials used to make the product. Counterfeit shafts can be a safety hazard, due to not being stable and strong enough to support some golf swings, they have been known to splinter and snap in the hands of golfers. The lack of hollowing on various iron heads are some key clues to counterfeit clubs poor design and resulting performance and the swing weights will often be a long way out from manufacturers' standards.
2. Aesthetics
Despite counterfeit organisations getting better at replicating some of the clubs we love, they are very rarely identical. A few signs to look out for would be the color of the paint synonymous with that model of club. The font of the logo and other markings on the club are often a giveaway. Brands will often create their own specific font that won't be available to the likes of those producing the fakes and so this is usually very obvious in a side by side comparison. The shaft bands and detailing are often miss-aligned and are usually in a slightly different shade of color that is used on the real club. The image below highlights these differences with the real product on the left and counterfeit club on the right.
3. Price
As the saying goes: 'if it seems too good to be true, it probably is'. With the price of golf clubs on the rise alongside the cost of living, it can often be tempting to scout the internet for the best budget golf drivers. It's always important to gain an understanding of the retail price through the manufacturer's website and if they do not display that information, look on the site of an authorized retailer or consult your local PGA Professional. If you are looking at equipment online and it is significantly cheaper than the RRP with recognized retailers, there is a strong chance it is counterfeit.
4. Product Listing
Counterfeit organisations will often use blurry or out of focus images of products, making it hard to pick out key detail on the fakes. There are still cases of fraudulent websites using stock images of the product taken from authorized sellers, then continuing to ship fake products which again highlights the point to only purchase from recognized sellers. It's certainly better to spend a little extra for the safety and security of purchasing the legitimate product.
5. Shipping Information / IP Address
Despite components of golf clubs being made in China, all manufacturers will assemble and ship their products mostly from the U.S. If your clubs are shipped from a Chinese address they will almost certainly be counterfeit clubs. Another key factor to identify fraudulent websites is the IP address. Keep an eye out for additional letters or numbers at the end of the company name in the web address, as counterfeit organizations will often try and make theirs as similar to the manufacturer's as possible.
6. The One to Look Out For
Scotty Cameron putters are often seen as the benchmark for the best putters in the golf industry and the product they produce is highly sought after, which leads to large numbers of fakes on the market. Scotty Cameron produces a Circle T range, which are putters produced for tour players only, however large numbers of them end up in circulation online and are often sold for upwards of $5,000 which subsequently attracts counterfeit groups to try and copy these putters to maximize profits. However despite these fake Scotty Cameron putters looking aesthetically similar to the real product, the fine milling, feel and performance of forged stainless steel cannot be replicated on the cheap.
What's Being Done About Counterfeit Clubs?
The U.S. Golf Manufacturers Anti-Counterfeiting Working Group (The Golf Group) is a direct result of major equipment manufacturers recognizing there is a problem and working together to solve it. Formed in 2004, the group is made up of six of the largest golf manufacturers in the world: Acushnet Company (Titleist, FootJoy, Vokey Design and Scotty Cameron), Callaway-Odyssey, Srixon, Cleveland Golf and XXIO; Ping, PXG and TaylorMade.
"The group works both nationally and internationally with law enforcement and government agencies to conduct investigations and raid actions to seize counterfeit products," Masterson told us.
"We are pleased to report that we have continued to increase our enforcement capabilities over the last few years. The Group conducted six criminal raids in 2023. Additionally, in the past year alone, we were able to take down over 1000 websites selling fake golf equipment, adding to our total of nearly 3 million counterfeit golf products seized over the past nine years."
Luke Peterken from Replay Golf can testify to how hard it can be spotting counterfeit product. "We have had a handful of counterfeit clubs attempt to be traded into our store, with many customers unaware they were even in possession of fake clubs."
He recalls one instance where a fake putter was so realistic he had to check the serial code with the manufacturer, during which it confirmed his initial suspicion that the club was not genuine - another simple way to check if you are unsure about any product you may have your eye on, although not all manufactures can verify product through this process.
"Counterfeit goods is something we take seriously and we are proud to say we have never taken in, or sold a counterfeit club since we opened the store. Our team of PGA Professionals are well trained in looking out for replica equipment having been around the game for a long time and have had extensive training on models dating back over the past 15 years," Peterken added.
Sam has worked in the golf industry for 12 years, offering advice on equipment to all levels of golfers and as Staff Writer, he tests and reviews equipment throughout the bag. Sam graduated from Webber International University in 2017 with a BSc Marketing Management degree while playing collegiate golf. His experience of playing professionally on both the EuroPro Tour and Clutch Pro Tour, alongside his golf retail history, means Sam has extensive knowledge of golf equipment and what works for different types of golfer.
Sam is a member of North Hants Golf Club in Fleet, Hampshire, where he won the club championship 3 times in succession from 2015-2017. His golfing highlight to date is shooting a round of 10-under 60 at his home club, narrowly missing a wedge shot for a magical 59.
Sam's current What's In The Bag?
Driver: TaylorMade Stealth 2, 9°
Fairway Wood: TaylorMade Stealth 2 Plus, 15°
Hybrid: Ping G430 19°
Irons: Titleist T-100 4 iron, Titleist 620MB, 5-PW
Wedges: Titleist Vokey SM8, 50°, 54°, 62°
Putter: Scotty Cameron Select GoLo
Ball: Titleist Pro V1x 2021