UK Courses: Reasons to be Cheerful
Rob Smith argues there really is no such thing as a bad course…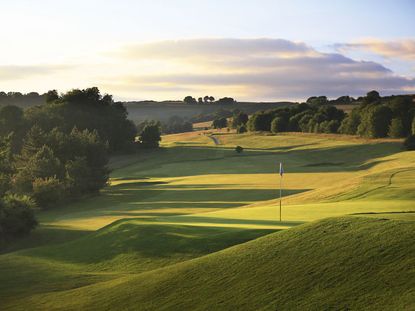 Rob Smith argues that if you love playing golf in the UK and Ireland, there really is no such thing as a bad course…
In the June 2015 issue of Golf Monthly, Jeremy Ellwood and I went head-to-head arguing the case for and against a handful of entries in our 2015/16 Top 100 Courses rankings. We were keen to demonstrate that no matter how fair and objective we have made the process over the years, there are times when one man's meat is another man's poison. Subsequent reader feedback sided varyingly with Jeremy and me… and about different courses. Case proven!
Arguing against a top-drawer course is always going to be difficult. To play any of those in the Top 100 or Next 100 is a privilege, and each is exceptional in its own way. There are many more courses that we would love to celebrate in our rankings, but the laws of mathematics make this impossible. Throughout the UK and Ireland, we are awash with the most wonderful and varied golf, and there are substantially more enjoyable courses than anyone could play in a lifetime. With more than 840 under my ever-expanding belt, I've concluded that while some layouts are better than others, there's no such thing as a bad golf course!
When it comes to playing, I would say that I am very much 'glass half full'. I suffer regular teasing from my colleagues when I willingly pay to play the kind of course that only its mother could love. But I do so because I am an enthusiast and I genuinely believe there is entertainment and challenge to be enjoyed wherever you tee it up. Three years ago I visited a course, off duty, with a friend. As we played the closing hole, a remarkably dull par 3 with the backdrop of some depressingly unsightly farm buildings, we came up with a concept for a new category of course. For reasons of propriety I have changed the first word of the title, but you will get the gist when I say that it was 'Poor Courses With One Great Hole'. This came about as we had just played the 17th, a delightful short par 4 with a drive between two substantial oaks, then a pitch over a lovely, natural pond to a green surrounded by leafy and attractive woodland. Looking back, I can picture blurry snapshots of the course elsewhere, but no matter how underwhelming or unimaginative it was, there is no question that I enjoyed playing my round there.
Related: course set-up for increased pace of play
There are various perennial themes that tend to divide opinion about courses, such as 'old versus new', 'links versus inland' or 'accessibility versus exclusivity'. I would argue that these should simply be preferences, that we should keep an open mind, that any golf is better than no golf and that we should be willing to give just about anywhere a go.
Old versus new
There are traditionalists who argue that you cannot build a modern classic. In the construction boom of the 1980s, they may have been right, but times have changed. Three prime examples spring to mind north of the border: Kingsbarns, Castle Stuart and Trump International Golf Links. All operate largely as pay and play, and none of them are cheap. But they are all glorious, thrilling, different and really should be on the enthusiast's must-play list. Two have already hosted a European Tour event, and it now seems it will not be long before Trump International joins the party.
The Castle Course at St Andrews is one of those Marmite courses that has some traditionalists choking on their Kummel, but I really enjoy it. Most people say that Old Head is only remarkable for its setting, but I think there are some fabulous holes. If the weather is good, it is as exciting a round of golf as you will find anywhere in the UK and Ireland. Inland, we have Close House, which is tremendous fun and very welcoming, and Rockliffe Hall, with its demanding course, which is a true test of golf. These are, of course, all big-money developments, with our recessionary times meaning not many budget courses have opened in the last few years. While not all are to everyone's taste, I would be more than happy to play any of them again as I am also a firm believer that you usually get more out of a course in subsequent visits.
A more obvious comparison of 'old versus new' comes when you look at clubs which have been lucky enough to add a second course. Sometimes, such as at Close House, St Mellion and Headfort in Ireland, they are a significant improvement on what was already there. Occasionally it is borderline, like Ballyliffin, where the Glashedy and the Old are both quite lovely. Elsewhere, they offer something quite different from what has gone before and take the pressure off rounds on the older course. Burhill, Gleneagles, Gog Magog and Mannings Heath spring to mind as clubs where the more recent additions provide a contrast to their older siblings. Just as in life, variety is very much the spice of golf, and to have quite dissimilar neighbours is a luxury.
Many of our very best old and established courses have moved with the times via substantial upgrades. Mainly, as at Muirfield and Royal Lytham & St Annes, things have been done sympathetically and resulted in gems that are even more polished. On occasion, such as with the West course at Wentworth, they have resulted in a hybrid that doesn't work for all parties, and it will be absolutely fascinating to monitor the proposed changes at Turnberry and Royal Portrush, which has returned to the Open Championship roster. Some, such as the two glorious courses at Sunningdale, have hardly changed at all.
Links versus inland
The strongest roots of golf lie in our many world-class links courses, and it is therefore not surprising that these number so heavily in our rankings. However, you can see why those who have not been lucky enough to experience them often struggle to appreciate their beauty. On television they can appear relatively flat and featureless; they are exposed to the vagaries of wind and unpredictable bounce – and they are often extremely difficult.
Play just one, however, and you will understand that it is quite simply a different game – wild, raw, elemental and addictive. How could anyone not enjoy playing at any of our Open venues, especially at the Home of Golf, St Andrews? The list is endless, with glorious Royal links such as those at Aberdeen, Dornoch and Porthcawl, and less celebrated classics such as Conwy, Dunstanburgh Castle, Enniscrone, Narin & Portnoo and many more.
It is almost impossible to compare a parkland or heathland course with a links. So different are they, that it would be like balancing red and white wine. The most sensible approach would seem to be to treat each for what it is and simply get on and enjoy them. For every magnificent links course there is a Sunningdale, a Walton Heath, a Notts or a Hankley Common.
Accessibility versus exclusivity
This is understandably more controversial, but I should say that I played a number of private clubs, such as Loch Lomond, before I worked in golf. Where there's a will, there's a fairway, and perseverance and patience often eventually pay dividends. Some of our most celebrated courses are arguably exclusive in other ways – their steep green fees or the difficulty of booking. But we aren't talking about the kind of money that is required for mortgages or holidays, and saving up for a treat creates anticipation and excitement.
The reward is usually the chance to play a very special course at your own pace. On the other hand, just because somewhere offers a modest green fee or is extremely welcoming, it doesn't mean it isn't worthy. There is excellent golf open to all at courses throughout these shores, from Alnmouth to Cradoc, Dooks to Fortrose & Rosemarkie, Kington to Penrith and Tain to Worthing.
On reflection, when it comes to golf, I am not so much 'glass half full' as 'glass very full'. I'd encourage anyone who loves golf to keep an open mind and sample as many of the UK and Ireland's wonderful courses as possible. By all means pick out some of the more illustrious championship courses, but never forget that we have a lavish treasure chest of hidden gems. Tee it up at the seaside but make sure you experience parkland, heathland and downland.
I am not saying it's wrong to have favourites, or some courses you'd happily never visit again, but I honestly believe every course has something of merit. If you love golf, you'll be able to find meat on the barest of bones. If a course has just one really fine hole, or at some point offers one stunning vista, it is surely worth a game. Keep an open mind, as the UK and Ireland boast around 3,000 golfing reasons to be cheerful!
Get the Golf Monthly Newsletter
Tips on how to play better, latest equipment reviews, interviews with the biggest names and more.
David joined Golf Monthly in 2015 as a content editor for the magazine and regularly contributes to the website. He has worked in magazine publishing and editing since 2003. He is a keen golfer and up until recently was a member of Blackmoor Golf Club in Hampshire. He has covered various big events and tournaments for GM, the highlight of which was witnessing Tiger Woods win his 15th Major at Augusta in 2019. Email: david.taylor@futurenet.com