Arkley Golf Club Course Review
There is much to be said for a round of golf on an attractive and challenging course in under two hours as Rob Smith explains…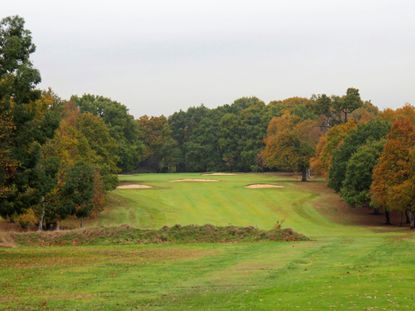 There is much to be said for a round of golf on an attractive and challenging course in under two hours as Rob Smith explains…
Arkley Golf Club Course Review
Nine-hole golf courses (opens in new tab) are too often overlooked by golfers who think they will be getting half a course for their green fee. This is a mistake for several reasons and there are many delightful designs such as the one at Arkley Golf Club (opens in new tab) that are well worth a visit. For those with limited time, a quick nine holes is an ideal solution. Better still, a full eighteen gives us a second chance at each.
Arkley was founded in 1909 and its compact course was designed by the great James Braid with subsequent modifications by Harry Vardon (opens in new tab). I visited on a grey, damp autumnal day which is why my pictures don't show off the course in its best light - in the summer, it is a delight.
The opening hole is a testing par 4, 434 yards from the back tees, with an approach to a green protected on either side by sand.
This is followed by a short hole - albeit over 200 yards the second time round - played slightly downhill.
Close to the green is a reminder of the tragic event in 1975 when a light aircraft piloted by former world champion racing driver Graham Hill (opens in new tab) crashed in thick fog. He and the five other occupants were all killed, and people still visit the spot to this day, either to pay their respects or by miscuing their tee shots!
Two left-to-right doglegs follow, the third being slightly longer and the fourth with bunkers waiting at the elbow.
I particularly enjoyed the next two holes, with the fifth offering tees that make it a par 5 or a par 4, and the sixth played down into a dip and requiring a lengthy approach back up the other side.
The seventh is quite unusual in that it plays as a short hole first time round, and then a risk-reward par 4 from 100 yards further back where the big hitters may want to go for the green.
The penultimate hole is either a long par 4 or a short par 5, but for the latter it presents a narrow drive where ideally you need to draw the ball.
So unusual is the par-3 closing hole that I was originally tempted to say nothing about it and suggest you see for yourself. However, to whet the appetite, it is played from a tee on top of a covered reservoir to a hidden green protected by a handful of bunkers. It's certainly a one-off, and I encourage you to make up your own mind about it.
I enjoyed my morning at Arkley Golf Club with its characterful clubhouse and friendly members, and for those seeking an enjoyable nine holes or more on an attractive course with its own distinguishing features, I would certainly recommend a visit.
Rob Smith has been playing golf for more than 40 years and been a contributing editor for Golf Monthly for over ten years, specialising in course reviews and travel. He has now played more than 1,170 different courses in almost 50 countries. Despite lockdowns and travel restrictions in 2021, he still managed to play 80 different courses during the year, 43 of them for the first time. This included 21 in 13 days on a trip to East Lothian in October. One of Rob's primary roles is helping to prepare the Top 100 and Next 100 Courses of the UK&I, of which he has played all but nine. During the 2021-22 review period, Rob has played 34 of the Golf Monthly Top 200. He is a member of Tandridge Golf Club in Surrey where his handicap hovers around 16. You can contact him at r.smith896@btinternet.com.