Bet365 Promo Code: Bet $1, Get $200 on the PGA Championship
Claim the Bet365 promo code today and you will turn $1 into $200 guaranteed at this week's PGA Championship!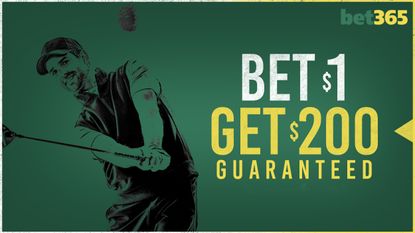 (Image credit: OddsChecker)
It is time for the second major championship of 2023, as the world's best golfers head to Oak Hill Country Club in Pittsford, New York for the 2023 PGA Championship!
If you are a golf fan things don't get more exciting than major weeks, but one thing that will get you off your seat is this Bet365 promo code, which allows you to win bigger on any golfer in the field this week.
With the Bet365 promo code, you will simply wager $1 on your favorite PGA Championship outright this week, and get $200 in guaranteed returns, which is a massive 200-1 win!
So it doesn't matter if you are betting the favorite, Scottie Scheffler, or a longshot like Gary Woodland. This Bet365 promo code will pay you $200 on your first $1 bet, even if your golfer fails to make the cut!
So CLICK HERE or on the "Claim $200 Now" button below, and then sign up for a new Bet365 account. All that is then left to do is place your $1 wager and essentially secure 200-1 odds on your favorite PGA Championship bet.
We get it. It is tough to believe that you are really going to win $200 guaranteed on the PGA Championship this week, just for betting $1 on the year's second major, but we can assure you, that is absolutely the case with this Bet365 promo code.
Bet365 are one of the leading sportsbooks, not just in the US, but around the world, and with this welcome offer, you will unlock a $200 win right out of the gate, to set up your bankroll for the rest of the golf season.
So instead of taking short odds on Scottie Scheffler, Jon Rahm, or Rory McIlroy this week, simply win bigger on your favorite superstar, with this bet $1, get $200 guaranteed Bet365 promo code.
Follow the how-to-claim guide below and you will unlock this guaranteed win in a matter of minutes!
How to Claim the $200 PGA Championship Bonus Code With Bet365
Step One: CLICK HERE or on the Claim $200 Now button below, to unlock your $200 Bet365 promo code
Step Two: Complete your Bet365 registration
Step Three: Deposit $10+ into your new Bet365 account
Step Four: Bet $1 on ANY 2023 PGA Championship market
That's it! You have now unlocked $200 in bonus bets, which will be paid out at the conclusion of this event.
Win $200 Guaranteed on the PGA Championship With the Bet365 Promo Code
With this Bet365 promo code paying out regardless of what happens in this week's event, you truly have the freedom to bet on whoever you want in the 2023 PGA Championship.
No longer do you have to sweat over Rory McIlroy's current form, or Dustin Johnson's move to LIV, you can truly bet on any golfer of your choice, knowing at the very least $200 will hit your new Bet365 account.
When you are playing with this sort of confidence, it means you can really follow your gut at this week's event, instead of second-guessing whether the bets you make have a chance to win.
So all that is left to do is bet $1 on your favorite golfer this week at Oak Hill, and then as soon as the event is over, you will have secured $200 in bonus bets, ready to use on those US Open and Open Championship futures!
PGA Championship Odds - Who are the Favorites on Bet365?
Here is a list of the top 10 golfers on the odds board via Bet365 Sportsbook.
Boost any of these golfers to 200-1 with the Bet365 promo code.
Scottie Scheffler +750
Jon Rahm +750
Rory McIlroy +1200
Xander Schauffele +1600
Patrick Cantlay +1800
Brooks Koepka +2000
Tony Finau +2000
Justin Thomas +2500
Dustin Johnson +2500
Jason Day +2500
In addition to hosting the Lost Fore Words golf podcast, Tom Jacobs has been writing betting articles on golf for the past decade. Tom also co-hosts the DP World Tour Picks & Bets show on the Mayo Media Network, and has his finger on the pulse on all the major Tours. A long-suffering Nottingham Forest fan, Tom also enjoys watching Soccer on the weekends!