What Are Team Europe Wearing?
We take a look at what the Europeans will wear at Whistling Straits.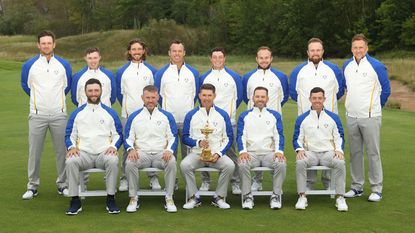 (Image credit: Getty Images)
We take a look at what the Europeans will wear at Whistling Straits.
What Are Team Europe Wearing?
The European team will wear outfits from Loro Piana for the 43rd Ryder Cup (opens in new tab) hosted at Whistling Straits (opens in new tab) in Wisconsin.
The company became the official supplier for the European team back in 2016 when Darren Clarke was captain at Hazeltine, and the partnership continued for Thomas Bjorn's victory in 2018 at Le Golf National in Paris.
What Is Loro Piana?
For those of you who don't know anything about the brand, the Loro Piana family began trading wool in the early 1800s. In 1924, Pietro Loro Piana founded Ing. Loro Piana & C., the current company and has a rich heritage in the finest wools and craftsmanship to exquisite leather goods.
The official website says Loro Piana is; "Now the world's foremost cashmere processor, Loro Piana prides itself on sourcing the very finest, rarest raw materials the world has to offer, including unique cashmere from baby goats in northern China and Mongolia, vicuña from the Andes, extra-fine Merino wool from Australia and New Zealand and lotus flower fiber from Myanmar."
Eventually, as we mentioned above, the brand moved into the world of gold, and it has also been involved in the sporting worlds of horse riding, sailing, and historic cars.
Related: Ryder Cup Team Europe (opens in new tab)
"As captain, I want the players to feel as comfortable as possible throughout the week of the Ryder Cup, and the Loro Piana clothing is a key part of that," Padraig Harrington said.
So what exactly will the players wear? Well let's take a look below.
What Are Team Europe Wearing?
Loro Piana's Ryder Cup collection is made up of polos, pullovers, jackets, trousers, belts, and even shoes.
For the knitwear in the range, super-fine wool has been used by the brand because it is "a natural fibre that offers excellent thermoregulation and is comfortable, lightweight and breathable".
For the Ryder Cup, this super-fine wool has been elasticised to accommodate players' movements, guaranteeing unmatched wearability. In addition, trousers in soft, flowing wool and silk, and polo shirts in technical, breathable jersey, are ideal for the trials and tribulations of Whistling Straits.
Because of the high-quality construction, these garments come in at a premium price point with the polos having an RRP of £655 and the trousers costing £745.
The pullovers worn by the players above cost £1,445 and the waterproof top worn in the image below is just over £2,000.
From a colours perspective, for two days of play, Friday and Sunday, the uniforms will be in colours that recall the European flag, while Saturday will be dedicated to Loro Piana's distinguishing kummel nuance.
Team Europe Apparel Prices
28Matches Polo-shirt - £655
28Matches Fourpocket Trouser - £745
28Mathes Mezzocollo Pullover - £1,445
28Matches Jacket - £2,095
28Matches Vest - £915
Ryder Cup Alsavel Belt - £440
Unfortunately the official apparel from Loro Piana is quite hard to get hold of, and it is at the ultra-premium end of the market, however there are several other brands that offer cool Team Europe apparel and merchandise which are very easy to buy.
Take a look at some of our favorite Team Europe apparel products and deals below...
(opens in new tab)
The 2020 Ryder Cup European Fanwear Iconic Hybrid Padded Midlayer - Navy
Now £85
(opens in new tab)
Part of the European Fanwear range, this midlayer will keep the cold at bay and has a couple of nice features we like, such as the Ryder Cup logo and European flag on the back.
(opens in new tab)
The 2020 Ryder Cup Sunderland Of Scotland Vancouver Pro Waterproof Jacket - Black/Blue
Now £130
(opens in new tab)
We all need a good golf waterproof so why not get a Ryder Cup design like this Vancouver Pro? The fabric is light, looks great, performs in all conditions and we also enjoyed the fleece lined pockets.
(opens in new tab)
The 2020 Ryder Cup Peter Millar Perth Melange Performance Quarter Zip Top - Navy
Now £100
(opens in new tab)
We have been fans of Peter Millar for a while so it's great to see the brand move into the Ryder Cup apparel sector! The navy color looks great with pretty much anything and it is also warm and stretchy.
(opens in new tab)
The 2020 Ryder Cup Glenmuir Deacon Tailored Collar Polo - Ascot Blue
Now £50
(opens in new tab)
Another top brand that always produces good Ryder Cup gear is Glenmuir and this polo is a case in point. The Ascot blue color is synonymous with the European flag and it also comes with the 2020 Ryder Cup logo stitched into it too.
For more Ryder Cup content check out the Golf Monthly website.