John Daly Playing Guitar
Golf Monthly's Alex Narey talks to John Daly in an exclusive interview looking back over the PGA champions highs and lows.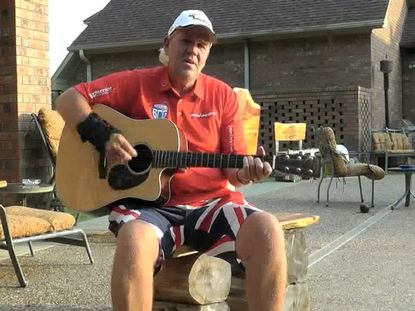 Golf Monthly's Alex Narey watches John Daly playing guitar and in an exclusive interview looks back over the PGA champion's highs and lows.
It's been 24 hours and counting. GM snapper Kevin Murray and myself.
Heathrow to Chicago; Chicago to Little Rock in Arkansas; an early morning drive to the town of Conway to watch a Little League baseball game; and now here, 50 minutes east off Interstate 40 in the dustbowl town that is Dardanelle.
The Sat Nav tells me we're five minutes away, but you wouldn't believe it. We swing a final right onto Bay Ridge Road, the gaps through the trees revealing the surroundings of a golf course.
Then we see it, the giant billboard that tells us we have arrived. 'Welcome to the Lion's Den Golf Club – Home of the 1991 PGA and 1995 Open Champion, John Daly…'
Peering over the dashboard, we search for Daly's house, which is easily spotted due to a large Hooters trailer outside.
The place looks nice, but the backyard looks like it has seen some action; the remnants of a pool party from the night before perhaps with sunbeds decked out across the patio.
When Daly arrives, he apologises for the delay, pours himself a chocolate milkshake, lights up a cigarette, and we sit down. It's September, but I notice the Christmas tree in the lounge. I don't bother asking why it's still up... I've kind of worked that one out for myself...
I've been a journalist for 13 years now. In that time I've interviewed some interesting people, but none as interesting as John Patrick Daly.
From the moment I first laid eyes on him through my parents' TV screen on the evening of Sunday, August 11, 1991, to the minute I shake his hand some 22 years and 26 days later, there has been this intriguing fascination.
It's a fascination that manifests itself in many ways: the prodigious distances he was able to hit the ball and the way he would whoop and holler the crowds into something of a mad frenzy.
But overall, it was the fact that there was instantly something about him that suggested he shouldn't be on a golf course. He's the one player I would pay money to watch because the man always brings value.
You'd like John Daly. Chances are you already do. He has that kind of infectious personality that you would want to be around.
At the time of our interview, he is laying low. Elbow surgery has taken him out of the game, and so it's recuperation time at home (being with the kids, who you can see he adores) but it didn't stop John Daly playing guitar.
"I just want to play in a tournament healthy," he says. "It's so hard to get my body where I want it to be. But once I get it going, I know I will be OK. I'm just determined to compete."
At 47, realistically, Daly's next chance to genuinely compete could come on the Seniors Tour. Surely a fit Daly, with his raw power, is primed for success among the game's elder statesmen.
It's an opportunity he can't wait for. A second coming, perhaps?
Tom Clarke joined Golf Monthly as a sub editor in 2009 being promoted to content editor in 2012 and then senior content editor in 2014, before becoming Sports Digital Editor for the Sport Vertical within Future in 2022. Tom currently looks after all the digital products that Golf Monthly produce including Strategy and Content Planning for the website and social media - Tom also assists the Cycling, Football, Rugby and Marine titles at Future. Tom plays off 16 and lists Augusta National (name drop), Old Head and Le Touessrok as the favourite courses he has played. Tom is an avid viewer of all golf content with a particularly in depth knowledge of the pro tour.