Rules of Golf: Immovable Obstruction
You cannot get relief from an immovable obstruction simply because it is on your line of play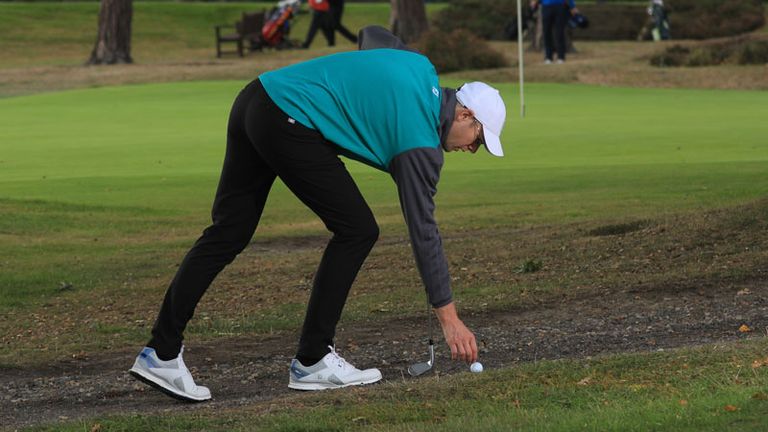 (Image credit: Kevin Murray)
By Jeremy Ellwood published
If an immovable obstruction stands on your line, can you take relief? Sadly not, unless you are in it, on it, or it interferes with either stance or swing
Rules of Golf: Immovable Obstruction
In this piece we are going to look at your options when your ball is lying on an immovable obstruction (such as a pathway) or an abnormal ground condition, such as temporary water, previously referred to as casual water). This relates to rule 16 and you will find everything you need from page 93 onwards of the Player's Edition of the rules of golf.
Related: Why you SHOULD Mark your golf ball
The first thing to highlight here is that you are allowed to play the ball as it lies. There are scenarios when your dropping option offers a worse lie than the immovable obstruction or abnormal course condition. Our advice is to be wary of any stones that could cause harm to yourself or your clubs.
If you do choose to take a drop, the good news is there is no penalty. However, you must take care to determine your nearest point of complete relief.
That means you will need to find the nearest spot where the immovable obstruction or abnormal course condition no longer interferes with your ball or your area of intended stance or swing. Therefore you cannot still be stood on the path to play a ball that is not on it.
Related: Penalty Areas - How To Proceed Under Rule 17
Also worth noting is that, in finding your nearest point of complete relief, you need to use the club you are intending to play the next shot with to assess the stance you will need to take.
Once you have identified your nearest point of complete relief (we would recommend you put a tee in the ground to mark the spot), you can then take a drop within one club-length, no nearer the hole. Remember that under the latest rules revisions, a club-length is the longest club in your bag, excluding your putter.
Related: Golf Rules - Plugged Lie
Remember that you are allowed to take relief from an immovable obstruction or abnormal course condition if it interferes with your intended stance or swing for the shot (for instance, if you are standing on a path to play a ball that is not on the path).
Taking relief from abnormal course conditions or immovable obstructions can seem complicated but hopefully this illustrates the correct procedure under rule 16.
For more Rules content check out the Golf Monthly website.
NEW FOR 2021 – FEATURED PRODUCTS
Shop the featured FootJoy footwear and apparel worn in this video:
Jeremy Ellwood has worked in the golf industry since 1993 and for Golf Monthly since 2002 when he started out as equipment editor. He is now a freelance journalist writing mainly for Golf Monthly across the whole spectrum from courses and Rules to equipment and even instruction despite his own somewhat iffy swing (he knows how to do it, but just can't do it himself). He also edits The Golf Club Secretary Newsletter, has authored or co-authored three books and written for a number of national papers including The Telegraph and The Independent. He is a senior panelist for Golf Monthly's Top 100 UK & Ireland Course Rankings and has played all of the Top 100 plus 89 of the Next 100. He has played well over 900 courses worldwide in 35 countries, but put him on a links course anywhere and he will be blissfully content. On his first trip to Abu Dhabi a decade ago he foolishly asked Paul Casey what sort of a record he had around the course there. "Well, I've won it twice if that's what you mean!" came the reply...