Lee Westwood: How To Practice Golf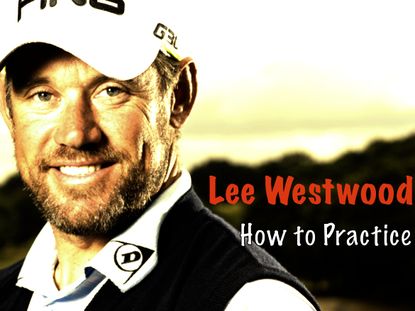 Golf Monthly caught up with eight time Ryder Cupper Lee Westwood and find out how to practice golf in order to set better fundamentals for sweeter strikes
How to Practice Golf
Without doubt, the most common faults I see among amateurs are at address. They don't pay enough attention to the stance, posture or alignment and this has a knock-on effect for the swing. Other than that, the main fault would be not knowing how far you hit the ball. These two are actually related because it is difficult to know how far you hit each club when you have inconsistencies at set up. I strike the ball fairly similar every time so I know, within two or three yards, how far a 7-iron is going to go for instance. But if you're not consistent at set-up it's going to be difficult. This is what you should work on in practice.
Stance
First of all when I set up on the range, I am working on my balance, feeling where it is in my feet at address. The majority of your weight should be down through your laces as you stand over the ball. The best way to set your posture and find the right balance is to stand straight upright with your feet a little less than shoulder width apart. Now place the shaft of your wedge across your hips. Then lean your upper body forward so your weight moves over your toes and then flex your knees. This brings your weight back over the balls of your feet. From there, let your arms hang under your shoulders and that's the ideal set up with good balance. You should feel like a goalkeeper ready to save a penalty – the golf swing is such a fast movement, you need to be balanced and alive. As the golf club gets longer, I tend to make my stance a little bit wider but I wouldn't try to hit the ball any harder.
Alignment
Its important to aim in the right direction obviously but strangely, most people don't! Generally I lay a club or alignment stick down on the ground. However, I do not put it on the ball-to-target line or on the line of my feet. Instead I put it parallel to those two lines half way between them. The alignment stick sits under my shoulders and then I can set my body and the clubface parallel to that. Remember it is everything – feet, hits, knees, elbows – that need to be parallel and that's why it is important to check. If you have any kinks in your set up (your shoulders might be closed or your hips might be open), you'll have to make compensations in the swing to strike ball. My hips can get slightly open every now and again and that's why I need to check.
The swing
I try to make sure the clubhead is the first thing to move away from the ball in the takeaway, this is a simple move but it's one that some people get wrong. It should start to get the club working on a good path. Then as I turn to the top of the backswing I resist that rotation with my legs. From the top of the backswing I'm looking to initiate the downswing with the left knee. This creates a whiplash effect with the club, creating lag on the way down. From there you should be looking to simply rotate through then into a smooth follow through with your right shoulder aiming at the target in the finish.
Judging distance
Coming up short or hitting the ball long, these are the things that really wreck your scoring. If you start missing greens, you've got to get it up and down. So it really is worth getting a real understanding for how far you hit the ball. When you get to a certain level where your ball striking is consistent, you should head to the range and hit 10 balls with your 7-iron. Measure the five middle ones and you'll get an idea for how far you hit that club.
Driver set up
With a driver I widen my stance and move the ball forward because I'm trying to hit the ball on the up. That's about all that changes really. I tee it up quite high for the driver and that's because of the launch characteristics I'm looking for. It goes further when I launch it at about 10.5˚ - that creates the optimum for me with regards to carry and roll. My driver carries about 290 and rolls out to 315. The other thing I do is I try to keep moving at address. It's a good idea not to stand there too long before starting the swing as this can create tension in your arms.
In his current role, Neil is responsible for testing drivers and golf balls. Having been a part of the Golf Monthly team for over 15 years and playing off a handicap of 3, he has the experience to compare performance between models, brands and generations. For 2022 he thinks the main trend in drivers is: "In a word, consistency. Whilst all the brands are talking about ball speed (and the new drivers are certainly long), my biggest finding has been how much more consistent the ball flights are. Mishits don't seem to be causing the same level of drop-off or increase in the spin numbers. This means that more shots seem to be flying the way you want them to!" As far as golf balls are concerned the biggest development is in the, "three piece, non-Tour, urethane-covered section. For regular golfers, these models offer superb performance at both ends of the bag without denting your wallet quite as much as the premium Tour-played options."
Originally working with the best coaches in the UK to produce instruction content, he is now the brand's Digital Editor and covers everything from Tour player interviews to gear reviews. In his time at Golf Monthly, he has covered equipment launches that date back well over a decade. He clearly remembers the launch of the Callaway and Nike square drivers as well as the white TaylorMade driver families, such as the RocketBallz! If you take a look at the Golf Monthly YouTube channel, you'll see his equipment videos dating back over a decade! He has also conducted 'What's In The Bag' interviews with many of the game's best players like Rory McIlroy, Dustin Johnson and Jon Rahm. Over the years, Neil has tested a vast array of products in each category and at drastically different price-points.

Neil is currently playing: Driver: TaylorMade Stealth Plus Fairway Wood: Titleist TSi2 Hybrid: Titleist TS3 Irons (4-9): Mizuno JPX 919 Forged Wedges: Titleist Vokey SM7 46˚, 50˚, 54˚, 60˚ Putter: Odyssey Triple Track Ten Ball: Titleist Pro V1X