Rory McIlroy Practice Tips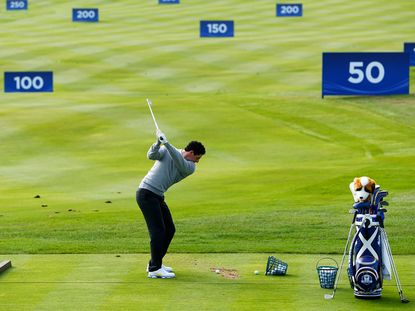 In this exclusive Rory McIlroy practice tips video, we find out what it takes to become a champion. He offers a candid view into what happens in the unseen hours spent working hard on his game
Rory McIlroy Practice Tips
In this special Rory McIlroy Practice Tips feature, the Northern Irishman explains how he laid the foundations to his game. From the hours of work he put in as a junior to his current schedule away from tournament play, what follows is a Rory McIlroy Practice Tips special feature and a rare glimpse into what goes in to creating a champion:
Working hard
It's hard to put it across to people sometimes because all they see is us on the golf course. They watch us on TV and I think the whole narrative around me from the beginning was talent and how I was so talented. Even before then, as a teenager and turning pro the amount of time I spent practising and putting in my game. You realise when you turn pro you almost need to take it to another level again and add certain areas to your game whether it be the fitness part or try just to add different elements to your game. I don't think people appreciate how hard we work but having said that, I wouldn't say I work hard because going and spending the whole day on the driving range or the gym isn't hard work to some people. I do spend a lot of time at it - Rory McIlroy's Gym Routine. You're born with a certain talent but you need to work as hard as you possibly can to turn that talent into something more than just potential.
Making changes
I think if you're trying to make some sort of swing change or tweak, before it feels 100% comfortable and 100% subconscious, it takes thousands of repetitions. At the minute I'm trying to tweak a couple of things. My left-hand grip has gotten a little strong and I haven't thought about my grip since I was 12 years old. So all of a sudden now I'm trying to think about weakening the left hand grip a little bit - I practiced for a few days last week and it felt so strange. If you can persevere and stick with the uncomfortable feeling, then at the end of the day it's going to make you a better player. I think sometimes what people don't do is they don't stick with something long enough to get through that period. They might try it for a couple of sessions with a pro or at the range and it mightn't work and they'll just revert back to what they're comfortable with. There is a certain point where you have to say 'Okay I'm going to be uncomfortable with this for a while but I know in the long run it's going to make me a better player'.
Rory McIlroy Practice Tips
There are some things or practice drills that I do where it's more of a competition or a challenge and you record your results and that makes practice more fun as well. Whether it be chipping around the green or putting. I think one of the great things now is being able to play games on trackman and try to do different things there. That would be another thing for me if I was on my own. I'd bring the trackman out and try and challenge myself and say 'Okay I've got a yardage band from 150-175' which is one of the most important yardage bands in my game because I hit a lot of shots from there on the golf course. You pick your target out there and you've got to hit 10 shots and you can't miss one left. One of the great things about technology and using stuff like that is that it puts you under pressure during practice and you're really going through your routine and hitting a shot like you would on the golf course.
Exclusive Interview: Rory McIlroy's Coach
All of these things do make a difference. If we're talking about power between carrying the bunker or not on the final hole of a major and being able to hit the ball from the fairway instead of the rough or the bunker. There are so many tiny little variables that if you can just get a little bit better it'll make a huge difference in the long run.
In his current role, Neil is responsible for testing drivers and golf balls. Having been a part of the Golf Monthly team for over 15 years and playing off a handicap of 3, he has the experience to compare performance between models, brands and generations. For 2022 he thinks the main trend in drivers is: "In a word, consistency. Whilst all the brands are talking about ball speed (and the new drivers are certainly long), my biggest finding has been how much more consistent the ball flights are. Mishits don't seem to be causing the same level of drop-off or increase in the spin numbers. This means that more shots seem to be flying the way you want them to!" As far as golf balls are concerned the biggest development is in the, "three piece, non-Tour, urethane-covered section. For regular golfers, these models offer superb performance at both ends of the bag without denting your wallet quite as much as the premium Tour-played options."
Originally working with the best coaches in the UK to produce instruction content, he is now the brand's Digital Editor and covers everything from Tour player interviews to gear reviews. In his time at Golf Monthly, he has covered equipment launches that date back well over a decade. He clearly remembers the launch of the Callaway and Nike square drivers as well as the white TaylorMade driver families, such as the RocketBallz! If you take a look at the Golf Monthly YouTube channel, you'll see his equipment videos dating back over a decade! He has also conducted 'What's In The Bag' interviews with many of the game's best players like Rory McIlroy, Dustin Johnson and Jon Rahm. Over the years, Neil has tested a vast array of products in each category and at drastically different price-points.

Neil is currently playing: Driver: TaylorMade Stealth Plus Fairway Wood: Titleist TSi2 Hybrid: Titleist TS3 Irons (4-9): Mizuno JPX 919 Forged Wedges: Titleist Vokey SM7 46˚, 50˚, 54˚, 60˚ Putter: Odyssey Triple Track Ten Ball: Titleist Pro V1X