Get Your Game In Shape With The Orange Whip Golf Trainer
In this video, PGA professional Katie Dawkins discusses the benefits of using the orange whip golf trainer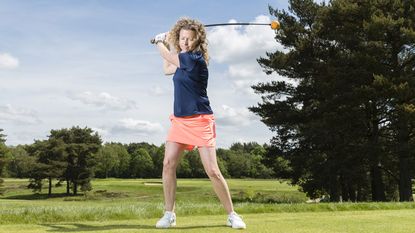 In a game as intricate as golf, it's wise to keep swing thoughts to a minimum as having a list of positions you want to achieve while trying to actually hit a ball is usually a recipe for disaster. In the video and article below, PGA professional Katie Dawkins discusses how the orange whip golf trainer can help...
One of the best ways to stamp out bad habits is to add plenty of 'no-ball practise' into your training. The moment we throw that dimply round thing into the equation all hell breaks loose and we just resort to what we know best (worst), which is a return to old patterns. For that reason, it's great when a new golf training aid hits the market that does the thinking for you while delivering feels that'll enhance your game.
The orange whip is a fantastic bit of kit and one we believe will provide countless benefits to the recreational golfers out there. Originally designed as a golf fitness tool it's available in a few different lengths - I use the mid-size one with the ladies and seniors I coach.
RELATED: Best golf accessories
The instability of it immediately invites you to adopt an athletic posture, something so many golfers fail to do. In that ready-to-run pose you hover the weapon above the ground and start to gently gather momentum, swinging it back and through.
What you'll find is that it actually swings you and really whips you through to a fuller finish than you might be familiar with. And not only is it brilliant for gaining length in your follow-through, but it also promotes the feeling of gathering the ball through impact, rather than hitting. This is a more desirable and consistent swing feeling to develop.
RELATED: How to get more power in your golf swing
I use the orange whip a lot with my pupils who are new to the game but I also highly recommend it as a warm-up and practice aid, even for those who've been playing for years.
A few sessions will have you feeling the power and unleashing it the next time you're on the course, perhaps with a few less swing thoughts than you had before.
Advanced PGA Professional and freelance contributor
Katie is an Advanced PGA professional with over 20 years of coaching experience. She helps golfers of every age and ability to be the best versions of themselves. In January 2022 she was named as one of Golf Monthly's Top 50 Coaches.
Katie coaches the individual and uses her vast experience in technique, psychology and golf fitness to fix problems in a logical manner that is effective - she makes golf simple. Katie is now based at the stunning Hamptworth Golf Club on the edge of the New Forest. An experienced club coach, she developed GardenGOLF during lockdown and as well as coaching at Hamptworth she freelances, operating via pop-up clinics and travelling to clients homes to help them use their space to improve.
She has coached tour pros on both LET tour and the Challenge Tour as well as introduced many a beginner to the game.
Katie has been writing instructional content for magazines for 20 years. Her creative approach to writing is fuelled by her sideline as an artist.