The Canary Islands
The Canaries offer exciting golf courses in surprisingly varied topography - black volcanic sand bunkers anyone? Rob Smith heads off to explore these Spanish islands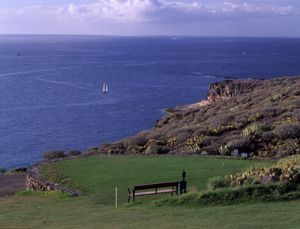 Golf Monthly Newsletter
Golf tips and expert instruction, golf club reviews and the latest golf equipment.
Thank you for signing up to . You will receive a verification email shortly.
There was a problem. Please refresh the page and try again.
While Spain is rightly noted for its abundance of excellent golf and holiday attractions, these are not restricted simply to the mainland. About 800 miles to the south-west and off the coast of Morocco lie the seven islands that comprise the Canaries. Contrary to popular belief, they are not named after the bird. Instead, the name is likely to have come from the Latin "Insularia Canaria" meaning "Island of the Dogs" due to the extensive population of large canines found there when the islands were discovered.
The climate here is more reliable with temperatures rarely falling below 18˚C in the winter or rising above 24˚C in the summer, and the surprisingly varied topography and scenery provides an excellent alternative to the mainland with 21 courses dotted across the archipelago.
The largest and probably best-known of the islands is Tenerife which is dominated by the dormant volcano Mount Teide. At 12,000ft, this is the highest mountain in Spain. At its western base lies the excellent five-star Abama resort with its choice of hotel or villa accommodation. Designed by Dave Thomas and against the backdrop of the Atlantic Ocean, the golf course features more than 200 types of tree and bush, as well as 22 lakes, waterfalls and streams. With panoramic views across to the nearby island of Gomera, the course offers a variety of tee placements meaning that it is enjoyable by all, and a welcome touch of luxury is that the green fee includes a buggy with GPS. The hotel has plenty of other sporting activities such as tennis and a fitness centre as well as a wellness and spa centre. Keen golfers wishing to play elsewhere can book games at the island's other seven courses through Abama.
Tour venue Perhaps the best-known course on the island is Golf del Sur which used to host the Tenerife Open on the European Tour, an event won by José Maria Olazábal and Mark James. It has been upgraded to a 27-hole complex by Manuel Pinero and has black volcanic sand in the bunkers, large greens and very wide fairways. Particularly difficult is the 3rd hole on the North Course. To the right of the fairway is a water hazard, behind which lies a deep ravine with an ochre-coloured rock face, whilst to the left is a gaping bunker of black sand. Another notable hole is the 2nd on the South, a par 3 with the green entirely surrounded by another immense bunker of black sand.
Other courses on Tenerife include Amarilla, a Donald Steel design with the need to play over the sea, Buenavista, a beautiful course in the north-east, and Costa Adeje, where the course is defined by small plateaus marked by over 5,500 yards of stone walls which used to divide up the former banana plantation. The oldest club on the island is the Real Club de Tenerife – the Royal Club – and this is situated 2,000ft above sea level with undulating fairways and a spectacular view of the volcano. The very attractive Golf Las Americas course opened a few years ago and features a number of streams which flow into waterfalls. Quite recently, the beautifully appointed Las Madrigueras hotel opened on the site with luxurious accommodation and dining in two fine restaurants overlooking the course.
Oldest course Gran Canaria is another popular island with a great deal to offer. It is home to the oldest golf club in Spain, the Real Club de Las Palmas. Founded in 1891, this relocated in the 1950s to Bandama in the foothills of a volcano. The course is notable for its narrow, tree-lined fairways and small greens and has superb views of the surrounding scenery and down to the sea. Its fine clubhouse is full of colonial charm and character.
Salobre offers perfect holiday golf with its combination of lovely views, water hazards, forgiving fairways and undulating terrain.
The wind can be a real factor here, as can the cactus trees that are well known for catching errant golf balls and keeping them embedded! The Sheraton Hotel attached to the course offers excellent accommodation and cuisine along with a spa, a fitness centre and swimming pools.
The course at Meloneras is just a couple of years old but is already well established and offers two contrasting loops. The front nine is more compact with a number of water hazards whilst the back nine stretches out over a far more expansive area and has a few holes that form a spectacular chain along the cliff tops. There are superb views out to sea and over the new marina below.
Nearby is Maspalomas, a par-73 course opened 40 years ago and designed by Mackenzie Ross which is surrounded by a nature reserve. Anfi Tauro has 27 holes with the main 18 being an American/desert-style layout with lakes and waterfalls, and El Cortijo is close to Las Palmas and has hosted the Spanish Seniors' and Ladies' championships
Lanzarote is the most easterly of the main Canary islands but it has just one course at the moment, the par-72, 30-year-old Costa Teguise club. However, at least two more are being built at Puerto del Carmen and at Playa Blanca so it should not be long before it welcomes more golfers. On its somewhat flatter neighbour, Fuerteventura, the Salinas de Antigua course at Caleta de Fuste is just five miles from the airport.
Last year, more than nine million tourists visited the Canaries, finding plenty of attractions apart from the golf and the sun. The heritage of the islands includes stately buildings of colonial style and typically Canarian architecture, with wooden balconies and attractive central courtyards, cobbled streets and places so well preserved that they seem to take you back in time.
Safari parks, theme parks and water parks offer something for all the family – on top of which are the attractions of casinos, museums, concerts, sailing, diving and windsurfing. On the culinary front, there is something to suit every taste with local delicacies including tollos – strips of dried shark meat!
Off the shore, the waters around the Canary Islands are home to 26 of the world's 80 species of whales; boat trips to see them present a breathtaking opportunity.
The Canary Islands are just four hours by air from London, and with little or no time difference involved, a trip for a duration as short as a weekend is quite feasible. They offer a varied alternative and contrast to the established golf courses and attractions of mainland Spain, especially in view of the yearround temperate climate.
CONTACTS BOOK
GETTING THERE Airlines flying direct from the UK include easyJet (opens in new tab), First Choice and Thomson.
PLAY COSTA ADEJE STATS: par 72, 6,458 yards T: +34 922 710 000 W: golfcostaadeje.com
COSTA TEGUISE STATS: par 72, 6,606 yards T: +34 928 590 512 W: lanzarote-golf.com
GOLF DEL SUR STATS: North/South – par 72, 6,458 yards T: +34 928 738 170 W: golfdelsur.net
MELONERAS STATS: par 71, 6,454 yards T: +34 928 145 309 W: lopesanhr.com (opens in new tab)
REAL CLUB DE GOLF DE LAS PALMAS STATS: par 71, 6,469 yards T: +34 928 350 104 W: realclubdegolfdelaspalmas.com
SALOBRE STATS: par 71, 6,684 yards T: +34 928 010 103 W: salobregolfresort.com
PLAY AND STAY ABAMA STATS: par 72, 6,857 yards T: +34 922 126 000 W: abamahotelresort.com
GOLF LAS AMERICAS, HOTEL LAS MADRIGUERAS STATS: par 72, 6,607 yards T: +34 922 752 005 W: golf-tenerife.com and hotellasmadrigueras.com
STAY SHERATON SALOBRE T: +34 928 010103 W: sheratonsalobre.com
Rob Smith has been playing golf for more than 40 years and been a contributing editor for Golf Monthly for over ten years, specialising in course reviews and travel. He has now played more than 1,170 different courses in almost 50 countries. Despite lockdowns and travel restrictions in 2021, he still managed to play 80 different courses during the year, 43 of them for the first time. This included 21 in 13 days on a trip to East Lothian in October. One of Rob's primary roles is helping to prepare the Top 100 and Next 100 Courses of the UK&I, of which he has played all but nine. During the 2021-22 review period, Rob has played 34 of the Golf Monthly Top 200. He is a member of Tandridge Golf Club in Surrey where his handicap hovers around 16. You can contact him at r.smith896@btinternet.com.